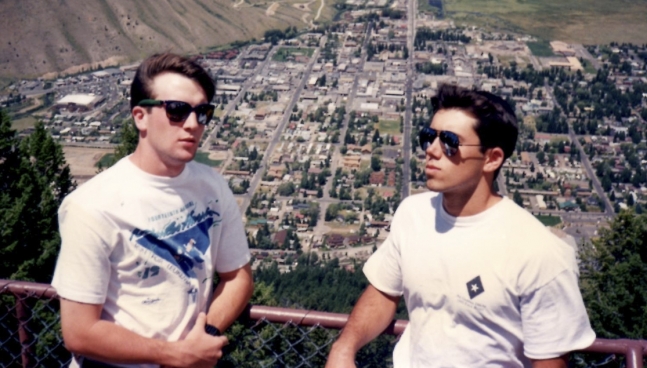 Today, 17 years ago, my life was drastically altered. Though life has moved on, my life has never been the same.
Philip Andrew Clarke was everything a best friend should be. Fun to be around. A man of extraordinary character. Smart. Loyal. An incredible sense of humor. Genuinely caring, especially for a college student of 22 years old. He was a committed friend, loyal as the day is long, and a joy to do life with.
Phil was my roommate. Phil, Troy Coons, Phil Autry, and I formed a common bond over a new-found faith in Christ and a mutual deep commitment to growing as Christian men. We wanted to be men of character. We wanted to be men of impact. Through these mutual commitments and desires, we were drawn together. Through this, we formed a ministry that reached out to the entire Greek system at Georgia Tech, though we only represented three of the 32 fraternities.
Looking back, I now see that this common goal, this common desire to grow in Christ and reach out to those around us formed the bonds of friendship that would last a lifetime.
On the morning of December 7, 1995, Phil went hunting for the first time in his life with three of my other close friends, including David Moon and Eugene Kim. Tragedy struck. Phil was accidentally shot and he instantly graduated to heaven and the embrace of the Savior whom Phil so longed to serve and honor in this life.
It's been 17 years, yet as I type this it as if it were yesterday. My heart is heavy in my chest and tears are building in the corners of my eyes just thinking about it. It was 17 years ago today, yet the emotions are still present, strong, and genuinely heartfelt.
I can not begin to put into words all the thoughts and emotions which flood my mind and heart when I think of Phil and our friendship.
Phil in his brief life taught me so much. He taught me about integrity and the value of Godly, pure fun. He taught me about commitment to Christ in every aspect of life.
Above all else, though, Phil Clarke taught me about the absolute value of friendship. Friendship which is anchored in Christ Jesus. Friendship which is mutually committed to growth, development, and serving the world around with the love and message of the Gospel of Christ Jesus. Friendship that not only is full of laughter and levity, but also filled with purpose and eternal focus. Since that day, I have never settled for anything less. Phil through his example in life and friendship taught me this. . . and I will be eternally grateful.
Phil had a powerful effect on many, many people. It is impossible to quantify the impact made upon this world by his brief life. I still hear random stories from people that were impacted by Phil Clarke in big and small ways.
As for me, Troy Coons, Phil Autry, and many of the other men and women close to Phil Clarke during his 22 years on earth, we were deeply impacted. I carry all I learned from Phil with me everywhere I go. It sounds trite and a bit cliché, but it is true. Maybe it's not always conscious, but the lessons I learned from Phil Clarke on life, friendship, and valuing Christ and His call above all else are an inseparable part of my being.
Therefore, on this day, December 7, 2012, I am both mourning and celebrating. I am mourning the death of a friend whom I still miss to the point of tears on this day. I wish he were around to call and check in on life. Just as was the case when he were here with us, I still take myself too seriously. I would give anything to have Phil bring me back to reality through the joy of his humor, laughter, and steadfast, loyal friendship right now.
However, on this day 17 years after the most difficult night of my life, I am also celebrating. I cannot imagine my life without the memory and impact of my friendship with Philip Andrew Clarke. Phil, in his life and through his death, taught me how to take my calling as a child of Christ seriously, but always be able to enjoy life, laughter, and the simply joys of living.
For this reason, on this day of December 7, 2012, 17 years to the day after my friend and brother in Christ departed this earth and moved into eternity, I am able to both weep and celebrate.
I weep over the temporal pain of missing the presence of this friend of mine. Yet, I celebrate the joyous memory of Philip Andrew Clarke and the lifetime of impact his friendship has had and will always have upon me.
(The next post I wrote on Phil is "A life well-lived".  In addition, see 3 invaluable life lessons from the death of a best friend , The moment Tracey and Phil met and The vitality of "leaning into pain" on further thoughts Phil and his death.)