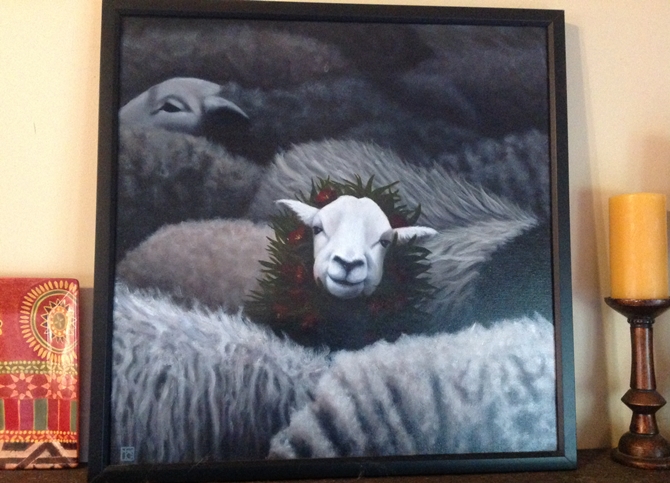 It was almost three weeks to the day from when Philip Clarke passed into eternity.  I was attending a large Christian conference for college students.  Ironically, Phil had been in charge of recruiting for this conference at Georgia Tech in the fall, at least until his death on December 7th.
The conference was highly emotional for me and the rest of Phil's friends which were in attendance, but we held it together.  We learned.  We worshiped.  We leaned upon each other.
The final night of the conference, I was standing against the back wall of the conference room.
There were over 1,000 students in the room.  As the conference leadership knew and loved Phil, they talked about him from up front, challenged the conference towards excellence in our faith and life, and played some music.  As the voices of 1,000+ students bellowed out through the conference room in beautiful, heartfelt worship music, they put Phil Clarke's picture on the front screen.  On top of Phil's picture was inscribed his birth/death dates and the Bible verse Daniel 12:3.
And those who are wise shall shine like the brightness of the sky above; and those who turn many to righteousness, like the stars forever and ever.
It is one of those moments frozen in time.  I sat back against the wall in a room packed with people, yet very much alone with my thoughts.  Three weeks earlier, we were set to room with each other at this conference, yet I sat back looking at a memorial to him in the form of a still picture and some lettering.  I wept.
I wept because I missed my friend. 
More so, though, I wept because it was as if this verse had been written specially about Philip Clarke.  Phil, though young in age, had lived a life full of wisdom and packed with turning "many to righteousness."
Phil's heart to follow Christ with his entire life had been pure.  He had truly run a wonderful race.  He was complete and with his Savior, Christ Jesus.  I wept over the joy of knowing that Phil was done with struggle, imperfection, and sin.  I wept in seeing the Lord's faithfulness in honoring Phil's prayers, even in his brief life.
I missed my friend in words inexpressible, yet I was overjoyed with the reality that he was (and is) truly home for the first time.  It was a confluence of pain and joy unspeakable.  It was the beauty of the Gospel of Christ Jesus.
Last week, we buried my dear friend Tracey Clarke.  On Saturday we were eulogizing Tracey; on Monday I was with Craig as he picked out Tracey's gravestone.  On the stone, there will be Tracey's name, birth/death dates, and icons of a Bible and the cross.  Inscribed on the gravestone will be this statement;
"A woman in Christ"
I love the gravestone Craig designed for his loving wife.  It is straightforward.  It is beautiful.  It is centered upon Christ Jesus.  In short, it is an impeccable statement of Tracey's life.
As I sat back observing Craig Clarke make these decisions in the immediate wake of the passing of the love of his life, my mind went back to being in the back of that conference room.  Just like then, my heart broke.  I still can't imagine Craig's life without Tracey.  Their marriage truly was one of the great ones.  They had a love and friendship which defied logic.  Theirs was truly a marriage which you could point to and say, "that is what marriage should look like."
In early August 2013, I had three days on my way back to Asia to spend with Tracey and Craig.  Tracey had taken a strong turn for the worse 2-3 weeks prior to my arrival.  It was clear that barring a miracle of the Lord, she would soon be passing into eternity.  Thankfully, though, Tracey was still lucent enough to carry on in her characteristically deep conversations.
At one point, Tracey asked me several specific questions about Philip Clarke.  Seeing that Phil was so important to her husband (Phil was Craig's brother) and that she met Craig after Phil's passing into eternity, she was really curious about what he was like.  At the end of her questions, I mentioned that she might be meeting Phil soon.  She got this reality and was honestly excited.
On December 29th, when Craig called to let me know Tracey had "gone to heaven," my head was spinning.  After a few hours, I found myself in the apartment of my close friends, Scott and Cat Littlepage.  As I told them of Tracey, I broke down crying.  It was painful, but good to be in the presence of close, trusted friends (and brother and sister in Christ).
I left their apartment and returned to my own.  There I sat back and just thought and prayed and thought.  Then it hit me. . . Tracey and Phil have FINALLY met.
With red, puffy eyes and a slight headache, I smiled.  Though faint it was, I definitely smiled.
I thought of their initial meeting.  Phil's laugh and Tracey's intensity had to be present.  I thought of the stories they must have shared of Craig and their lives in general.  It must have been awesome.
In the end, this is one of the 7,093,192 reasons why I love my Savior and the Christian faith.  Even in the face of our worst possible scenario, the earthly death of loved ones, there is wonderful, bone-chilling, incredible hope.  Even "death" is our final conduit of ultimate perfection, joy, and LIFE. 
As 1 Thessalonians 4:13-14 states, we DO grieve, but not as those without hope. 
But we do not want you to be uninformed, brothers, about those who are asleep, that you may not grieve as others do who have no hope.   For since we believe that Jesus died and rose again, even so, through Jesus, God will bring with him those who have fallen asleep.
(To read about Philip Clarke, please CLICK HERE.  To read more about Tracey Clarke, please CLICK HERE.)