As I type this, I am on yet another LONG flight. This one is trans-Pacific. By my count (you do things like count flights when bored on a LONG flight), this flight will be the 55th time I have flown over the Pacific Ocean. Add to this the 20 times I have flown over the Atlantic Ocean (not to mention flight from Asia to Europe), and long flights are one of the few things I can truly say I know well.
In honor of my vagabond lifestyle that I have lived for much of my adult life, I am going to do a LONG flight blog or two. This first one will be on the characters that I often see on these flights.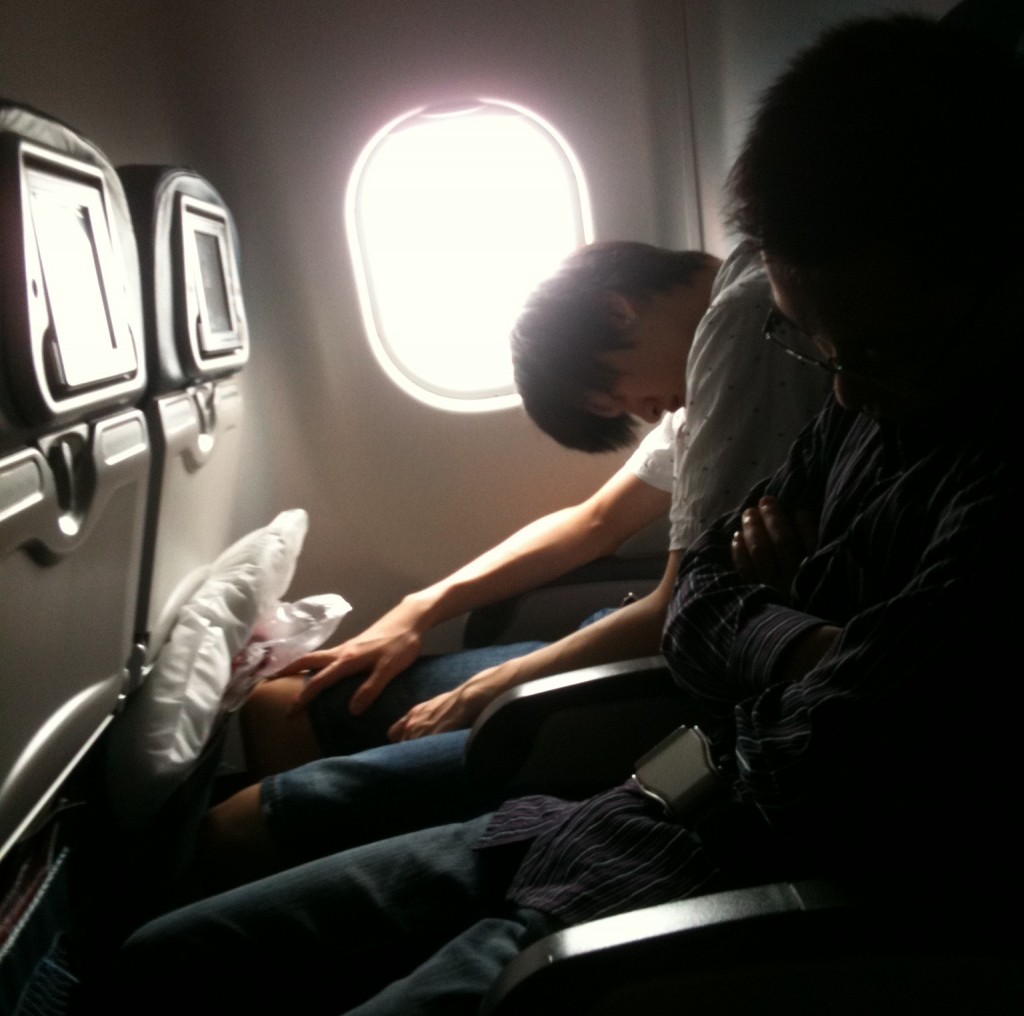 You see, there really are a few characteristics and/or characters that you seem to always fly with on these flights. Let's take a look at a few of them.
The "I can't stay awake" guy –

This guy gets on board, settles his bags, fastens his seat belt, and IMMEDIATELY starts the involuntary forward head bob. He can't wait until the flight gets up in the air in order to push his seat back, so he risks serious back injury by simply leaning forward the entire time. The seatbelt keeps him still, yet is also the reason way he won't be able to walk when we stands up for the first time in a few hours. I envy these guys, I really do. I have trouble sleeping in sterile, comfortable settings, yet these guys seem like sleep while standing up is not out of the question. I took a picture (see above) of these "I can't stay awake" guys whom are currently sitting to my right.

The "sleep the entire flight" guy –

Closely akin to Mr. "I can't stay awake", yet with a slight difference. This guy waits until the flight gets in the air, then can sleep for days on end while flying. These masters of the REM cycle can weather the longest of flights with no problem. I have no problem with them, but it is rough to be sitting on the inside isle next to this guy. My friend Pat Ku is this guy. I once saw him fall asleep while on the runway in LA and not wake up until Beijing. Incredible.

The "angry about my seat" guy –

These guys drive me crazy. Look, we all have these cramped little seats. . . don't kick my seat in protest every time I want to recline! Complain to Boeing or Airbus, but not to me. I didn't make the plane, I just simply paid for the right to use this seat as designed. There was a lady on a flight last summer that kept literally yelling at me. I finally had to put her in her place. It was a bit awkward, but the line had been crossed.

The "first time fear" guy –

This guy has never flown for more than 2 hours and is TERRIFIED at the prospect of being in the air for 14 hours. I feel for him, I really do. I was him. He always survives and treats you like your his best friend once the plane touches down at the destination. He might as well have come out of the delivery room to announce the birth of his first child he is so relived to be on the ground. . . practically giving out cigars to randoms in celebration.


Here is a typical squattie. . .

The "wear socks in the bathroom" guy –

You have to understand that many places in the world do not use toilets as Americans know it. They use squatties (essentially a hole in the ground. . . see pic to the right). Parts of Europe and most of Asia fall into this category. For many, international flights are the first time they have used a sit-down toilet. I say this to state the simple fact that LONG flight airplane bathrooms are disgusting. Revolting. After hours on end of people missing the same toilet, the floor is a virtual cesspool of filth and disease. YET, this guy still pushes through and enters the bathroom wearing nothing on his feet but socks. I actually warned a large American male about this while I was standing by a bathroom stretching when he walked up to use it. He acknowledge my statement, let me know his socks were already dirty, and proceeded to step into a room with a floor glazed over with a mix of urine, water from laboratory runoff, and saturated toilet paper. Now, I usually try to not judge people, but this man was repulsive and is not to be trusted.
There are more characters on these LONG flights, but these are the ones that I am noticing on this particular flight. These five guys seem to appear every time the plane door seals and doesn't open back up for at least 10 hours.
God bless them all!
In my next post, I hit on my tips for making these flights more bearable. CLICK HERE to go to this post. Make sure and notice all of the comments on both of these posts!