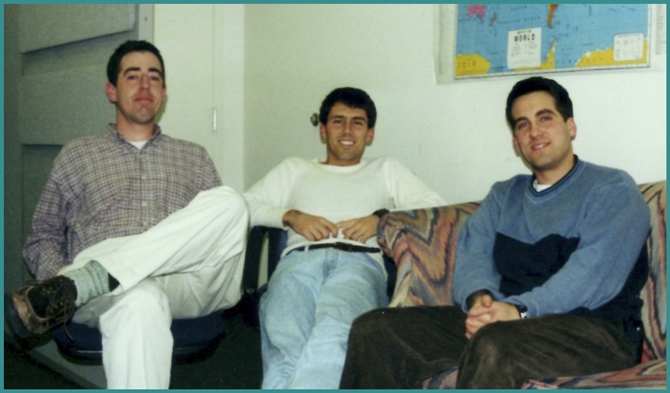 As I pulled up to my house just off of the Georgia Tech campus, I was excited to get home and see my roommates. I had been in Florida for the previous two days celebrating my Grandmother's 82nd birthday. It was a good time.
My friend Phil Clarke and I had gotten into a habit of often walking around the campus at night and simply "processing" the day. This night walk would take on the added interest of my "exotic travels" to Central Florida.
Upon exiting my car on the street, I began walking to the house. Almost immediately my friends David Moon and Phil Autry pushed open the screen door of the house and began walking towards me. They had strange, puzzling looks on their faces and they seemed to approach me with a purpose.
My immediate response; they are going to jump me as a joke.
There was a solitary oak tree protruding from the sidewalk between us. They were going on the left side to get to me, so I took the right to avoid them.  They said it again, "John, we need to talk," this time reaching to grab my arm.
I spun around, avoiding Autry's lurching hand, and replied, "Yeah, I'm sure you do!"  I broke for the front door laughing.
David: "John, Clarke is dead!"

Me: "Yeah, of course he is!"
As I said this, I sped to our front door, expecting a full-on attack at this point. This was obviously a joke, as there is NO WAY Phil Clarke was dead. Impossible. They must be up to a huge prank if they went as far as using the "Phil is dead" bit, I reasoned.
Autry: "John, seriously, Clarke is dead!"

Me: "Yeah, yeah, right. . . Phil is dead.  I heard you!"
With this, I barreled towards the door, bracing myself for action with a massive smile cut across my face.
Then it happened. Life changed in an instant.
I will never forget the sight. My house was packed with students. The scene was quiet of sound, but loaded in emotion. It was a scene of grief and pain unlike anything I had ever seen.
Friends and acquaintances from around the campus had converged upon our house to verify the rumors and to simply be with others whom loved Philip Clarke.
As for me, my countenance went from playfulness to that of pain; sharp, biting, dark pain.
I turned to run out of the house. Don't know why this was my first response, but it was. Maybe if I just ran this would all cease being true; a cosmic do over of sorts.
By this time, David had come in behind me. We hugged and I literally yelled. It was more of him holding me up than a hug. My entire body was numb and my legs went from underneath me. My mind was shot. My heart was decimated.
I didn't run, but went back into my house. I walked around and hugged everyone there. We all wept. We were all 18-25 years old and, for almost all of us, we were experiencing the trauma of death for the first time.
I ended up sitting on my bed weeping, with my other best friends surrounding me. We wept, we prayed, we regrouped.  At that very moment, it was as if the Lord whispered in my ear, "Don't run. Lean into this pain and I will carry you. I will never leave you, nor forsake you. I am with you always, even to the end of the age."
From that point on, though it had only been a few minutes since hearing this awful news of the death of my best friend, I knew what I had to do.
Lean into the pain, with Jesus and the others around me. In this "leaning," Christ would provide healing.
Instead of running, several of Phil's other closest friends and I piled into my car and drove to Phil's parent's home.  Though we didn't even know them well at the time, we felt this was a good "first step" in "leaning" into the pain of missing our dear brother. We literally sang hymns as we drove up I-85 to the Clarke's, as tears rolled down our cheeks.
After our visit with the Clarke's, a smaller number ended up back at my place just sharing about memories of Phil and processing the pain of his departure. The Lord used that time to cement in my heart the value of friendship and contentment in Christ (CLICK HERE).
Two days later, "leaning into the pain" took the form of a tape player (yes, it was the mid-90s, so a tape player) in a back room of ChristChurch Presbyterian.
Troy Coons, Phil Autry, and I gathered there to simply talk about memories of Phil Clarke and tape them. We knew that our memories would never be as sharp, our thoughts as cogent about Phil as they were then.
We talked, laughed, and memorialized our dear friend and brother, all the while fighting off the tears.
Two years ago, Autry found those tapes and we converted them to a digital format. As I listened to these tapes 15 years after the fact, I was amazed at the goodness of God in prompting us to do this so soon after Phil's passing. This is a treasure to each of us now.
Thankfully we took a picture (see above) of us during this taping session. The picture, complete with the blood shot eyes from crying and sleep deprivation, is a great memory of this time for Phil, Troy, and me.
Of all the many "life lessons" I learned from the death of a best friend at 24, this might be the most important. . .
Don't run from, but rather, lean into pain and suffering.
In "leaning into pain" we find healing. By running from pain and suffering, it only gets worse and only gets a stronger grasp upon your heart and soul. This inevitably brings bitterness and anger. By moving into, and not away from, areas of pain, we find the inverse; growth as a person and purpose in life.
In "leaning into pain" we find the joy in community as Christ Jesus has designed us for. Dealing with our pain and suffering and not running from it inevitably brings us to a point of depending upon others for our care and healing. You can never "get over" pain on your own.  You must have others.
Christ created us to be interdependent with the other members of the body of Christ.  Though this is often awkward and uncomfortable, this is also wonderful beyond words.  We are a part of a "family" within the community of faith.  By "leaning into pain", we are allowing others to help us.  In this, we learn about Christ and we grow as individuals.  We also become more available to others when they are in times of need.
In "leaning into pain" we find the comfort and beauty of our Savior and friend, Christ Jesus.  Our faith was begun through the ultimate act of "leaning into pain" by Jesus Himself.  Because of the cross of Christ, we can be confident that He has conquered all death, pain, and suffering.  He has not eradicated it in this life, but He has defeated it.  Only in Christ does pain not only become tolerable, but ALSO profitable.
We often do anything and everything to avoid pain. I know it is still my nature knee-jerk response to run from pain, rather than leaning into it. We are told by counselors and psychologists the world over that avoidance of pain is the genesis of addictions of all sorts; from alcohol, to sex, to eating disorders.
However, one of the wonderful legacies of experiences the pain of losing my best friend is this life-altering lesson. . .
Don't run from, but rather lean into pain.
We do not lean into pain alone, though.  We do so through the confidence and strength of Christ Jesus, and through the comfort of others around us, but lean we must.
Lord Jesus, please help me to grow in "leaning into pain" all the more. Though you have taught me this time and time again, I still want to run. Please grant me your grace to grow in "leaning into pain" with You and with others by my side.  
(Related posts: Death at 22 (but a life-long impact of friendship),  A life well-lived. . . the eulogy of Philip Andrew Clarke, 3 invaluable lessons from the death of a best friend, and The moment Tracey and Phil met.)