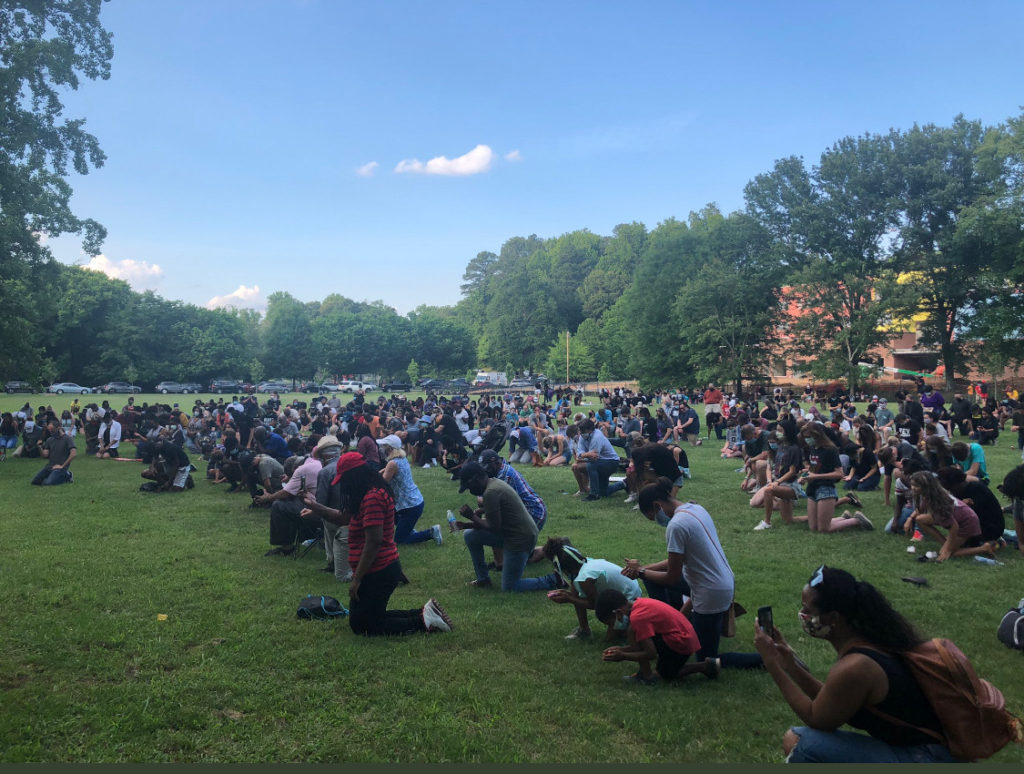 I awoke this morning at 4:10am. This seems to be my new norm, unfortunately. Last night, as has been the case since Friday, my sleep has been robbed by the events which are tearing up people I love and two cities which are intimately part of my own story, Atlanta and Los Angeles.
The images of Ahmaud Arbery and George Floyd are seared in my brain. My heart hurts. The earlier events such as those in Baltimore and St. Louis were egregious as well, but personally, I was either living in Asia or Los Angeles at those times. They seemed far removed from both me and the people I was around. This time is different.
This time feels different, as I am now back in the city of my birth, Atlanta. I am working for a church who cares deeply for "redemptive unity" among all the people of this city, but in particular for this to be experienced between the white and black communities.
I'm not sure what should be done exactly, but I am certain that we must do something. Change is long overdue. I am not any type of an expert in this area, so I won't pretend I am.
However, what I can do is share two incidents when I realized that the world is just different for my black brothers and sisters. It is unfair and sinful. It must be named, processed, and changed.
My first observation that the lives of my black friends were different than my own came at the local mall. The mall was close to both my home and schools. As a result, I had been there countless times by the time I entered high school.
However, by that time, I had pretty much only been to Northlake Mall with either my family or friends, who at that point, were only white or Asian. Northlake was always a safe and happy place to just hang with friends. As early as 5th grade, my friends and I would have our parents simply drop us off, where we would walk around for hours. It seemed safe. It seemed happy. It seemed like a comfortable small town in the midst of major metropolitan city. I never thought anything of it. It was just part of my life.
By the time I reached 10th grade and could drive, my friend pool had widened. I played football, where many, if not most of my teammates were black. Rich, beautiful friendships soon followed.
On a September Tuesday evening after practice, I went to Northlake Mall like I had hundreds of times before, but this time, I was THE white guy in the midst of all black kids. I had always been a white guy in the midst of white and Asian kids. There were no quantifiable differences in the groups themselves. We were all just kids, being kids, doing kid stuff. We laughed, played video games, walked in endless cycles around the mall, and dreamed of a day when we could afford Chick-fil-a all the time, not just on special occasions (and when Mom and Dad would buy it!). However, this time, the first of many such times, I was with a group of my black friends entering the mall, as opposed to a group of my white/Asian friends.
We walked through the food court and I could feel the stares. Though subtle, there were stares nonetheless. We walked into a late 80s clothing store I had been in countless times before. The clothes were ridiculous, but somehow we were blind to the point of thinking they looked cool on us. However, unlike the many previous times I had entered this store with my white/Asian friends, this time the security guard took notice. He followed us. Every step we took, he was close by watching us.
We went to the next store and it was the same. We were watched in nearly every store we entered. It was nerve-racking for me, but my friends didn't seem to notice it. Even being the meathead, self-absorbed 10th grade athlete which I was, I noticed. And it was messed up. It made me tense. It made me sad for my friends. I wondered if they even noticed. To this day, I still wonder if they knew they were treated differently because of the color of their skin. I assume they did, but if that is all they knew, who knows?
Fast-forward two years. I'm in the football locker room on a Monday getting ready for practice. Two of my teammates/friends started summing up their weekend. They talked, rather nonchalantly, about their Saturday night.
My friends were simply walking around their neighborhood. They were doing nothing other than wasting time on a Saturday night. Out of nowhere, two police cars pulled up and started yelling. Apparently they fit the profile of people who had done something wrong in the area. My two teammates had no idea what was happening. The next thing they knew, one of them was face planted on the hood of the cop car, while my other friend was circled and questioned by the other two police officers. Eventually they were released with no charge (as they had done NOTHING wrong), but the emotional trauma caused was left as collateral damage.
Sitting there listening, I was shocked and horrified. Equally startling to me, though, was the response of the other guys listening. No one seemed to be phased. To the contrary, several told of their own stories of being thrown up on the hood of cop cars, for no apparent reason. I was appalled. When I questioned them about this, the collective response was something along the lines of "it is what it is."
The next year, I went to college where most of my friends were white and Asian. Unfortunately, I lost contact with most of my black friends from high school. We check in from time to time over social media, but 19 years of living outside of Atlanta has provided little opportunities to keep those friendships alive. I deeply regret this cruel reality of the passing of time.
However, I have thought of these stories often over the years. I think of them whenever there is another story of clear racial injustice. As a result, I think of them often. This time has been George Floyd. Recently, it has been Ahmaud Arbery.
I don't know what the answers are to these horrible problems of systemic racism, but I do know that a starting point is simply acknowledging that they are real. They are not imagined.
So tonight, I am lamenting all that is going on in my beloved cities of Atlanta and Los Angeles. I am grieving seeing the pain and chaos. As I type, I am hearing the shrill cry of multiple sirens, as has been a constant unwanted companion over the last several days. All I know to do right now is pray.
Lord Jesus, please heal our land. Come, Lord Jesus, come!
Lord Jesus, please guide me and the rest of my fellow white Christian brothers and sisters. Help us to see the problems and sin all around us. . . the sin within us. Help us to know what to do today. Give us the courage to do something about it. Forgive us for not speaking up louder and more boldly in the past. Please give us courage and wisdom in doing this more and more effectively in the coming days, months, and years. Give us energetic empathy, even in the midst of fatigue.
Father, I pray that we will actually change things in this generation. Grant us endurance, wrapped in the fruit of the Spirit: love, joy, peace, patience, kindness, goodness, faithfulness, gentleness, and self-control.
Your Child,
John