(This post is from my series, "My thoughts on weddings. . . (a series)".  If you would like to read more of the articles, please CLICK HERE.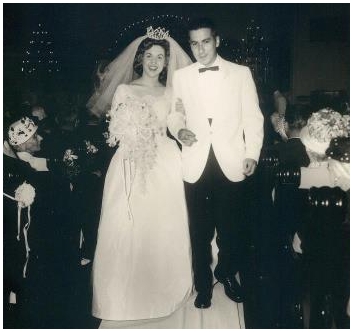 July was the month of celebrating 50 years of marriage for my parents (click here to read about their wedding).  I was thrilled to be able to be in America to celebrate with them.  This anniversary was one of my primary motivations in doing this series on weddings.
In this post, I will simply write about a few things I have learned through observation from my parents' marriage of 50 years. There are way more than nine things I have learned from watching my parent's marriage over the years.  However, as I sit down to write about it, here are the first nine which come to mind. . .
9 things I have learned from watching my parent's 50 year marriage:
Laughter is important – If you have never been around my parents together, that really is too bad.  They are fun.  They laugh.  Especially Mom.  She laughs often, freely, and with great volume (CLICK HERE to learn more about Mom and her laugh).  Mom genuinely thinks Dad is the funniest man in the world.  Seriously.  He is really funny.  Other people also laugh at my Dad's humor, but nothing approaching the level or decibel of my Mom.  With them, I have seen laughter as vital.  Life can be hard.  Laughter is important, if not necessary.  If I ever meet a woman who thinks I am half as funny as Mom thinks Dad is, I will marry her then and there.  Well, maybe not that dramatically, but you get my point.
Children are a privilege and stewardship – Mom and Dad prioritized their kids above all things.  Mom quit work and poured her energy into us.  Dad halted all personal hobbies and activities while we were still in their home.  Once I went to college, the [Read more…]