(This the second post I have done on the anniversary of the passing of my friend and Christian brother, Philip Andrew Clarke. If you have not read the first post, please CLICK HERE and read it first.)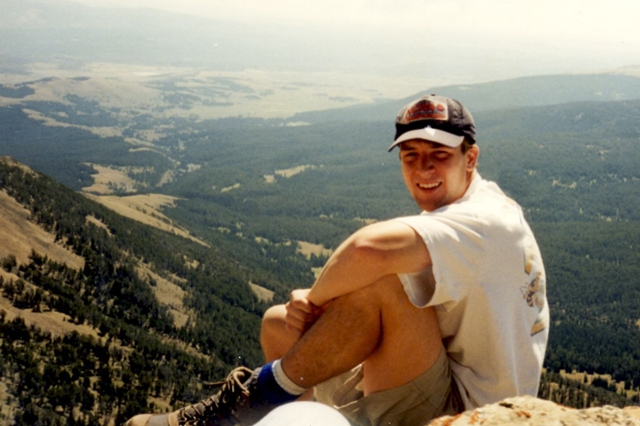 It was a crisp, cold winter day in Atlanta, Georgia. The sun was shining, but the world still seemed dark. I woke up in our little rented home off the Georgia Tech campus only to see the door down the hall open. The sight of Phil Clarke's empty bed is still seared in my brain.
Our house had been filled with students since word spread around campus that Phil had passed four days earlier. It was now quiet and empty. David Moon and I drove to ChristChurch Presbyterian, where the church was packed.
The funeral of Phil Clarke is a day I will never forget. It was 17 years ago today.
Al LaCour, our beloved pastor, gave the main message at the service. It was an amazing talk, as Al was very close with Phil. He was able to tie in the message with a strong knowledge of Phil on a personal level.
Wade Williams, Stacy Quiros, and others provided rich and meaningful worship through music. I remember sitting to the right of the stage crying the entire time. The music was beautiful. There really was a sense of the presence of heaven and the Savior of the Universe in that small restaurant, recently turned church.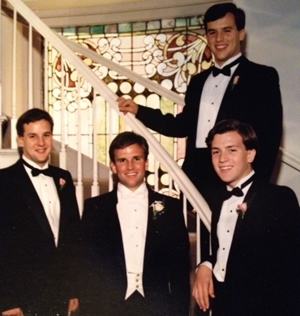 All of Phil's brothers stood and spoke of their brother who was now in heaven. They did an incredible job. Jay presented, while Jeff and Craig stood in support. Seeing that all four of the Clarke brothers look and sound very similar, it was particularly striking to those of us in attendance.
Danny, McKinney, David Moon and I followed with the "friends" portion of the ceremony. I honestly don't remember what they said. I was just trying to get through my part without fainting . . . and I almost did. Towards the end of my part, my legs got weak and I swayed slightly. David Moon, standing behind me, unobtrusively stabilized me with a hand on my back. I still think I would have fallen without his assistance.
It was a day where the confluence of extreme sorrow and heartfelt celebration formed a spirit of worship that few of us had ever experienced. There was zero doubt about the presence of the God whom Phil loved so dearly in the church that cold December day. It was perhaps the saddest, yet most spiritually enriching day of my life. We truly mourned the passing of our dear son, brother, and/or friend, but celebrated the grace of our Lord and Savior, Christ Jesus, and the brief life of His servant, Philip Andrew Clarke.
The following is the eulogy I delivered. . .
Philip A. Clarke (10/30/72 – 12/7/95)
Being given 3-4 minutes to talk about Phil Clarke is one of the most difficult things that I have ever had to do. 3-4 hours would be impossible, let alone 3-4 minutes.

I could talk all day about his character. I've never met anyone that has wanted to do the right thing as much as Phil. He earnestly and sincerely wanted to what was right in all situations. When he did make mistakes, he grieved them, made reparations, learned from them, and moved on.

Phil treated all people the same, with an amazing amount of dignity and respect. He was an eternal student. He learned from all situations, and all people he came in contact with.

I could talk all day about his amazing personality. No matter where you were, no matter what you were doing, it always got better when Clarke showed up. As Jill Clarke and I were talking about last night, Phil is perhaps the most enjoyable person to be around that we have ever known. He also had the most fun of anyone with whom I have ever been associated.

Whether Phil was hitting golf balls with Phil Autry and I in a random field on Emory at a green tarp we affectionately named "The Monster" or doing his patented hybrid John Travolta dance that he pulled out almost everywhere, or studying, or anything in between, he always had fun, and we who were honored enough to be with him did also.

However, what Phil Clarke would most like to be remembered for is his heart and his passion for God. You see, first and foremost, Phil Clarke was a man of God. Most everyone that came into contact with Phil knew of his love for Jesus Christ. I don't know how many times that I have heard him tell me and others that he didn't know exactly what he would be doing with his life in the long term, but he did know that all he wanted to do was share the love of Christ, in word and deed, with others, and help develop or disciple other men that were young in the faith. This was his heartbeat.

Phil would often get frustrated when he would see Christians and churches get derailed from the core of life . . . the love of Christ and the simplicity of the Gospel.

Phil knew that the Creator, God of the universe came to the earth as the man Jesus Christ. He lived a sinless life, and then was crucified as a payment for the sins of all who will accept this payment. This enables us to stand in unity with and become children of God. All you have to do is believe and receive this gift. This simple truth changed Phil's life and he wanted all those he came in contact with to experience this rebirth also.

Phil had a particular love for the Greek system at Georgia Tech, and his chapter of Sigma Nu in particular. He often talked of his desire to leave what he called a "spiritual legacy" with the Sigma Nu house. Phil helped create the Greek Bible study with us so that Sigma Nu's would have a place to go, feel comfortable, and hear the word of God.

Over the past year, Phil has been earnestly praying that God would move in the hearts of his fraternity brothers. He would often go to the house when it was under renovation and pray specifically for the guys. Last summer, Phil and I began praying that God would bring a Christian pledge along who Clarke could pour his life into. This fall, Conrad Haworth came around and Phil was ecstatic. Though he only knew you for a short time, Conrad, he loved you immensely.

Phil Clarke also prayed that some Sigma Nu's would come to Christ. Clarke saw this happen on November 30, exactly one week before he went to be with the Lord. His name is Robert Thompson, and Clarke came home a mile high when he shared with me the news.

I know beyond a shadow of a doubt that Phil would have gladly given his life for just one person to come to the knowledge of Christ. It is my prayer that this will be the case for many, both at Georgia Tech and around the world as a result of his brief life.

I will end this time with a challenge, because I know that Clarke would have wanted it that way. If you are a Christian here today. . . live life to the fullest. We will all be where Clarke is now one day soon. Love God with all your heart, mind, soul, and strength, and share His love, in word and, deed to the world around you.

If you have never come to a point of trusting Christ as your Savior, Clarke would ask that you would simply investigate the claims that Christ made. He never tried to force his beliefs on anyone else. He did, however, always ask others to take an honest, objective look at the person and work of Christ Jesus.
(To read more about Phil and his impact of my life, please read 3 invaluable life lessons from the death of a best friend and The moment Tracey and Phil met)