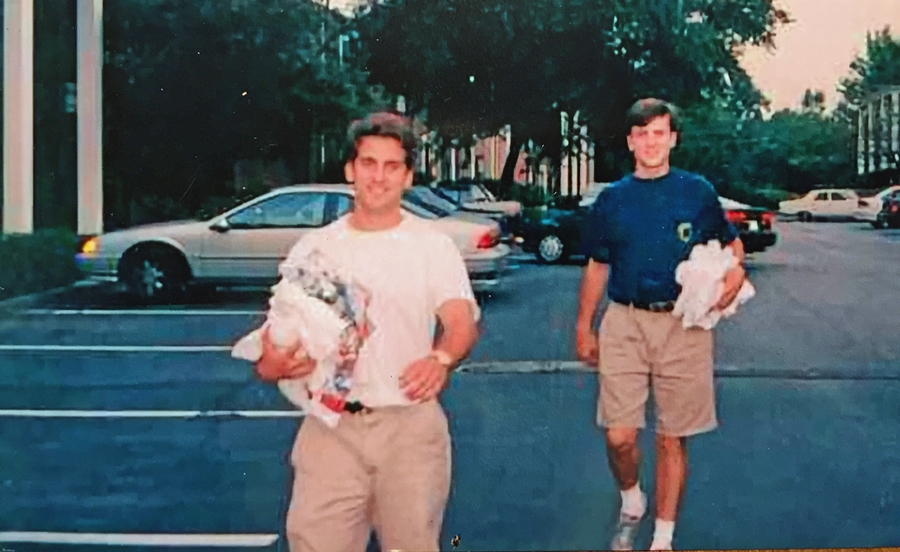 Twenty years is a long time.  Twenty years is but a moment in time. Today I feel the acute juxtaposition of being caught between these two statements.
Twenty years ago today, my friend and brother in Christ, Philip Andrew Clarke woke up in the house we lived in on Ethel Street in Atlanta, Georgia and he entered eternity a few hours later.
Twenty years later, Phil is still on my mind, in my heart, and, honestly, Phil has been reflected in just about every substantial decision I have ever made in life. This statement sounds strange, I know, but it is true.
Today I have been simply looking over the picture above. Though grainy in quality and awkward in pose, this picture is in a frame above my desk at work. It is of Phil and me in college. I don't remember who took this picture, but I am grateful for it. Looks like someone was trying to kill the last picture before getting a role of film developed (if you don't know, "developing pictures" is something we did in the 20th century before iPhones. . . strange, I know). I am grateful it was taken.
I love this picture, because it is a reminder of the eternal value of friendship. I have often written about the power of friendship and its role in my life over the years in this blog, so I won't say much more here. I wrote an article specifically about Phil and my friendship (CLICK HERE). However, I will say Phil's life and untimely passing cemented this value as one which has always and will always be of immense importance in my life. In seeing this picture, I am reminded of this.
I love this picture, because it reminds me that life is too short to take myself too seriously. Phil had a way of balancing the seriousness of life and faith, while bringing levity and laughter to pretty much every room he entered. I loved this about him. I don't remember the particular day this picture was taken, but I am certain we had both been laughing AND spurning each other on to pursue Christ to a greater extent that day. I can say this with confidence, as this characterized everything we did together.
Phil took his calling as a follower of Christ seriously, but not himself. His faith in Christ was of supreme importance to him, but this never prevented him from enjoying life to the fullest. Joy was always his front foot. Always. I need this reminder, as I often let the cares of this world weigh me down. This picture reminds me of spending time with Phil and his unique gift of faith commitment and levity in life.
I love this picture of Phil and me walking back from the laundry room at my then apartment complex, because it simply reminds me of spending time with my friend. I miss times like that most of all with Phil. Just the everyday experiences of doing life with a best friend.
It is hard to believe that 20 years later I still legitimately miss Phil and his friendship, but I do. I honestly do.
I wish he were here. I really do. I've missed not doing life with him, even if it had been on different sides of the globe. This thought alone still brings tears to my eyes, even twenty years later.
However, as I sit in this coffee house in Los Angeles missing my friend, I am filled with a sense of honest and heartfelt gratitude.
I am grateful that the patterns of friendship I learned from Phil have carried me through life so far.
I am grateful that Jesus, who was so present in Phil and my friendship, is still present and active in my life and in the lives of those who were closest to Phil.
I am grateful that in heaven we will all again be reunited, but without the hindrances of this present age. Then there will be no frustration, pain, and confusion. Fear will be a thing of the past, as will tears.
For now we see in a mirror dimly, but then face to face. Now I know in part; then I shall know fully, even as I have been fully known. – I Corinthians 13:12
On this day, twenty years to the day after the then unimaginable happened, I am grateful for memories of my dear brother in Christ, Philip Andrew Clarke.
If you would like, I have written a few other articles on Phil and the impact of his life and death. Death at 22 (but a life-long impact of friendship),  A life well-lived. . . the eulogy of Philip Andrew Clarke, 3 invaluable lessons from the death of a best friend, The vitality of "leaning into pain" and The moment Tracey and Phil met.