(At the end of this post, I have a "funny small story" from this trip.)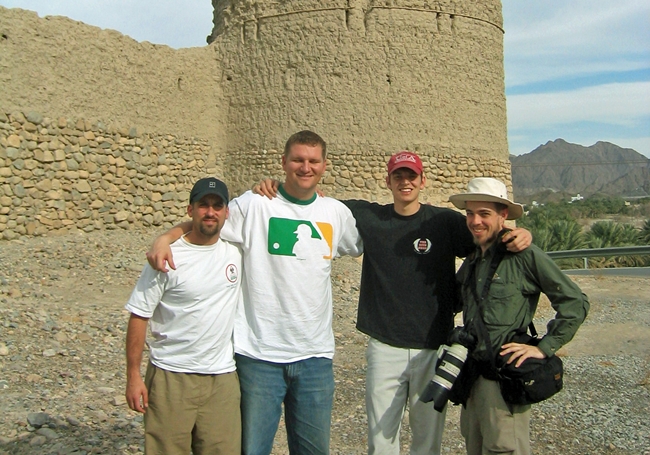 As I sat there listening to the passionate, venerable nurse speak about her 37 years of serving in the Arabian Desert, I was mesmerized.  She had faithfully served in this little desert hospital, appropriately named the Oasis Hospital, in the midst of the United Arab Emirates for over half of her 71 years of life.
Her name was
Gertrude Dyck (CLICK HERE to read about her).  She was a Canadian missionary to the people of the Arabian Peninsula.  A group of five of us living in Asia had the privilege of spending two days with her and her group in January 2004.
I'm thinking about Ms. Dyck again on this dreary day here in Asia.  Though my time with her was minuscule in the grand scheme of things, I am still thinking about her almost ten years later.
During Ms. Dyck's entire 43 years (she stayed a few more after we were there) of faithful, grinding, gut-wrenching work, their hospital had never seen one person come to faith as a Christian.  Not one.
Yet, Gertrude and her colleagues served faithfully, day after day, year after year, decade after decade.  Don't get me wrong, God had blessed their work immensely.  They had seen miracle after miracle in simply starting, staying open, and serving the people of this region of the world (and the hospital is stronger today than ever).
Gertrude beamed with excitement as she told of stories of Sheikhs and other local leaders trusting Oasis Hospital with the care of their families (click here to read an honor for this).  Many of their medical techniques which they pioneered in the region are now standard operating procedures throughout.
Gertrude talked of the local people becoming more "soft" to the Gospel during her 37 years.  She talked of local authorities being more favorable towards Christianity as a result of the Oasis Hospital.  She radiated as she talked of the power of prayer.
"We have prayed over these people and this land for half a century. . . God is going to honor this!  It might not be during my life, but I am CERTAIN the Lord will use our time and prayer for these people to draw them to Him one of these days."
Gertrude Dyck was not disappointed over their lack of visible "fruit" or progress during her life.  To the contrary; she did not doubt her calling to the Middle East, which she so clearly loved.  She never once felt like she had wasted her life serving Christ in the Arabian Desert with not one person becoming a Christian on her watch.
Just thinking about Gertrude on this grey day in Asia is of great encouragement to my soul.  Looking back, I learned at least four vital lessons from being with Gertrude Dyck those two days in January 2004. 
First, God's calling trumps all
Gertrude knew God had called her to a difficult work in the Arabian Desert way back in 1962.  She knew that it promised a high level of "discomfort" and a low level of "success" in the world's eyes.  However, she went anyway. . . and she stayed.
Gertrude ostensibly gave her life for the people of the Middle East.  Her Canadian and American colleagues thought she was wasting her life.  When you were with Gertrude, however, you knew beyond a shadow of doubt that she did not regret one single day of serving the Lord in this lonely, desolate field.  She was a powerful example of following God's calling to all us in our group.
Second, God is sovereign and will work on His timetable
God WILL work in this area of the Middle East.  God has used this wonderful hospital and the men and women who have lived and died as unsung heroes in the Middle East through this ministry.  As Gertrude confidently told us, it might not be in our lives, but it WILL happen.  I believe her.  I believe her, because. . .
Third. . . God's Word (and work) will NOT return void
Throughout the Bible, we see clearly that work done in and words spoken of Christ Jesus are NEVER in vain.  We may never see the results with our own eyes, but we are assured God will use it ALL for His glory in HIS timing.  We see this principle clearly in Isaiah 55:11.
so shall my word be that goes out from my mouth; it shall not return to me empty, but it shall accomplish that which I purpose, and shall succeed in the thing for which I sent it.  
God WILL use the good works, words, and prayers of Gertrude and her co-workers all of those years.  We are guaranteed.  Likewise, He will do the same for you and me.
Fourth, God's calling is way bigger than visible "fruit" or production
The biggest lesson I learned from being with Gertrude for our brief visit, though, was almost certainly this one.  God's pleasure in His people rests in their faithfulness, heart, and calling, not on external measures and values.  In the culture of American Christianity where "bigger is better" is almost always the undercurrent of church growth strategies and we judge "successful" pastors by the size of their sanctuaries, there is little room for people like Gertrude Dyck and countless others like her.  For this, I am sad.  We have missed the boat on this.
God has always valued "faith, hope, and love" over that of "size, power, and beauty".  I often forget this and need reminding. 
Though Gertrude Dyck has since passed on to be with the Jesus she so clearly loved, I am grateful I always have her as an example of  joy and faithful service of our Lord.
Funny story. . .
As I sat with a group of four others traveling with me from Asia to the Middle East listening to Gertrude talk of all she had seen and done in her 37 years of working at the Oasis Hospital, I was amazed.
However, she soon turned to some of the more "medical details" of her work in the early days in dealing with women, infertility, and some of their then current medical techniques.  I knew I was in trouble.
I have one of the weakest stomachs I know for this type of stuff.  Just talking about gross, medical stuff makes me sick.  As Gertrude spoke, I literally started seeing the room spin around me.  Sweat began flooding through the pores of my face and head.  I was dizzy and knew the darkness was coming soon.
In the midst of her powerful presentation, I jumped up, sprinted to the door, and got out of the building as if it were on fire.  I knew I needed air, and quickly, or I was going to be out for the count.
I got out just in time, composed myself, and staved off fainting.  That WAS embarrassing, but it would have been downright humiliating had I hit floor from just HEARING about some nasty medical stuff.  I'm definitely NOT the strong, silent type.
Guess I am not cut from the same fabric of the likes of the great Dr. John Moultrie. . .
Very grateful the Lord didn't call ME to work at the Oasis Hospital!