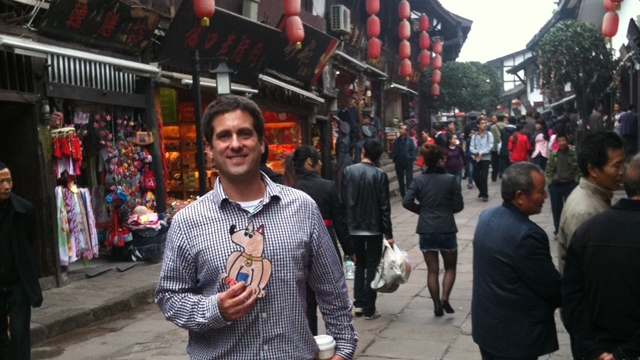 It is December 30, 2012.  Time to get contemplative about this past year and think more about what is to be accomplished this coming year. . . or at least that is what "they" tell us.
Well, I'm not going to do exactly that in this post.  However, I am going to look at a few of my favorite personal pictures of the year from four broad categories (life, Asia, friendship, and family) and talk a little about each.
The top picture is me with "Flat Wolfie" in one of the ancient cities that I frequently visit near where I live.  Who is "Flat Wolfie" you ask???  Well, this is Whitefield Academy's version of the children's story "Flat Stanley".  One of the things I have enjoyed over the years has been helping my nieces and nephews DOMINATE in the "Flat Stanley" contests at their schools.  This year it was John Robert Bracher's turn.  It was good to go out with a resounding win (or at least a close second to the kid whom had his "Flat Wolfie" photographed in the midst of the LSU cheerleaders!).
Not my finest haircut, but the judges overlooked it.
Life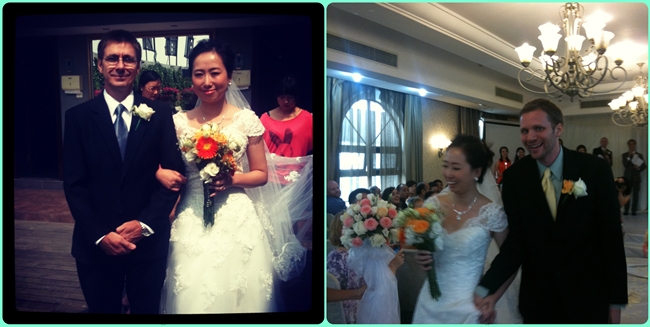 I enjoyed  writing on "life" this year in this blog this year.  One of the series which I enjoyed writing was "My thoughts on weddings (a series. . .) ".  I love these two pictures I included here.  This was from Ross and Christie Curtler's wedding (I was honored to be an usher in it).  On the left is Christie and my good friend, Daniel Sims.  Daniel had the thrill of being "Father of the Bride" for the day, as he walked Christie down the aisle.  I love this pic of Ross as they walk away.  Has a groom ever looked happier?!?!?
Asia

This year I moved to yet another part of Asia.  It was back to a city which I have previously lived, but in a different section of this massive town.  I love these pictures, as they show some of the diversity of where I live.  Within two miles of my door, there are sections that date back over 1,000 years ago.  Michael & Beth Gregory and I found this temple just on a random motorcycle ride one Sunday.  It shows of the "old school Asia" nature of the place I live.
The picture on the right was taken two weeks ago when the subway line was completed in my part of town.  Now I have a subway station just 50 yards from the apartment complex in which I live.  It really is a strange, yet wonderful juxtaposition of small town and mega city feel where I am currently living.  We have peasant shanties intertwined with towering sky-rise buildings.  Really cool.
Friendship

I am blessed with friends all over the world.  These picture are three from this year of different fun times with great friends.
The picture on the left is from my awesome surprise birthday party where these men rented a sports car and a racing track.  We tore up the tires (literally) and had the laughter and competitiveness of middle school kids.  The middle picture is from February when my dear friends, Rankin and Morgen Wilbourne, brought a group of their friends here for stuff.  It was a blast climbing certain walls, exploring ancient cities, and just introducing them to my world over here.  The final picture was of my time in DC last summer with Tracey & Craig Clarke and Phil & Elisa Autry.  These pictures are indicative of a blessed year of friendship all over the world!
Family

Finally, we celebrated Mom and Dad's 50th wedding anniversary this summer by taking an Alaskan cruise.  It was an unforgettable time in having the 15 of us exploring glaciers, whale watching, eating our weight in sea food, and generally just enjoying the celebration of this monumental time in Mom and Dad's marriage.  On the left are my eight nieces and nephews, complete with goofy Russian tourist hats.  The other picture is from an anniversary party we threw for them in Atlanta in July.  It was a thrill being able to be with my family for both events.
Well, I hope you had an outstanding 2012!  I really have enjoyed writing this blog and am grateful beyond words for your joining me in this venture.  It has been a blessing for me in many, many ways, and I pray it has been the same for you. . .
Happy New Year and praying for us to have a wonderful 2013!