(This post is from my series, "My thoughts on weddings. . . (a series)".  If you would like to read more of the articles, please CLICK HERE.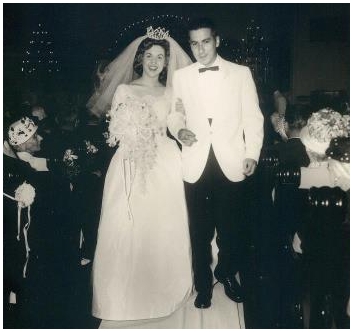 July was the month of celebrating 50 years of marriage for my parents (click here to read about their wedding).  I was thrilled to be able to be in America to celebrate with them.  This anniversary was one of my primary motivations in doing this series on weddings.
In this post, I will simply write about a few things I have learned through observation from my parents' marriage of 50 years. There are way more than nine things I have learned from watching my parent's marriage over the years.  However, as I sit down to write about it, here are the first nine which come to mind. . .
9 things I have learned from watching my parent's 50 year marriage:
Laughter is important – If you have never been around my parents together, that really is too bad.  They are fun.  They laugh.  Especially Mom.  She laughs often, freely, and with great volume (CLICK HERE to learn more about Mom and her laugh).  Mom genuinely thinks Dad is the funniest man in the world.  Seriously.  He is really funny.  Other people also laugh at my Dad's humor, but nothing approaching the level or decibel of my Mom.  With them, I have seen laughter as vital.  Life can be hard.  Laughter is important, if not necessary.  If I ever meet a woman who thinks I am half as funny as Mom thinks Dad is, I will marry her then and there.  Well, maybe not that dramatically, but you get my point.
Children are a privilege and stewardship – Mom and Dad prioritized their kids above all things.  Mom quit work and poured her energy into us.  Dad halted all personal hobbies and activities while we were still in their home.  Once I went to college, the golf clubs came out and the beach trips became frequent.  Not so while we were young.  I am eternally grateful for a Mom whom was almost ALWAYS there when I got home from school and a Dad that was almost ALWAYS at my baseball and football games. . .and there were MANY.  I never had the feeling of being a burden to them either.  They were always happy to be around us and participate in our interests and activities.    
Friendship makes marriages last – Mom and Dad really are best friends.  I can't imagine one without the other and either could they.  They like being together (most of the time!).  Dad goes to movies of which he has zero interest, because Mom loves movies.  Mom became the biggest Georgia Tech fan I knew growing up, because she wanted to join my Dad in it.  I don't think anyone cheered as loud as Mom at often mediocre Tech games than Mom.  Seriously.
Take fun trips as a family – I got the travel bug from my parents.  They gave me an appreciation for seeing the world from our first trip to California when I was in 4rdgrade and a cruise around the Virgin Islands a year later.  They further stocked these coals through family trips to Europe and Mexico while I was in high school.  We traveled well as a family.  We enjoyed adventure and seeing other places, especially Mom.  I will never forget her constant yelling of "look!!!" as we drove the California coast.  It wasn't good for my pubescent desire to sleep, but it was great to take in all the sights.  I love this about my parents.

Mom and Dad sharing words at their banquet for faithful service at Briarlake Baptist Church on Monday night.

Faith changes and carries a marriage – Dad became a man of great faith while I was in high school.  It has been wonderful to see both of my parents continue growing in maturity in their Christian faith each and every year.  I am certain that their marriage is strong today only because of the absolute and total grace of Jesus.  I am also certain they would say the same.  With everything else which I have learned from them, this one will always stick out.  Christ changes people, heals people, and carries marriages.  Mom and Dad have demonstrated this to me, and I am grateful beyond words.  Just last week, I was overjoyed to be able to participate in a ceremony at Briarlake Baptist Church where Mom, Dad, and a few other long-time members were honored for their lifetime service to their Lord.  It was an honor and joy to be there.  It is a legacy for which I am most grateful.
Grandkids are wonderful – I don't think I have ever seen better grandparents than Mom and Dad.  It's been fun to see.  My eight wonderful nieces and nephews are going to have a legacy and memories of their grandparents like very few people.  If I am fortunate enough to have children one of these days, one of my biggest joys will be in having them exposed to the greatest grandparents I know.
Sitting at the kitchen table is important – Our lives were chaotic when I was a kid.  Football, baseball, dance (not me), cheerleading (also not me), and constant pursuit of academic excellence (definitely not me in high school) kept our family pulled in all directions.  Mom and Dad prioritized dinner at the table.  The TV was off.  The phone was not to be answered (unless your name was Kay).  We left the table only after being excused to do so.  In a strange way, I think this provided some much needed structure for me.  I don't know if it is vital for everyone, but I think it was for me.  I hope to carry on the same custom, if I am fortunate enough to have my own family one day.
Friendships (outside of the family) are important and to be valued –Mom and Dad are community people.  They have many friends and love them all.  They are committed to their friends.  They are generous with their friends.  My best memories of youth are of our house being filled with family friends.  Laughter abounded with the adults.  The kids ran around free

The family at a party the kids threw for Mom and Dad for their 50th wedding anniversary.

and with vibrancy.  Great food was everywhere.  Mom and Dad were amazingly open and generous with their kid's friends.  We always had friends around and they felt like our home was theirs'.  Now as retired people, Mom and Dad continue in their many life-long friendships.  They truly have demonstrated "going through life" within a community of friends, not in isolation. I hope to always be as open and warm to others as my parents have always demonstrated to me.

Love is about sacrificing, letting go, and blessing others (me in living in Asia) – Mom and Dad have demonstrated to me, first and foremost, the reality that loving others is about sacrificing for them, blessing them, and trusting them to God. They have done this repetitively through serving others around them all of their married lives.  However, now I am thinking more specifically about me.  I have chosen an occupation and life calling which has had me living literally on the other side of the world from them.  As I type this, I am sitting in my apartment in a desolate section of East Asia.  This has been for most of my adult life.  Though they would obviously rather me be back in Atlanta (I'm pretty sure in their basement if Mom had her way), they are supportive and have sought to encourage me in any and all ways while living in Asia.  I really can't understand how difficult it is to raise a child, have hopes and dreams for him, and then have him move 10,00 miles away.  However, they have blessed me richly simply by giving me their blessing to live, work, and serve in a place which they would have NEVER envisioned for me.  They sacrifice for me, they trust me to God, and they bless me in any and all ways they can.  What a wonderful thing to learn from your parents!
When thinking of what I have learned from Mom and Dad's 50 year marriage, the following Bible verse came to mind. . . Ecclesiastes 4:9-12
9 Two are better than one, because they have a good reward for their toil. 10 For if they fall, one will lift up his fellow. But woe to him who is alone when he falls and has not another to lift him up! 11 Again, if two lie together, they keep warm, but how can one keep warm alone? 12 And though a man might prevail against one who is alone, two will withstand him—
In this verse, I see three main "benefits" from being in a relationship.
Pick each other up in times of need (support each other)

Keep each other warm (provide for each other)

Protect each other from outside dangers (protect each other)
In other words, I think this passage is saying that those in strong relationships are "for each other."  Through all the years of Mom and Dad's marriage, I think this is what I have learned most from them.  They truly are "for each other" in all ways.  For this, above all else, I will always be grateful for having learned this from them.