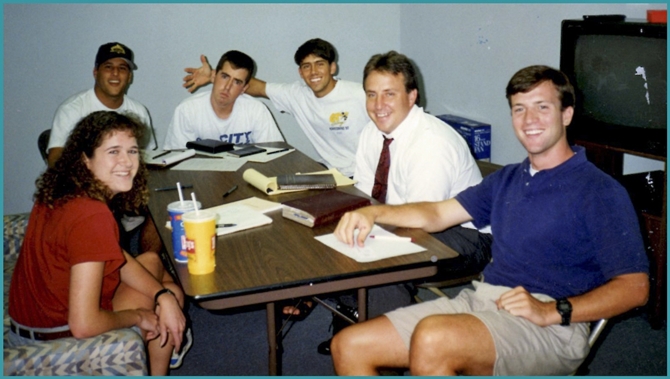 I was deeply and eternally impacted by the life and premature death of a best friend. His name was Philip Andrew Clarke and he passed on to heaven 18 years ago this week.
As I said in a post last year, Phil was a best friend and brother in Christ of the highest order. It is incredible how I can STILL miss someone who has been gone for so long, but I do. It is not as often as it used to be, but thoughts, memories, and emotions of Phil, his friendship, and powerful life still hold a big piece of my heart. Amazing.
Upon Phil's passing, I made two personal commitments.The first is simply to honor his parents the best I can. In this, I have called them each year on December 7th to check in and express my love and gratitude for them. Additionally, I try to stop by to see them during my sporadic visits to Atlanta. To this day, I am richly blessed by Mr. & Mrs. Clarke's friendship towards me.
The second is what this post is about. Upon Phil's passing, I committed to getting away by myself around December 7th every year to simply think about Phil, his life, and what I have learned from him and his untimely death. I think, pray, ponder, journal, and remember this friendship which had meant so much to me and at such a crucial time in my life.
It is always a painful time, yet rich in fellowship with my Savior, Christ Jesus.  It is a time I ALWAYS genuinely look forward to.
Though I miss my friend in so many ways, I am still learning from Phil Clarke, his life, and his death at 22 years old.  I was 24 at the time, and much of what I have learned from Phil has shaped everything I have done, decisions I have made, and even places in which I have lived since that day.
Upon the anniversary of Philip Andrew Clarke's passing some 18 years ago this week, I have retreated to a local Asian coffeehouse. This post is about SOME of what Phil's life and death have taught me and how it has formed my thinking.
Here are 3 of the most important life lessons I have learned from the life and death of my best friend:
1 – Heaven is real
There is something powerful about having a best friend in heaven. Not that I didn't believe in heaven prior to Phil's passing, but the tangibility of heaven was immediately hammered into me after his death. Phil was gone. However, it was and is 100% clear to me that he is in heaven right now.
In addition to the comfort I have regarding Phil with this reality, it is also of great encouragement in my own life. Phil is in heaven. I WILL be there one day. No matter what comes my way, I can push through with this reality.
Life is hard, but the presence of this reality of heaven makes any and all trials and travails temporary.
Therefore, I can press forward knowing clearly my ultimate destination will make it all "worth it" in the end. Phil's presence in heaven RIGHT NOW has been a powerful, calming element in my life from that day forward.
2 – Life is temporal AND short, and ought to be lived to the fullest
Much like the first point, Phil's early entrance into heaven has been a constant, tangible reminder that life is temporal AND short. I knew back then, as I do to this day, that whether it is today or 70 years down the road, I will eventually be where Phil is now. Additionally, this time will be upon me in a flash.
I look back now and I CANNOT believe it has been 18 years since Phil's passing. In many ways, it seems like yesterday. I still remember those exact days surrounding his death in vivid detail (CLICK HERE).
As a result, I really want to "run the race" well. I know this world is but temporary. This life is about preparation for the next life. This is life is temporary, but the next is for eternal.
Lord Jesus, please allow me to be a good and faithful steward of the days you provide for me.
I have always believed this. However, the experience of having a friend die in an accident has made this fact all the more real. For this, I am grateful beyond words.
3 – A life invested in Christ, His Word, and His work is an extraordinary life of definitive impact
Philip Clarke loved the Bible. He staked his life upon it. I have learned from Phil in this. I am trying to do the same.
Phil loved people and honestly wanted to simply "invest his life" in others. My last evening with Phil was the Tuesday night before he passed on a Thursday morning. We ate dinner at Fellini's Pizza with a friend who worked for Intervarsity at Emory University.  I will never forget sitting there listening to Phil articulate his life passions.
"I don't know exactly what I want to do, but I know I just want to share Christ with and disciple (mentor) men."
Phil was animated and enthusiastic as he shared. It is funny, as I had heard him say similar things often prior to that night.  However, that evening, the last meal I would share with Phil, was the first time I had just sat back, listened, and appreciated who Phil was as my brother in Christ. I was inspired.
To this day, I can remember where I was sitting and in what booth there at the Roswell Road Fellini's and all of the details of that time.
Phil's legacy in my mind was cemented through the values he communicated that night. He spoke through the clarity of the Bible, God's Word.  He spoke passionately about the spiritual condition of those in the world around him.
Phil Clarke's life hammered home to me the reality that there are only two things of eternity in this world; God's Word and the souls of man.
Though Philip Clarke lived a very short time period, his impact upon this world is incalculable. As I stated in my previous post, I am amazed how many people to this day want to talk about Phil and his impact upon their lives. Even more so, I am amazed at the many wonderful lives of those of us closest to Phil have lived and are still living, both in Phil's direct family and those of us who were privileged enough to call him a friend.
As for me, these three "life lessons" have meant everything to me and the man I am becoming.
Heaven is real

Life is temporal AND short, and ought to be lived to the fullest

A life invested in Christ, His Word, and His work is an extraordinary life of definitive impact
For this lasting legacy of Philip Clarke, I am eternally grateful. Though many of us still miss him, I am grateful beyond words for the impact his friendship and brief life are still making upon me and many others.
Thank you, Lord Jesus.  For even in the pains of death, you are sovereign, good, and loving towards those most affected. 
(The follow-up article to this one is The vitality of "leaning into pain" and also see The moment Tracey and Phil met.)