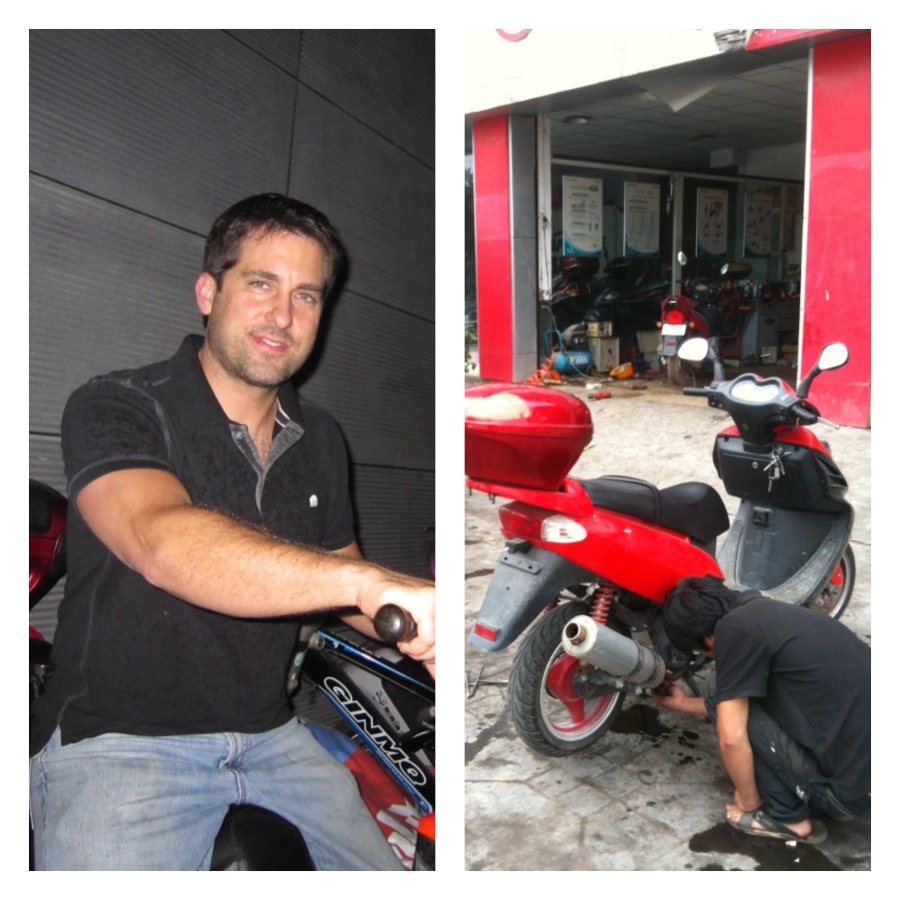 Today has been one of THOSE days.  You know the kind.  We all have them.  Nothing cataclysmically bad happened, but everything was just kind of off.
I woke up sick.  Nothing like a tumor or anything, just your garden variety flu like symptoms.  Not bad enough for me to find a doctor, but bad enough to make life really uncomfortable.  This seems to happen a lot to us foreigners living over here in Asia.  We will get a cough and it just won't go away.  Months on end, we cough.  One day we notice it is gone, but we don't really know why.  It seems like that is what is happening to my body right now.
I woke up to a broken clothes dryer.  It's been broken for over a week, but today was the day the repairman was to come.  At least they said he would either be here yesterday or today, so I was hoping today would be the day he would actually show up (tomorrow begins a holiday and then all bets are off).
Thankfully he did get here today.  He arrived at noon, after telling me he would be here in the morning.  He fixed it and left, but there went a large chunk of this day, including a canceled lunch appointment.
I went out and got on my motorbike only to find that it wouldn't start.  After a guy from the local motorcycle repair shop helped me get the bike there, they replaced the starter.  We are back up and running, but never fun to spend a day sick and in two different repair scenarios.
Yep, it was one of those days.  I had a lot of catch-up work to do from the last two weeks, but accomplished none of it.
Driving back to my apartment on my motorbike, stewing over the annoying day that it had turned out to be, a comforting thought came back to my mind.  As I was darting in and out of over-packed pickup trucks, fruit stands that protrude out into the streets, and workers carrying way more than their small frames would suggest, I remembered one line from a talk I heard years ago by leadership guru and professor, Howard Hendricks.  It is a line I have thought about often and helped me navigate more than a few days like today.
There is glory in the grind. 
It is simple and to the point.  Life is often mundane and far from glamorous.  Life is more filled with small annoyances and momentary joys than it is earth-shattering triumphs and life altering losses.  Life is, by in large, a grind.
The longer I live, the more I see value in this phrase "there is glory in the grind."  What I do on days like this really does seem to form my character and define my life course MORE than the sporadic "big events" in my life.
It is in the day to day grind that we chose good habits that lead to higher character or form bad habits which, at a minimum, make us lazy and bitter.  Bad habits and bad choices compounded over time lead us down the path of addictions of all kind.
On the other hand, when I respond to the grind by seeing it as a thing of glory, as one day of a process from which I can make my life and the lives of those around me better in big and small ways, then life is immeasurably better.  I can chose to exercise instead of sleep in.  I can choose to pray instead of curse.  I can choose to invest in a person around me, instead of one more hour of TV.
Along these lines, the Apostle Paul said something similar to this in Colossians 3:23-24
Whatever you do, work heartily, as for the Lord and not for men, knowing that from the Lord you will receive the inheritance as your reward. You are serving the Lord Christ.
I can't say I always respond this way, but I am grateful for the words of Howard Hendricks (and the Apostle Paul) on a day like the one I just completed . . . there is glory in the grind of everyday life.  No matter what I am doing, big or small, if I do all things "as for the Lord", then I am going to be fine in the end.
Please pray for me in this.  Pray that I will be faithful in the day to day actions of my life here in Asia.  Pray that I will truly find "glory in the grind" and in the process do all things "as for the Lord and not for men".
Thanks and I will pray this for you also. . 
This article is the first of a series on CONTENTMENT.  If you would like to read the next article on contentment, please CLICK HERE.