Josh Irby is a tremendous writer, musician, basketball player, and basic all around renaissance man.  He has also been a good friend of mine for more than 15 years.  Josh is hosting an Open Letter Challenge  contest on his excellent website.  He asked me to participate, so here is my attempt.  The following letter is my response to An Open Letter to You from the Rest of the World."  Would love your thoughts at the end!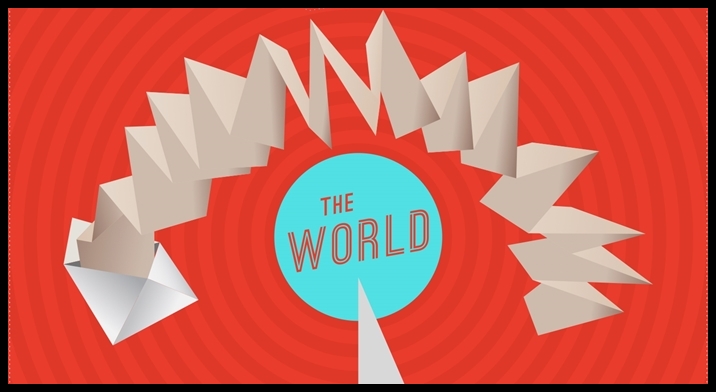 Dear World,
Let's learn to be content in all things!  The older I get, the more I see quality of life wrapped up in this little concept of contentment.  Allow me to explain.
As I have shared several times in my blog, contentment is somewhat of a theme in my life.  Rather, I should I say a pursuit of contentment.
I currently live in an Asian culture where the dominant world-view is atheism.  It is taught from birth with religious zealousness.  At its ideological core, this philosophical system teaches that this life is it.  You live and then nothing.
I hail from an American culture which constantly pushes me away from thinking about the "ugly reality" which is death.  Intellectually, we all know death is inevitable.  However, my home culture wants us to forget this, push it aside, and just not acknowledge it.
However, in both Asia and the United States, the majority of people seem to be filled with discontentment.
All of this has been on my mind lately as I have thought about this letter to you, World, and as I cracked open my little 3 by 5 inch Bible this morning.  These words jumped off the pages.
But godliness with contentment is great gain, for we brought nothing into the world, and we cannot take anything out of the world.  (1 Timothy 6:6-7)
The wisdom here is palpable.  The key to contentment is simply living in unity with our God, comfortable in the reality that this world is temporary.  We came into this world with nothing and we will depart with nothing.  Just as God has cared for us in our infancy, so he will in our eternity.  As he oversaw our entry into this world long before our personal cognition, so will He be there in our passing from this world and onto the next.
There is incredible comfort in this for me!
Personally, I looked towards pleasure, relationships, and personal accomplishments for contentment, yet it was nowhere to be found.  However, only in staring directly into both my own personal finiteness AND the infinite beauty and strength of my Creator and Friend do I find contentment.  Only in the face of God do I find purpose and a true "resting place" for my naturally discontented soul.
This Bible passage nudges me towards contentment for three simple reasons.
First, I am reminded that the troubles of this present age are but temporal.  They will end.  There will be a day where all tears will be wiped away.  All wars, albeit between countries or individuals, will cease.  This is wonderful news.
Second, I see in this passage that all accomplishment will also come to an end.  I can rest from my own pursuit of personal validation.  Trophies, monuments, and mounds of cash will not follow me beyond these days.  Why allow the pursuit of them to bring toil, consternation, and discontentment?
Finally, this passage DOES bring me to a point of focus upon those aspects of life which truly are eternal.  My soul will live for eternity.  Therefore, the pursuit of godliness (or contentment with God) is worth my time and energy.  Those around me will live for eternity.  Therefore, serving my fellow man is a good thing.  It will bring me towards godliness, leading to contentment.
The longer I live, the more I see contentment as THE issue in my life.
Only in embracing my personal finiteness and the vastness of the God whom I serve, I am freed up to live the life my soul longs to live.
Your Friend,
John