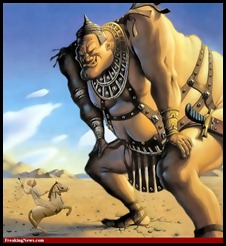 It was the first game of the season. We had just completed summer football 3-a-days (yes, we had three practices a day in the Atlanta August heat). All off season, we had heard of the greatness of the Tucker team, led by a consensus all-American defensive end/fullback. Personally, it was my first big varsity game as a starter AND it was against the school where I knew many of the players (and fans from both sides). The stadium would be packed. To say the least, I was nervous.
Sitting in the courtyard of my high school an hour before getting on the bus to the stadium, our head coach sat us down for the climatic pre-game motivational talk. To my surprise, Coach Wilson raised a Bible, opened it to 1 Samuel 17, and promptly read the story of David and Goliath. The general theme. . . with faith, you can accomplish anything. Coach Wilson's point was that with faith, we could beat our Goliath, Tucker. We were, I suppose, David.
We lost in an embarrassing blow-out. Goliath dominated us. 
No offense to Coach Wilson, whom I really liked and respected, but upon second look, he completely missed on the main point of this story (and clearly the "motivational talk" was ineffectual as well).
Read this story again (1 Samuel 17), as I have this past week and see what you think. Upon second [Read more…]