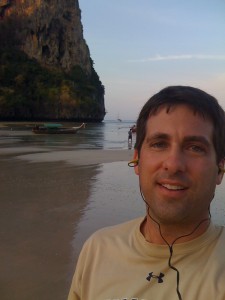 This post is a continuation of the story from My worst travel day ever!!! (part 1).  If you have not read it, please do so first.  For the first part of the story, click here.
Now the continuation of the story. . .
It had not been over 50 hours since I had last laid down.  I arrived in Rayong, Thailand at 12:30am.  At the Rayong "drop off" (bus station would be too generous of a description), there were several men looming in hopes of offering new arrivals various services.  I found a guy with a truck, pointed to the name of my final destination on the piece of paper I had, and we were off.
I was sitting in the passenger seat of a pick-up truck, tearing down dusty back roads in a place I had never been, with a guy I had never previously met.  He spoke a language of which I could only say "hello" in.  I was exhausted to the point of hallucinations (seriously).  The road was desolate.  The surrounding was pitch black.  To say I was a bit unsettled is an understatement.
At 1:00AM, we arrived at an ocean peer in the middle of nowhere.  This place defined the phrase, "middle of nowhere".  No evidence of human life.  Just a few dilapidated boats tied down to a rusty docks.  The driver looked around in search of a boat owner.  He found and woke up a large, shirtless, Thai gentleman.  I pointed to my trusty piece of paper of where I needed to go.  We agreed upon a price, jumped aboard his junket boat, and set sail on the Gulf of Thailand.
At 2:00AM on Thursday, I finally arrived at Samet Island, Thailand, my desired destination.  My travels were finally over, or so I thought. . .
Samet Island, the place where we were to hold our week of meetings, looks tiny on a map.  Sitting in front of my computer in Atlanta, Georgia, I thought "no problem".  However, at 2:00am in the middle of a week, it seemed like an ocean of darkness, a vortex of lostness.  As I stepped courageously into the vast darkness of this island in the middle of nowhere Thailand, one thought came to my mind.  "I wish I knew where my colleagues are."  I had thought it would be simple to find them on this tiny island.  In the light of day, this would have been true.  However, in the middle of the night it was another story.
For the next 2 HOURS, I wondered aimlessly around, looking for a single familiar face.  There were none to be found.  I searched every hotel and bungalow (or so I thought) on Samet Island.  I talked with every human I found awake.  I even wound up on the back of a local Thai man's motorcycle, all in a fruitless effort to find lodging, any lodging, for the night.  I had given up trying to find my group at this point, I just wanted to lay down on a bed for the next few hours.  However, it was Chinese New Year, so there was not a single open room on the island (a simple fact I had not previously considered).  To top things off, the motorcycle slid off of the trail, causing me to drop my suitcase and computer bag.  The bags bounced down a small hill.  Nothing was hurt, but I did decide to exit the bike and take to walking.
By 4:00AM, I had had enough.  I gave up my search for a place to stay and settled for sleeping on the beach in a random chair I found. My computer bag became a foot rest.  This was partially for comfort, but mainly to prevent theft just in case I fell asleep.  Didn't really trust the folks still out and about in Thailand at 4am.  After all, there are some pretty rough things that happen in Thailand.
The mosquitoes were awful, so I literally unpacked my suitcase and wrapped clothes around all exposed skin.  There was only a hole left over my mouth for oxygen.  It was NOT comfortable.  I did not sleep, but rather just sat there in an emotionally, physically, and mentally vegetative state.
The sun rose around 6am and one of my colleagues randomly went jogging by.  I flagged him down.  My words. . . "I don't feel like explaining now, but may I take a shower in your room?"  He took me to his room, I cleaned up, and dropped my stuff off for later.  We had our first day of meetings from 9:00am-12:00pm. I found my hotel, checked in, and ate a quick lunch with the group.
On Thursday at 2:00pm, I finally laid prostrate on a bed.  It had been 65+ HOURS since I last laid down.  The journey had included cars, trucks, planes, buses, a boat, and a rickety old Thai motorcycle.  It included a bunch of bug bites on my face from "sleeping" on a beach chair and a few hallucinations.
Needless to say, I fell asleep quickly.  That was my worst day (2½) of travel ever.