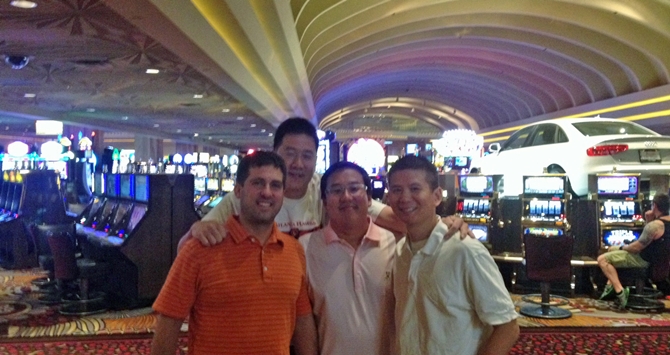 On the road again. . .
This week finds me, once again, on the road.  I'll be covering over 20,000 miles in less than two weeks.  The trip has already taken me through Las Vegas and Atlanta.  As I type this, I am sitting next to my Father digesting a wonderful breakfast which Mom just cooked, feeling a million miles away from Asia.
Las Vegas was a one night stop over joining in the celebration of long-time friend Patrick Ku's 40th birthday.  A group of around 20 rendezvoused in Vegas for three days of golf, food, and whatever else they can find out there.  Vegas is a weird place, of which could be a few blog posts in and of itself, but I will refrain.
I was only able to stay for about 15 hours, but I'm grateful for the time.  The picture above is of Patrick, Eugene Kim, and Eric Tai.  All these men are great friends, brothers in Christ, and fellow survivors of Georgia Tech.
In light of the fact that I am traveling and on the road this week (with almost zero free time), I thought it would be fun to simply write this post on travel.  If you have been following this post, you probably have noticed that I write some of the subject of travel.
Here are some of my favorite posts I have written on travel: 
I hope you have a good week!
P.S.  Spoiler alert. . . next week (Monday or Tuesday) I will post an article on the time I spent a night in jail.  Seriously.