As I stated in my last post, I have spent a significant part of my life on LONG, international flights (please CLICK HERE if you have not read it. . . definitely read the comments by Scott Stephenson and Tim Waddell at the end).  These flights tend to be physically demanding and life shortening, but at least we have them as opposed to boats as they had in the old days.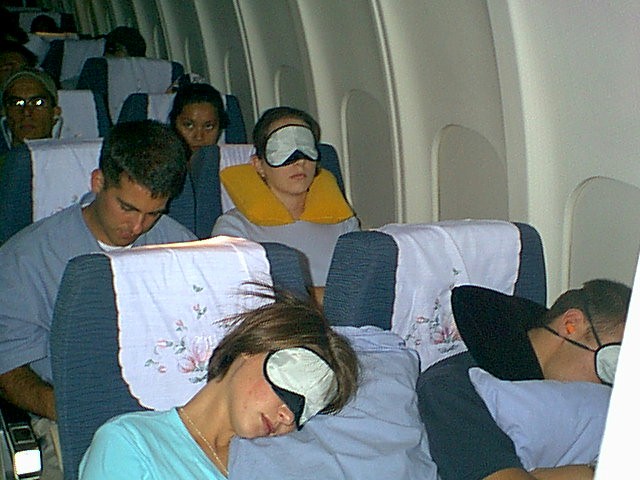 Additionally, many of my friends will be traveling from America to Asia in the coming weeks, so I hope this will be helpful.
I'm sure one day we will find an alternative means of long-distance travel, but for now we are stuck with massive, over-crowed planes.  Until an alternative to plane travel is created. . .
Here are 10 of my suggestions for surviving LONG, international flights.  I'll start off with a tip based on the end of my previous post.
Wear shoes that can easily slip on and off –

 See my previous post for the reason why.  This is essential.  On a related note, ALWAYS WEAR SHOES TO THE BATHROOM!  If you have not, you really need to read this post. . . 

Drink water often –

I try to get up and ask the flight attendants for water every 1-2 hours.  You get massively dehydrated on flights of 8+ hours, even when you don't realize it.  This will lead to head-aches and other symptoms. . . drink water often!

Stretch often –

 While getting up for water, stretch some.  My body suffers much less wear and tear if I simply stretch for about 5 minutes every hour or so.  You kind of look like an idiot, but who cares. . . it's worth it.

Bring paper and a pen –

Some of my best work is done on planes.  I've actually done two blogs and numerous other work items on this flight already.  Some of my best ideas for helping people, planning fun times of travel, thinking about life, etc. come on LONG flights.  I always have both digital stuff (computer, iPad, etc.) and physical items (notebook, pen, etc.) while flying simply to capture thoughts I have which I want to flesh out later.

Entertainment –

 It goes without saying, but 14 hours is a LONG time to spend on a flight.  While I do usually spend at least half of the flight working, I also bring a few forms of pleasure reading and a movie or two.  Sometimes in-flight entertainment is adequate; often it is not.  Plan accordingly.

Eat when offered –

Even if I am not hungry when food comes by, I always eat.  You never know when the next cart will come back around.  You never know when rough air will suspend in-flight service.  Eat when offered!  Being hungry on a long flight is rough.

Get good headphones –

If you travel much at all, good over-ear headphones are completely worth the investment.  Dad gave me some Bose headphones a few years ago, and this has completely changed my travel for the better.

Pack for an unexpected overnight stay –

With long flights, any delay can cause a forced overnight layer.  As a result, make sure you have one change of clothes ON-BOARD with you.  You might not need it, but it will be well worth it when you do.  I was once on a flight when an attendant dropped an entire trey of orange juice and water on my chest and lap.  It was miserable and made much worse by the fact that I did NOT have a change of clothes on board.  Side note. . . a male steward lent me a shirt to wear on the flight since I was miserably wet.  The shirt was black and skin-tight with a large dragon that began on the front and extended to the back.  Needless to say, I felt foolish.

Bring toothbrush and paste on-board –

Not just for the unexpected layover, I love being able to brush my teeth on the plane after 7-8 hours of in-flight food, beverage, and partial sleep.  Additionally, whoever picks you up at your destination will be extremely grateful!

Get an extra blanket AS SOON AS YOU ENTER THE PLANE –

Put your stuff in your seat while the plane is still on the ground, find a flight attendant, and request an extra blanket.  I am not cold-natured.  However, 9 out of 10 LONG flights are uncomfortably cold, especially if you are trying to sleep.  Once the plane is in the air, others will get the extra blankets.  GET THEM FIRST!  Even if you don't need the blanket for warmth, you can use it as a pillow.  Airplane pillows stink.  I find that blankets are normally better for this purpose. 
There you have it. . . my 10 tips for surviving LONG flights.  I would love to hear tips that you have found helpful. . . please use the comments section below to let us know what you think!
Happy travels (especially for those of you coming my way this week)!
(Other similar posts on travel: The 5 types of people you see on LONG airplane flights, 9 observations from an American airport, 7 people you see on American domestic flights, and  The (not so) highlights of my LONG plane rides this summer).