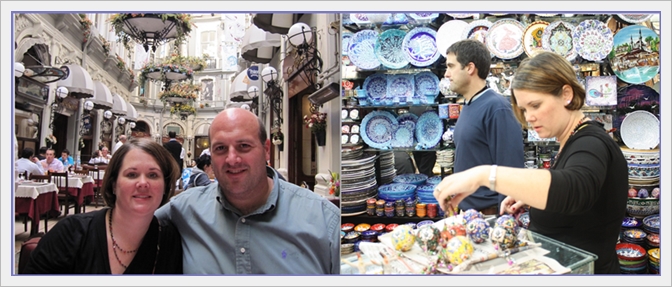 There are many reasons we buy tickets to movies like Bond and others in the genre. As for me, I was initially attracted to these movies when I was a kid for one main reason . . . the exotic locations where 007 finds himself fighting bad guys. Thankfully really bad people always seem to hang out in really cool locations, at least in the world James Bond roams.
Would I have been drawn to the movies had they been in locals such as Tifton, GA and Provo, Utah instead of the likes of Prague and Rome, Italy? Absolutely not. My fascination with exotic locations was only stoked further by having parents that loved to travel.
I got my first passport in 7th grade, in preparation for our family trip to Europe. I was thrilled. In keeping with my love of spy movies, I actually posed for the picture looking like a "spy". In my mind, a spy would naturally raise one eyebrow above the other and have a stern look on his face. I did the same. I don't think that posed goofy passport pictures would float in our post-911 world, but at that time it was apparently kosher to pose any way you wanted. I looked like a buffoon, but it made for lots of laughs.
Back to last night's Bond viewing. As I was sitting in the theater, I realized
that I have been to most of the locations at which this movie was set. I have shopped at the Grand Bazar in Istanbul, Turkey. I was there for meetings and stayed the weekend with my friends Travis and Sonya Todd. As a matter of fact, we were ripped off by a cab driver right after our time at that particular market. A little stressful, but the overall trip was pretty incredible.
I have spent a good bit of time at the famous Bund and Pudong districts in Shanghai, as was the case in the movie. First as a student and then for work. I remember making a really bad "smooth line" to a girl on my study abroad program while looking out over that harbor one faithful summer night in college. I'm not going to repeat it, as all respect that people MIGHT have for me would be out the window. The line crashed, as did our budding romance a few weeks later. Not my finest moment, but a good experience nonetheless.
Macau was the location of my 40th birthday party, along with a memorable trip I took there with Patrick Ku 10+ years ago. Both trips were tremendous on all fronts. All three of these cities played big parts in the Bond movie I watched last night.
As I sit here thinking about all the places I have traveled to, all the cultures I have experience, all the foods I have eaten, all the planes, trains, and ships I have boarded, I realize that my initial thoughts of the joys of exotic travel were off base.
The richness of travel is not in the locations themselves, but rather in the relationships grown as a result of the travels. Istanbul and the Grand Bazar were special to me because of getting great time with my dear friends, Travis and Sonya. We laughed, ate, and enjoyed Turkish culture (and coffee) together. However, more importantly, we walked away much closer in our friendship.
My trips to Shanghai and countless other Asian destinations have been special not because of the location itself, but rather the people whom I have shared a little bit of life with at each location. I enjoyed Macau, but will always be grateful beyond words for my travel companions, Eugene Kim, Yuh Tseng, Sam Shin, and Patrick Ku with whom I experienced this city on two occasions.
Even when I am by myself in these places, it is often made rich through being able to simply be alone with my thoughts and my God. In Istanbul, Travis and Sonya had to leave early, so I was left to dwell in the old part of the city alone for two days. What could have been lonely was made soul enriching as I spent much of the days simply walking the streets of this ancient city in a spirit of prayer.
I would stop at random coffee houses, park benches, and side-walk cafes, often pulling out my journal and Bible. I would simply process life in the midst of this mysterious culture. Though not audible, I enjoyed fellowship with God that day through prayer, as I seemed to see His heart for the people and place. He spoke to me through the Bible that day sitting on a bench outside of the Hagia Sophia. Nothing profound . . . just me and my Savior.

It is during times like those cool October days in Istanbul, Turkey that I see things clearly. Life is not about exotic locations and even cool experiences. Life is not about achievement, money, and ego. Life is about relationships. It is about family and friends; friends like Sonya and Travis. Life is about Christ; the most significant and profound relationship of all.
I still enjoy the Bond, Bourne, and other like movies. There is great value in seeing the world and experiencing exotic cultures. However, now I see that the real value in experiences of travel and life in general is in the relationships formed, both with others and in enjoying Christ in the midst of His creation and people.
(I will continue on my series about singleness on next Tuesday. . .)