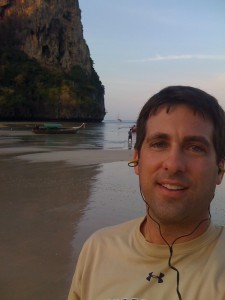 This post is a continuation of the story from My worst travel day ever!!! (part 1).  If you have not read it, please do so first.  For the first part of the story, click here.
Now the continuation of the story. . .
It had not been over 50 hours since I had last laid down.  I arrived in Rayong, Thailand at 12:30am.  At the Rayong "drop off" (bus station would be too generous of a description), there were several men looming in hopes of offering new arrivals various services.  I found a guy with a truck, pointed to the name of my final destination on the piece of paper I had, and we were off.
I was sitting in the passenger seat of a pick-up truck, tearing down dusty back roads in a place I had never been, with a guy I had never previously met.  He spoke a language of which I could only say "hello" in.  I was exhausted to the point of hallucinations (seriously).  The road was desolate.  The surrounding was pitch black.  To say I was a bit unsettled is an understatement.
At 1:00AM, we arrived at an ocean peer in the middle of nowhere.  This place defined the phrase, "middle of nowhere".  No evidence of human life.  Just a few dilapidated boats tied down to a rusty docks.  The driver looked around in search of a boat owner.  He found and woke up a large, shirtless, Thai gentleman.  I pointed to my trusty piece of paper of where I needed to go.  We agreed upon a price, jumped aboard his junket boat, and set sail on the Gulf of Thailand.
At 2:00AM on Thursday, I finally arrived at Samet Island, Thailand, my desired destination.  My travels were finally over, or so I thought. . .
Samet Island, the place where we were to hold our week of meetings, looks tiny on a map.  Sitting in front of my computer in Atlanta, Georgia, I thought "no problem".  However, at 2:00am in the middle of a week, it seemed like an ocean of darkness, a vortex of lostness.  As I stepped courageously into the vast darkness [Read more…]