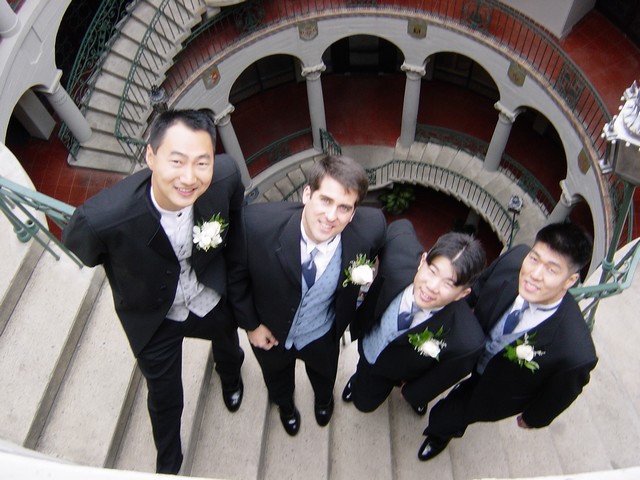 It seems like June is the month of weddings doesn't it?  I'm sure someone can give me a good explanation for this, but I don't really know why this is the case.
It's the same here in East Asia.  I have the honor of attending two weddings of dear friends in the next few weeks, along with regretfully missing the weddings of Erin Norton and Daniel Schneider in America. 
Naturally, this month has me thinking about weddings.  One of the legacies of both my profession (working with many people) and in still being single is that I have participated in over 20 weddings.  Additionally, I have attended an amount of weddings that would rival the number of Israelites in the Old Testament.  As a result, I feel like I've seen and/or done just about everything regarding weddings.
I've seen a bride's veil catch on fire during the lighting of the unity candles section (my sister Betsy).  No one was hurt, but it did make for a fun story.  Thankfully she will not need that veil again.
I once made the mistake of acknowledging the pregnancy of bridesmaid I was paired off with only to find out she was not, in fact, pregnant.  The conversation was unpleasant, at best, the remainder of the wedding.
I witnessed Sam Shin almost ruin David Moon's reception by not pulling the microphone from an inappropriate cousin during his reception toast.  It was reminiscent of that awkward scene in "The Wedding Singer".
I almost single-handedly started a calamitous infectious disease outbreak at Troy and Teri Coons' wedding when I left a state mandated quarantine.  It was in the midst of the SARS scare.  Thankfully Troy didn't believe the hype and invited me anyway.
I once gave the worst speech in the history of wedding reception toasts at Patrick and Patty Ku's nuptials.  I concluded and you could hear birds chirping and the uneasy sounds of shifting chairs.  My attempt at humor fell dismally short.  I don't even remember what I said, just that it went over like the proverbial lead balloon.
I was standing on the stage in amazement as Phil Autry botched his wedding kiss.  Unbelievable.  Hilarious now looking back, but pretty awkward at the time.  Thankfully his wife is as forgiving as she is pretty!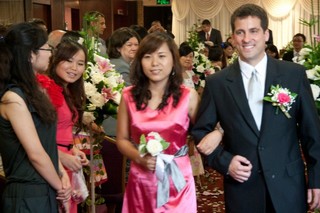 There was the time where Sam Shin was jumped during his reception, with several hundred people watching, by members of his own wedding party.  I did not participate.  Sam hurt his back and was in the emergency room until 3am ON HIS WEDDING NIGHT.
All in all, I've stood up front with grooms in ten states (that I can recall) and three countries.  I can't even count the number of locations of which I have attended weddings.
I have seriously enjoyed each experience.
Many men generally hate going to weddings.  I really don't get this.  I love my friends and family, so how can it not be a blast to be with them during this most important of all days?
Weddings are a tremendous celebration of both God Himself (in bringing two people together in marriage) and in the joy of the bride and groom themselves.  It is a picture of two families uniting over the cause of their children.
For now, join me in praying for Daniel & Karen, Erin & Kevin, Eric & Maggie, and Ross & Christie.  I am excited to be attending two of the weddings and disappointed to be missing the others.
All are wonderful couples whom I know will have meaningful, God honoring weddings.
(Click here for the next related post, "7 reasons why I love weddings".)