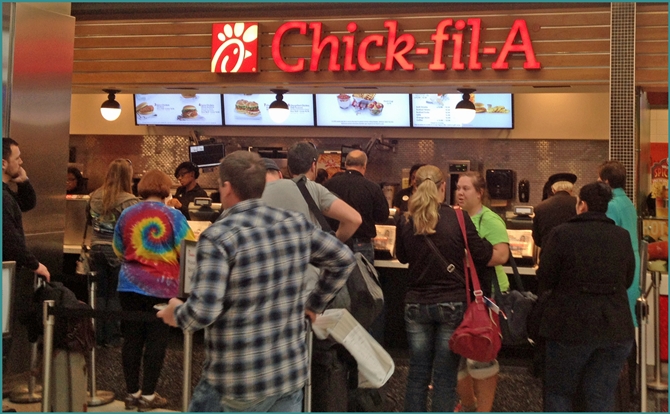 As I type this, I am in yet another airport.  However, unlike my norm, I am actually in American airports much of this week.  Right now, I am in Washington's Dulles Airport, but my week will see me spend quality time in the Atlanta, Los Angeles, and Seattle airports.
The old adage is true. . . "you can't ask a fish about water."  In the same vein, you can't ask residential Americans to describe American airports.  So, as an American who has been living and traveling through Asian airports for the vast majority of the past 15 years, I write this article from the vantage point of an insider/outsider to American airports.
Here are my OBSERVATIONS of American airports:
Americans are BIG – I am always blow away by the quick reality blast I have upon arriving in American airports.  This morning, it was in the TSA line here at Dulles.  Americans are HUGE people.  I become anesthetized to this reality by living in Asia.  Being all of 5'8½ (you know you are insecure about your height when you add the ½ inch to your height!) and living in Asia, I am actually well above average in height.  On basketball courts, I get rebounds.    Other men often call me "very strong" just by looking at me.  My 5'8½ stature is actually a positive factor when women evaluate me as husband material.  Not so in America.  Here I am the runt of the litter.  I go from sticking out in a crowd to not being able to see over a crowd the instant I enter the passport control line.  Not cool.
The toilets are CLEAN and a PLEASURE to use – I know this is a strange one, but trust me; airport bathrooms in airports around the world are scary.  Not just in Asia, but all around the world.  I was in a bathroom in Washington-Dulles this morning.  It was so clean you could have eaten off the floor.  I assure you I did NOT, in fact, eat off of the floor, but the option was definitely there.
The food is AWESOME (relatively speaking) – I'm used to my primary options of airport dining in Asia being overpriced ramen noodles or air-tight packaged, spicy tofu.  I am serious.  When I come up the escalator in the Atlanta airport and see a food court matching the best malls in America (as I did today), my heart skips a beat.  Chick-fil-a, Qdoba, P.F. Changs. . .  they are all there and each is tempting, especially if you are fresh off a 30 hour commute subsisting on airplane food.
The food is disgustingly MASSIVE in American airports – The darker side of American airport food is the portions.  There is NOTHING more disgustingly filling than anything from Cinnabon or Sbarro or pretty much everything in US airports.

No matter what you tell yourself, this is NEVER a good pre-flight meal.

Though often enjoyable going down, usually not pleasant an hour later.  The all-time worst with this is The Varsity in the Atlanta international terminal.  The LAST thing I need to do before jumping on a direct flight from Atlanta to Tokyo is scarf down a few chili dogs, onion rings, and a Frosted Orange on the go.  Five minutes of pleasure will quickly give way to 15 hours of regret.

People are very SELF-INVOLVED – Sometime while waiting on a plane, notice how self-involved EVERYONE seems to be (including myself).  We are talking on phones, checking email,or nose deep in a book, but EVERYONE seems to be doing their own thing.  There is never a sense of anyone noticing anything going on around them.  It is strange looking when you actually take time to stop and notice.
The aesthetics are EMPHASIZED – Asia is filled with impressive, voluminous, stately, and highly functional airports.  They move hordes of people around in a usually efficient manner.  This is a wonderful thing for which I am grateful.  However, one of the unique features of American airports I appreciate is the original aesthetics of each one.  In Orlando, you have the hilarious "The Traveler" statue.  Vegas has slot machines in the baggage claim.  Detroit has one of the coolest infinity fountains I have seen.  Atlanta has sculptures and paintings from local artists throughout the entire airport.  I enjoy the unique looks and feel of airports in America.
Internet and push carts should be FREE – This is an area in which Asian airports are clearly superior to that of their American counterparts.  Luggage carts are accessible and free in all Asian airports.  This is because they SHOULD be free.  Also, American airports often make you pay for internet services.  This is ridiculous.  We pay hundreds, if not thousands of dollars on plane tickets.  The least the airports and airlines could do to say "thank you" is to provide push carts and free WIFI!  Learn from Asia on this, America.
Chili's is still GREAT – Though I almost never eat at Chili's restaurants outside of airports, it is a different story inside.  Chili's is often the first meal I have in America, as there is one in the middle of the Detroit airport.  It is always magical.  After months of rice, noodles, and stir-fried everything, an "Old-timer" burger, a plate full of steak fries, and a refillable Coke is an emotionally euphoric experience.  I've almost missed planes on multiple occasions trying to choke down one more ice cold Coke and the final fry.
America is wonderfully DIVERSE – Living in a homogeneous country, where there is pretty much racial diversity in places only when I walk in the room, I am always struck by the beauty of our pluralistic, diverse American culture.  American airports are filled with virtually "every tongue, tribe, and nation" and it is a wonderful sight to behold.
(If you liked this, you will be interested in My worst travel day ever!!!, The 5 types of people you see on LONG airplane flights, and 10 tips for surviving LONG flights.)