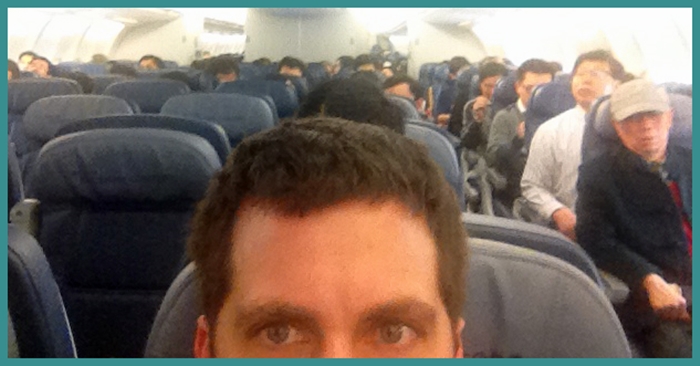 Last week I enjoyed writing on 9 observations of an American airport.  In keeping with my theme of observations of the American aviation system, here I will tackle some of what goes on during domestic flights in my beloved homeland.
Just as I have noticed certain types of people who fly on long, international flights, so I have also noticed a few characters who seem to be omnipresent on flights while I'm jumping around the "lower 48" in America.
Here are 7 people who frequent domestic flights in America:
Tank-top Tyler – Even if he is headed to New York or Colorado, "Tank-top Tyler" looks like he is getting an early jump on his beach vacation.  Flip-flops, a brightly colored sleeveless shirt, and jorts or "jams" shorts are his usual uniform.  On the one hand, I am amazed by and even admire this guy.  He throws convention to the wind and dresses like he did when he was a lifeguard during his summer break between 10th and 11th grades.  Also, I'm pretty impressed that he doesn't seem to get cold when the plane temperature inevitable drops about 30 degrees when it hits 15,000 feet.  On the other hand, though, I despise this guy for two simple reasons.  Airplane seats are close.  Too close.  With nothing between you and his sweat glands, the odor can sometimes be pungent.  Also given the close proximity of the seats, it is never appetizing having to look at dude leg and pit hair from close range for an entire flight.
Headphones Harry – I love this guy.  "Headphones Harry" HATES you even though he doesn't know you.  Maybe not hate, but he does find your company exceedingly annoying.    As he squeezes in the seat next to you, he looks stressed, annoyed, and even a bit perturbed.  The fact that he is being forced to sit next to you, the peasant that you are, for the next few hours is beyond his comprehension.  "Harry" is the guy who, as soon as he sits he pops on his headphones.  Not just any headphones, but rather headphones which could double as a motorcycle or football helmet.  They look like he just came from a recording studio working on the latest Katy Perry album or flew a B-52 Bomber during World War II.  He does this so he can enjoy some music on board AND, more importantly, so he can try to forget you are sitting next to him.  I snapped a pic of my latest "Headphones Harry" who was sitting next to me on this flight.  As far as he is concerned, I do not exist.
Connector Carl – This guy is ALWAYS stressed.  He, like half of the rest of the plane, is trying to make another connection flight.  He asks the flight attendants about every 15 minutes if there is an update on the arrival time.  "Ma'am, do you know the gate numbers of where this flight will arrive and the one where flight 783 to Boston will depart?"  We know you only have 30 minutes to make your connection and so do we!  Just please stop acting like you are the only one on this flight!
Talkative Thomas – My "Talkative Thomas" today was actually named Michael.  He was nice enough, but man could he talk.  He teaches business in China and was really excited to tell me all about it.  In the end, this type of guy seems to have two factors prompting him to want to talk.  First, he is really nervous about flying.  Second, he is really lonely in life.  In both cases, I should be more patient and kind in listening.  He shouldn't annoy me, yet he often does.  Dude, please read a book or take a nap or just look outside to make sure the engine on the wing doesn't blow up!
(Asia) Expert Edward – When "Expert Edward" and I exchange pleasantries and he finds out I live in Asia, he goes crazy with unloading ALL he knows about the country.  He and his wife visited my Asian country ten years ago and now he wants to tall me ALL about it.  He doesn't stop there.  He tells about the politics of the COUNTRY I HAVE LIVED IN FOR 12+ YEARS AND HAVE STUDIED AT A GRADUATE LEVEL, as if I understand nothing about it.  This guy is nice and he means well.  For the most part, I can direct the conversation and enjoy my time with ole' Edward.  However, he is not a restful guy to sit next to while I'm just wanting to turn on my computer and watch the latest "Parks and Recreation" while on this flight.
Angry Internet Isaac – What was it, about 3-4 years ago when they first introduced in-flight internet service?  Yet "Isaac" is incensed when the plane's internet at 15,000 above the earth's surface doesn't work with the speed and consistency which it does at his home.  This guy really annoys me.  Just be grateful for what you DO have!
Happy Henry – This guy I like.  Everything is good with "Happy Henry".  Everything.  Though he tends to be a bit too talkative for my tastes, he is still such a nice and pleasant fellow that you can't help but feel better by just being around him.  The vacation he is about to take is going to be tremendous.  OR he is thrilled to be going to see his uber successful child.  OR he is a professor on the last leg of a wonderful trip lecturing in Cairo.  He had a great time AND he is excited to get back to his family.  "Happy Henry's" positivity can't help but to rub off on me, especially given the fact that I am almost always tired and worn out when flying.
I'll be back to writing more "normal" posts, as I am finally back in Asia (as of last night).
As always, thanks for reading and hanging out with me on this blog!
(If you liked this, you will be interested in My worst travel day ever!!!, The 5 types of people you see on LONG airplane flights, and 10 tips for surviving LONG flights.)