If you have not read my post, Let me tell you about my friend, Tracey. . . and her current journey, you might want to do so now.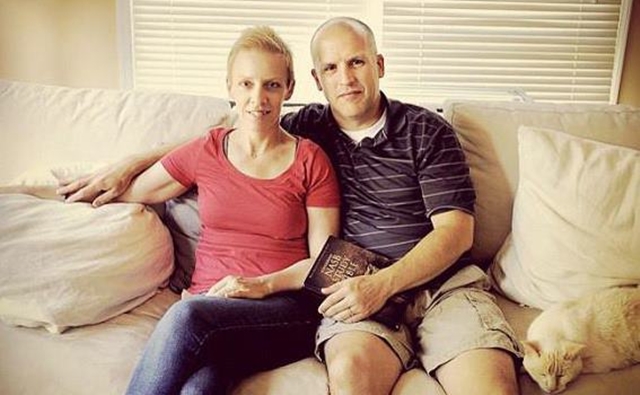 I'm currently sitting in the corner chair of the Starbucks closest to my apartment. I have an appointment here in a few hours, but came early to have a place to simply sort out life and pray. I'm pensive and contemplative. Mostly, I am just hurting.
I awoke to a text from dear friend and brother in Christ and life, Craig Clarke. See the actual message on the right.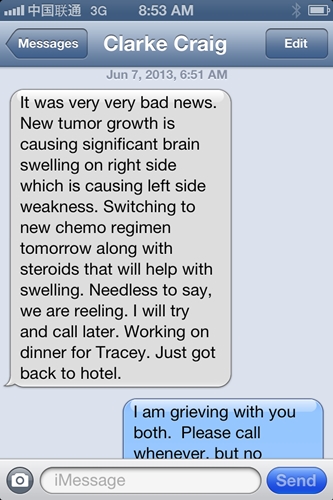 If you have not read my post about Tracey from last summer, please do now (CLICK HERE) to understand her situation. As of today, after a week of troubling symptoms, we now know there is a new tumor in her brain. Very bad news.
Though it has been an excruciating year of physical trauma and emotional fatigue, Tracey has persevered. In the face of pain unspeakable, she has moved forward, day by day, by faith in her Savior and through the love and support of her husband, community, and family; mainly her husband. It has been brutal being 10,000 miles away in the process.
Through it all, we have hoped for the best. Christ can heal her. We believe this whole-heartedly. We are STILL praying that He will heal her. Tracey has already well outlived all of her original estimates, so for this we are grateful. Really grateful.
For now, though, I am just sad. My heart is heavy. I am weeping for the pain Tracey is going through as if she is my sister, because, well, she is my sister. I am grieving for the anguish of Craig as if he is my brother, because, he too is my brother.
One of the things about being a Christian is buying into the reality that, in Christ, we truly are one family of God. This is Biblical. This is reality.
Though we were physically born of different biological mothers, we were all three born spiritually of the same heavenly Father. Just as the eternal outweighs the temporal, so does the spiritual outweigh the physical. Therefore, today, I am mourning for my sister and brother in Christ for this awful news.
Already, Craig has written a post on their update blog. I encourage you to read it, as it is an example of Godly people dealing with pain. They are grieving, yet trusting Christ in the midst of it. Incredible. Even on this very day, when their ongoing nightmare had taken a dark turn, I am learning about life and faith through Tracey and Craig.
So what do I do now? What CAN I do?
I can love my brother and sister even in my physical absence. I can talk whenever Craig feels like talking. I can pray. I ask you to join me in praying.
Here is what I am praying for Tracey and Craig Clarke today, and I ask you to join me in doing the same.
The peace of God – As Christ Himself said in John 16:33, there is a peace which overcomes the world. In the world, we find tribulation. In Christ, we find peace. Today, I am praying for this peace for Tracey and Craig. This peace, which rises above circumstance and is beyond all comprehension; I am praying it for them.
Comfort from the authority and presence of God – The first recorded public teaching of Christ after the resurrection is found in Matthew 28:18-20, commonly known as the "Great Commission". In addition to the "commission" aspect of this passage, two vital realities of Christ are taught here. First, Christ has ALL authority in heaven AND on earth (Matt. 28:18). Second, Christ is with us ALWAYS and in ALL things (Matt. 28:20). I'm praying that the comfort of both God's authority and God's presence is sustaining Tracey and Craig today in the face of such troubling news.
Confidence in the finished work of the cross – There is incredible comfort in knowing it truly is FINISHED, as Christ proclaimed in John 19:30. Tracey and Craig get this. They are at peace with their Maker, even during times such as this.
Less than two weeks ago, I received a text message from Craig asking for prayer. Tracey was at that moment sharing Christ with a neighbor, as the neighbor was trying to encourage Tracey in her sickness.
Tracey gets the reality of the Gospel. This life is temporal, the next is eternal. However, it is easy to lose this perspective in the midst of suffering and pain. I am praying that God will grant Tracey and Craig the grace needed to keep their hearts fixed upon this reality in the midst of the ongoing toil and anguish of this cancer.
The healing power of Christ – Christ teaches us to ask boldly for our desires (1 John 5:14-15). He teaches us to pray this persistently and with faith (Luke 18:1-8). In this vain, I am praying for Tracey's healing.
Thanks for reading this. If you are so inclined, please join me in praying with and for Tracey and Craig Clarke, my dear siblings in Christ.