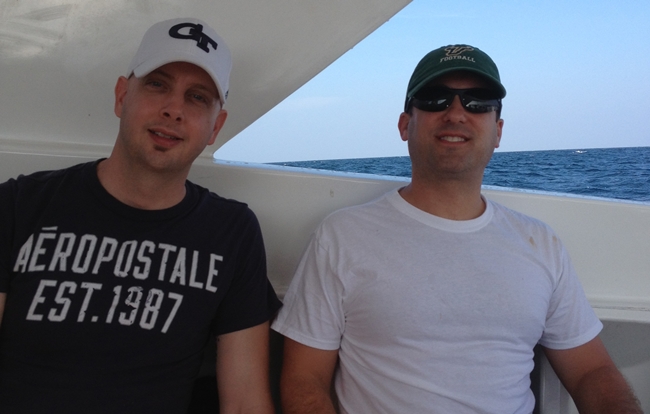 As I wrote about earlier in the week, I just completed a much needed vacation.  If you have not already, you might want to read it first (CLICK HERE).  Since I wrote about the "superficial" reasons I loved my vacation in general, and Koh Lanta, Thailand specifically in my last post, I am going to more focus one some of the more "significant" elements for which I am grateful from this time.
I am grateful for my friends. . . I've written frequently about friendship and its absolute necessity in my life on this blog.  This vacation only further allowed me to appreciate my friends and the role they play in my life.
Ryan Sweeney and I graduated college together.  As the Lord would have it, both of us ended up in Asia as professionals.  Ryan runs a factory in Xiamen, China, so we live a long way from each other.  Close relative to my friends in America, but still a decent plane trip away from here.
I first asked Ryan if he wanted to join me at Koh Lanta, Thailand for a week of diving, beaches, and food.  He agreed, and we were off.  That is really all I NEEDED . . . one good friend with whom to travel.
Then Travis & Sonya Todd (along with their four girls) jumped in.  Followed by Rush and Meredith Stuart (and Baby Jack!).  Then some new friends, Ty Nash, Conner Norton, and Amanda Robinson came aboard.  All told, we ended up having 20+ people I knew from around Asia that all converge on this tiny island in the Andaman Sea for a week of R&R.
It was wonderful having so many people there to do everything from eat dinner on the beach to snorkel to play volleyball to everything in between.  It was a blessing having such a large community to vacation with these past 10 days, especially since I live alone I LOVE being with others.  Time with friends, both old and new, was a definite highlight of my vacation.
I am grateful for the change of pace. . .  Honestly, my life in Asia can be quite stressful.  I put in far too many hours, in conditions which are always dynamic and often challenging beyond my natural ability.  Being a "type-a" personality by nature, I can easily get wound up tightly, often to the detriment of my health.  I'm not proud of this, but it is true.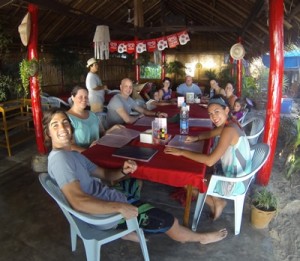 Thailand always seems to be exactly what I need at that exact time I need it.  The Lord is gracious beyond my words of thanks for always getting me downtime when I need it, even when I am convinced I am fine.  Even the week of meetings leading up to the vacation, I was working to the point of not being able to sleep at nights.  This time of vacation and change of pace was EXACTLY what I needed.
I know it sounds cheesy, but the old adage "work hard, play hard" is something that I have learned to embrace over the years.  Life in Asia is stressful.  I love my life here, but the pressures mount over time.  I have found that I must have some "outlets" built into my year in order to keep me going in the midst of the grind of Asian life.  Vacation is one such outlet.
Scuba diving, working out, scooters, etc., is a blessing from God and provides a much needed change of pace.  Several of you were praying for me specifically during this vacation. . .  THANK YOU!  God answered your prayers.
Above all else, I am grateful for this time of vacation to simply step back and enjoy time of reading, prayer, and time with Christ Jesus. . .  My mind stopped racing.  My blood stopped slamming through my veins at the pace of an Indy race car.  My heart quieted and listened to my Creator and Friend, Christ Jesus.
This year I read through the book "Dangerous Calling" by Paul David Tripp.  It was exactly what I needed, when I needed it.  If you are involved in ministry leadership or pray for those who are, this is a great book.  I also got good time of just reading the Bible and letting it soak into my thick, noise-saturated scull.  Nothing profound, just Christ loving me through the greatest love document ever penned . . . the Bible.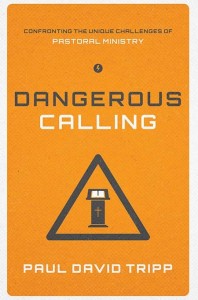 Christ Jesus is our prize in life (and beyond).  Christ Jesus is our friend.  Above all else, Christ Jesus is our purpose and Savior.  In the running and accomplishing and loving and sweating and serving in everyday life, it is easy to simply take Him out of the equation.  I am guilty of this often.
This vacation, and all of the above elements, helped me to simply get a little more grounded in Christ, and therefore more grounded in my life.
I will publish an "open letter" to a female friend of mine struggling with dating Christian and non-Christian men.  Hopefully it will be a good addition to "My thoughts on singleness" series.
Have a great weekend!