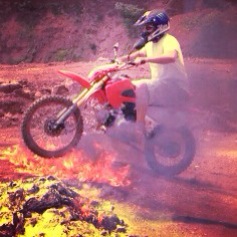 "When jumping over fire, I suggest borrowing Scott Littlepage's motorcycle first."
One of the few "hobbies" I have over here in Asia is motorcycle riding.  Great fun and good fellowship with the other four friends who own them.
This particular time, we had a ton of stuff we needed to burn.  Instead of doing something normal or responsible with this process, we decided to take it to an infill construction site where we often ride.
We set the stuff on fire and took turns jumping the burning pile of garbage.  In this pic, I had borrowed Scott Littlepage's motorcycle.  He was a good sport about it!
Admittedly juvenile and a little risky, it was a fun way to unwind, take my mind off things, and laugh a ton with friends.