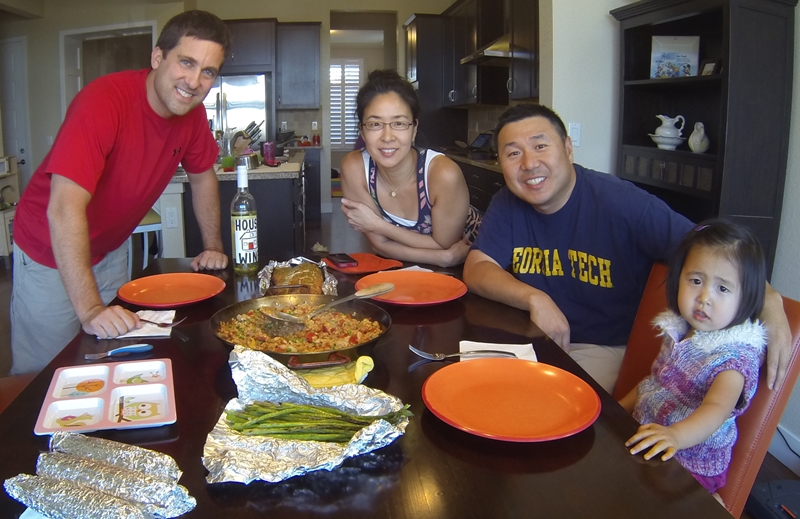 It's good to be back! Though it was a needed break from writing, I am happy to be "back in the saddle" posting and checking in on this blog more regularly.
As I type this, I am back on a trans-pacific flight headed to my Asian home. In the past few weeks, I have crossed a total of 24 time zones and have slept in 11 different hotels and/or homes. There have been many very long days of work and very few times of rest and recreation. I did have some down time, but very little.
I have spent significant time in three Asian cities, as well as Los Angeles, Colorado, Atlanta, and Washington, D.C. While my body is weary, my heart is full. Though I did work much, I also had significant time with a few friends and my direct family.
Here are some of my highlights from the past four weeks of travel:
I had a few days in Palm Springs hiking and playing golf with my friend Rankin Wilbourne. The time with Rankin, Morgen, and the entire family was life giving.
There was a night in Boulder, CO with my friends, Daniel and Karen Schneider. Daniel is a close friend from several years in Asia, so getting time with he and Karen in their new home was a rich blessing.
I had the surreal experience of getting to know Sam and Young Mee Shin's daughter, Emmy. Pretty incredible seeing my old football buddy and brother-in-arms as a father.
Time with my family both in picking up nieces and nephews at Camp Highland and in killing water slides and rides at White Water were the high-points. I love being an uncle and sincerely miss not being a more direct part of the lives of my eight nieces and nephews. It was a huge joy being able to get some time catching up on my role as "Uncle John".
Among other happenings, Mom, Dad, and I had a great meal at the infamous Ole' Hickory House. Definitely comfort food and great relaxed time with my parents.
Matt Ashton and I had a few hours to hang. When he suggested we go to some batting cages, I was immediately on-board. We were not bad for two washed up has-beens. However, I did remember hitting 70mph pitches to be much easier back in the day.
Patrick Ku cooked out for Alex Shane, Eric Tai, and me. Can't beat Korean BBQ and time with these men!
My time was closed out with the last three days in Washington, D.C. I was with some of my oldest and best friends in the world, the Autrys (Phil and Jie Xia) and the Clarkes (Craig and Tracey). We mainly enjoyed rich conversation and catching up on life. . . along with a Baltimore Oriole's game. It really was the perfect way to close out my few weeks of living out of a suitcase.
One of the decisions I made during this trip was to essentially turn off my phone (and computer) and concentrate on those directly in front of me. As a result, I only got time with a few people. For this I am sorry. I truly regret not being able to contact more people.
One of the biggest tensions I have while I am in America is simply not being able to see and/or talk with many of my closest friends and even family. This summer was particularly tense in this way, as my work was extensive and my time was limited.
While I am disappointed I could not spend time with other close friends and family, I am exceedingly grateful for the time I did have with these listed here and several others.
As always, it was really sad to leave loved ones in America, but exciting to be getting back to my life in Asia. It is always torturous getting on the plane and saying good-bye to family and friends for yet another extended season abroad. However, I am hopeful for what the Lord has in store for this coming year here in Asia. I know that He is with me and He WILL go before me. This makes the pain of the absence from loved ones worth it.
Anyway, I just wanted to check in. Thanks for reading this blog. I look forward to getting back on a more regular schedule of posting 1-2 articles each week beginning Monday.