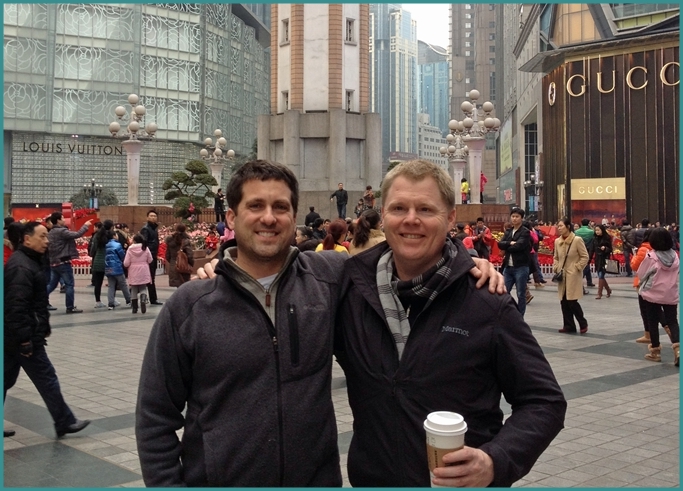 I began this "journey" about a year or so ago.  I had been living in bad patterns for probably two years at that point, but it was finally catching up to me.
This journey really began when I noticed that I had been getting more easily irritated with small, insignificant things in life.  It then came more too light when my friend Michael Gregory brought up my growing irritability over lunch one day.  That day was a good start for me realizing that I was "off" and needed to figure out what was going on internally.
Second, my dear sister Becky mentioned it to me about a year ago.  "John, you just don't seem like yourself and haven't for a while.  It's not awful, but you just don't seem as happy as you used to be."  This concerned me.  I agreed with Becky, asked for her prayers, and then asked God about this myself.
Third, in the vein of "better is the wound of a friend than the kiss of an enemy", it happened again.  It was last summer when I was visiting my friend and brother in Lord, Rankin Wilbourne, in Los Angeles.  Rankin and I have a wonderful, mutually sharpening relationship.  It has also always been filled with gut-level laughter.  Last summer, Rankin brought a concept to me.  "John, there is a difference between good tired and bad tired."  The implication was that I had slid into the latter.
And so this journey continues. . .
I am someone who has been blessed by doing professionally what I have always sincerely loved.  I am passionate about the things I have been able to do for my entire professional life.  I understand this is unusual and I have ALWAYS been grateful to God (and my employers) for this reality.
Embedded in this "gift" is the propensity to overwork.  You see, when your work is often enjoyable, when your life passion is also your way of making a living, it is easy to work well beyond levels of what God (and my employers) would have of me.
I have written about my burnout in the past, but this is a little different.  This journey that I have been on the past few years seems to be asking a broader, deeper, more poignant question.
"Am I spiritually healthy?"
As God always seems to provide what we need when we need it, he brought Rankin back in my life the past few weeks to help me process all of this.  Both in America and here in Asia, we have overlapped these past few weeks and it has been massive for me.
In the process of a few long walks and car drives between cities, Rankin has helped me in FINALLY tying these last few years of this "journey" together in what God is trying to teach me.
I think I now have the framework of evaluating my personal spiritual vitality and health.  It comes down to three simply gauges based in three basic questions, the first two are Rankin's and the third is one I have been thinking about.
Three questions to gauge my personal spiritual health:
1 – Am I chronically tired?
It is ok and even good to be tired from time to time.  The Apostle Paul actually speaks of being "poured out as a drink offering" and of "finishing the good fight".  There are good fights AND there are good tireds.  However, fatigue should be in seasons and not as a chronic way of life.
Some good ways to determine if my fatigue is "good or bad tired" is in answering the following questions:
Does this fatigue induce frustration OR inspire determination?
Is the result of this fatigue discouragement/despondence OR hope?
Am I irritated towards others OR loving?
Am I anxious OR content to trust in God in the midst of my "tired"?
When my life exudes frustration, discouragement, irritation towards other, and/or anxiety, I know that things are off track and must be addressed.
2 – How is my personal prayer life?
As Rankin says, this question is one of the best "tells" of our spiritual health.
When my prayer life is lacking, it is a sure fire indicator that I am living in my own strength and not in that of Christ's.  When my soul is not crying out for help and guidance from my Savior, then it means that I have slid into the place of being my own personal savior.  This always ends poorly!
When I think of a healthy prayer life being indicative of a healthy spiritual life and understanding of God, I think about the words of C.S. Lewis.
"I pray, because I can't help myself.  I pray because I'm helpless.  I pray because the need flows out of me all of the time; waking and sleeping."
When my prayer life is shoddy and weak, as it has been for much of the past few years, this indicates a much deeper issue.  I have pushed Christ out of the center of my life and I have placed myself there.  This is why my personal prayer life is such a good indicator of my overall spiritual health.
3 – Am I experiencing the "fruit of the Spirit"?
The most Biblical, clearly defined indicator of my personal spiritual health is one I have thought of much these past few years.  It is simple, yet profound.  When one becomes of follower of Christ, the Spirit of God actually inhabits your body.  Powerful, powerful aspect of the Christian life.
I don't understand everything about matters of faith and God, but this I do know; God changed me through the Gospel of Christ Jesus and He now dwells within me through the Holy Spirit.  There is no other way to explain my change in heart, character, and motivation short of this awesome reality.
In the Galatians 5:22-23, we see the characteristics of the Holy Spirit living within a man.
But the fruit of the Spirit is love, joy, peace, patience, kindness, goodness, faithfulness, gentleness, self-control; against such things there is no law.
So my third indicator is based on this concept of the "fruit of the Spirit".  If I am not seeing love, joy, peace, patience, kindness, etc. growing in my soul in everyday life, then something is wrong.  Something needs to be addressed in my life.
When this happens, I have stopped living "life in the Spirit" and I have begun the slippery slope of living in my own strength.  I have pushed Christ out of the center of my life and placed myself there.  Again, this will always end poorly.
I would LOVE your thoughts on this.  Are there ways you have that are "tells" of spiritual health and vitality, as Rankin calls them?  These have been extremely helpful for me.  Are there others which have been particularly helpful to you?
Please pray for me in this journey.  I feel like there is still much to learn and grown in.  I will pray for you, also!