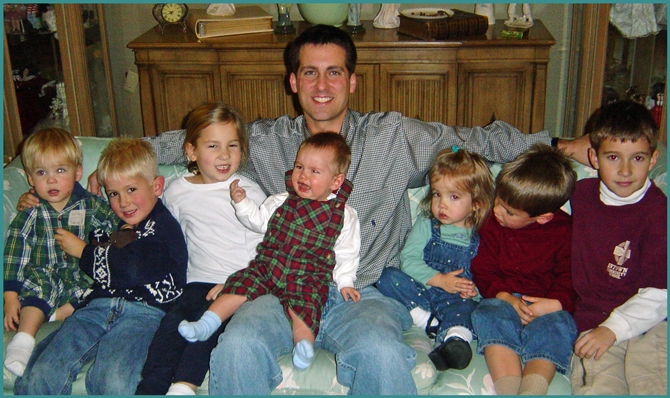 Scene #1:  As I looked out of the window of the plane, my heart was beating with anticipation.  I have always loved seeing the Atlanta skyline from inbound flights.  This viewing, though, was even more significant than others.
It was Christmas Eve.  It was the fourth of four flights I had taken that day.  It had been over 26 hours since I had left my apartment in Asia, but I had finally arrived.
The flight had been long and hard, as trans-Pacific voyages always are.  However, this flight had been seasoned with the sounds of Bing Crosby, Frank Sinatra, and others singing Christmas classics into my sleep deprived ears.  Seriously, I must have listened to "I'll Be Home for Christmas" ten times between take-off and arrival.
It had been months since I had seen my family and years since I had been with them for Christmas.  My sisters and parents knew about my trip, but we kept it a secret from the kids.  I could not wait to surprise them.
My entire family was at Mom and Dad's for Christmas Eve dinner, church, and then presents from the family.  Dad slid out to pick me up.  We hit the driveway around 8pm.  It was during the gift opening portion of the evening.
As I opened the passenger door of Dad's Honda Odyssey, I was bum-rushed by my seven squealing nieces and nephews.  I think I literally held all seven of them (minus the 2 infants) at the same time.  They yelled; I rolled laughing; my Mom and sisters radiantly beamed looking on.  It was something out of a Hallmark commercial.
The rest of the evening was spent in warm laughter, exchanging of gifts, and enjoying the kids' exuberance in the evening.  I worshiped the Savior of Christmas through the utter joy of being united with my family in such a wonderful and dramatic way.
It is my favorite Christmas memory as an adult.
Scene #2:  Fast forward four years. . . it was my first year of living in Asia without a roommate.  I had moved here just a few months earlier.  The only friends I had in my section of this grey mega-city were two families, both with young children.  They both lived a few buildings over.
It was cold and damp that Christmas.  I was living in the midst of high rise towers in the city center.  There were literally several hundred thousand people living within a mile of my apartment and pretty much no one around me even knew it was Christmas.
I woke up in my frigid studio apartment, looked across my bare white walls, and remembered it was Christmas morning.  I walked over to the balcony of my 29th floor apartment overlooking a mass of humanity pouring along the streets, completely oblivious to the meaning of December 25th.  My heart hurt.
In a few hours, I would be in the home of one of my family friends, but that morning was rough; filled with loneliness, longing, and . . . the joy of Christ.
Yes, it hurt to be away from family and friends during that Christmas morning.  It really did.  However, what quickly transpired was wonderful.
I got out of bed.  I made coffee and oatmeal.  I turned on some music.  I read the Christmas story.
I leaned into the pain of being in such a dismal, innately lonely place and I found Christ.  I found meaning and depth in the familiar "Christmas story" of Luke 2 in a fresh, life-giving, and profoundly unfamiliar way.
My small little Asian apartment, which had felt like a prison of loneliness an hour earlier, was suddenly transformed into a wonderful tabernacle of worship and joy centered upon the person of Christ Jesus.
Though I was still missing family and friends and tradition and everything else I associated with Christmas, being without them allowed me to enjoy the person of Christ during Christmas like I never had prior to that time.
It is my most meaningful Christmas memory as an adult.
As I recall these two stories here three days before Christmas, my heart goes out AND is excited for my single friends around the world.  Christmas can and often is exceptionally difficult for single adults.
Christmas is the quintessential family holiday.  Even if you have a wonderful extended family like I do, it can still be rough.  Even being around family, as great as it is, can be a painful reminder of not having one of your own.  This is painful and something innately difficult in singleness.
For this and many other reasons, Christmas can be a miserable time for singles, even those of us of faith.
However, I am also excited for myself and other singles on this Christmas.  I really do mean this.  In singleness, we have a wonderful opportunity to serve others, enjoy others, AND dive deeper into the beauty and meaning of Christmas than if we were married.
My singleness allowed me to fly across the globe and give my seven nieces and nephews an unforgettably wonderful Christmas Eve.
My singleness, even during times of pain, loneliness, and longing from isolated Asian apartments, has allowed for me to grow in my appreciation, depth, and joy in Christ Jesus during these holidays spent alone.
My singleness this year has been and is being invested in helping to serve others who are either experiencing their first Christmas' as followers of Christ or are far away from their homes in America for the first (or 10th) time.
Yes, being away from home for yet another Christmas is and will be tough.  However, I am honestly grateful for and excited about being able to invest these next few days in both seeking to grow in my love for and relationship with the focal point of Christmas, Christ Jesus.  I also look forward to being able to serve and be served by the others around me; my extended family, the body of Christ.
No matter where you are in life (married or single, with children or without, in the presence of close loved ones or in a desolate hotel far from home), I am certain of this. . . Christ Jesus loves you, came to earth in the form of a baby, lived a sinless life, and sacrificially gave His life up for you that you "might have life and have it abundantly."
I'm praying you have a wonderful and meaningful week of connecting with the Jesus of Christmas no matter where you are.  Please pray the same for me.
Merry Christmas!
(This post is part of my series on singleness; My thoughts on singleness (a series. . .).  Please CLICK HERE if you would like to read the other posts.)