"Get back in the car and drive off of the bridge!!!" These words broke the chaotic, rancorous silence as I anxiously shouted in the local language at our terrified cab driver. My world was in the process of crashing down. . . literally.
It was May 12, 2008 at 2:28pm. My good friend, Paul Quiros, was with me. I had been working with him all week in investigating the possibility of his law firm opening up a practice somewhere in this country. Our second leg of the journey landed us in the middle of a bridge, seemingly at the end of the world for most people in my life in America.
As we drove and talked and prepared for our next meeting, the bridge underneath us abruptly began moving. When I say moving, slamming back and forth is more like it. It was a packed road. There were buses and trucks and cars back to back as far as the eye could see.
EVERYONE panicked in abject fear, abandoned their vehicles, and ran. No one really knew where they were running, but frantically run they did. Paul had the presence of mind to yell that we had a better chance of survival by staying in the car and getting off the bridge than we did running.
I screamed at our driver to get back in the car and drive. His eyes were literally glazed over in total shock, as he miraculously got back in the car without protestation, carved through the sea of abandoned vehicles, and dashed towards stable ground. I assumed that it was the case of a bridge that had finally succumbed to the toll of heavy usage and shoddy construction. It would collapse. We were just hoping to get off of it prior to complete destruction.
We made it off with the bridge still intact. Now the problem took on a new tone, as we soon realized the earth was STILL convulsing violently. By this time, people were cascading out of the towering Asian buildings which lined the roads. It was chaos in a way I had never experienced.
It was my first earthquake. It was a moment in time I will never forget.
There was an eerie silence following the terror of the earth moving under our feet. The ground beneath your feet is not supposed to move. We take this for granted. It is supposed to be stable, solid, consistent. It had always been that way all my life, until May 12, 2008.
Aftershocks continued every 10-15 minutes for the next few days. It was miserable. The aftershocks were bigger than most earthquakes. Paul and I were staying in a hotel in the city. I was on the 15th floor and Paul one below me. We literally slept with our suitcases packed and by the doors of our rooms, with our passports readily accessible. We were ready to sprint out of the unstable building, if need be. All night, I would be woken up from my bed shaking, run to the window and see if buildings were falling down around us. Thankfully they never did.
It was an awful time, made much worse over the next few days when the death toll began climbing. All told, over 90,000 deaths and 5 million people were left homeless. It was devastating to this region, to say the least.
Paul and I were able to get out of the city the next day and flee to the final destination of our trip. After two more days of meetings, he was on a plane for America and I was flying back to my home city. It was then that my emotions finally caught up to me.
Two of the cities which were crushed, with tens of thousands of deaths each, were cities I had spent time in over the years. My mind raced to the locals I had met there. There were thousands of families in those two cities who were waking up that morning without their child or husband or father or wife.
There were thousands a families whom would never experience life without the pain of what was lost at 2:28pm three days earlier. There were over 19,000 school-age children killed in an instant when their school buildings collapsed on their heads. My friend met a boy whom had jumped out his classroom window in a knee-jerk reaction to his school giving way beneath him. He clung to a tree, while his classmates were all buried in rubble. He was the only survivor of his school of around 300 students. Every one of them died in that wrecked school building.
All of this raced through my mind as I leaned my head against the window of that plane. I wept. Though I'm sure it was a strange site, no one seemed to mind. The entire region was in a collective state of depression. I was merely expressing mine on the plane that day returning to my home city just three days after the worst natural disaster in this region in modern history. One which I was a part of and one which was/is deeply personal.
May 2008 is back in my mind this weekend. Yesterday at 8am, we had yet another earthquake. This one was much smaller and I am located much further away from the epicenter this time. It was big enough here to shake buildings and cause panic. Lots of people running for exit stairwells and standing outside of buildings in fear of them collapsing, but not nearly as bad as 2008. That said, there are over 180 dead and 12,000 injured from this earthquake (with numbers sure to rise in the coming days).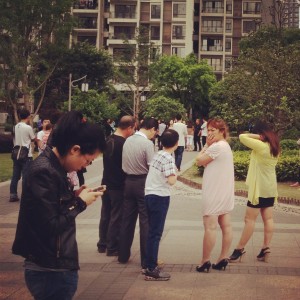 I'm also thinking about the Boston bombing last week. Phil Autry, a best friend since childhood, completed the marathon about an hour prior to the bombs (grateful he is an incredible runner). His wonderful wife, Jie Xia, stood in the location of the bombs cheering Phil on one hour before their detonation. I don't even want to think about the "if" they had been there when the bombs went off scenario. Thankfully they were out of the area, but others were not. It is tragic.
In processing all of this today, I have been drawn to read and think through Psalm 46 in the Bible. Though we will never understand all of the "whys" involved in awful tragedies like these three, I praise God that. . .
God is our refuge and strength, a very present help in trouble. Therefore we will not fear though the earth gives way, though the mountains be moved into the heart of the sea, though its waters roar and foam, though the mountains tremble at its swelling.
God is with us, even when we can't make sense of what is going on around us. He has not promised us that tragedy will not touch us. We live in a sin saturated world which affects not only the minds of crazed bombers (like those in Boston last week), but also violent, broken weather patterns.
However, God does promise us that though. . .
The nations rage, the kingdoms totter; he utters his voice, the earth melts. The LORD of hosts is with us; the God of Jacob is our fortress.
God is sovereign and good. In the midst of pain and desolation, God is still God. He is still good. He is still "giving us a way out" through the finished work of the cross.
In the midst of it all, I am simply praying that I (and you) will. . .
"Be still, and know that I am God. I will be exalted among the nations, I will be exalted in the earth!" The LORD of hosts is with us; the God of Jacob is our fortress.
Though I don't understand this all, I praise God that He is still here. His grace is still efficacious. He is still good and in control.
However, we still need to pray for those affected. We still need to help where and when we can. Christ would call us to sacrificially give to and work towards redemption and grace in the midst of these tragic calamities and all others. I have seen this through the earthquake of May 2008 and I am praying the same with both Boston and the earthquake here yesterday.
In the midst of the tragedies and calamities of this world, I simply pray that the kingdom of God will shine bright and expand for the good of this world.
Today, I am especially praying for the 180+ families that woke up this morning grieving the tragic loss of dearly loved ones, both in Boston and in this region of the world.