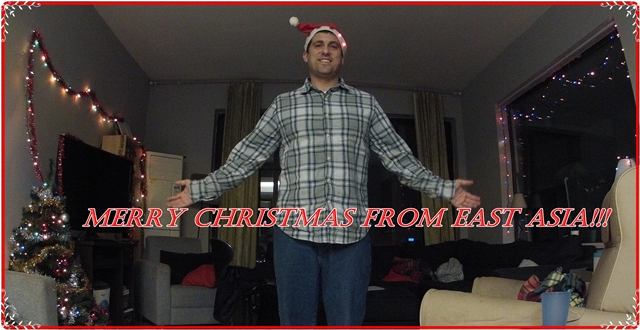 Living overseas, it's easy to focus on what you are missing during Christmas, particularly not being at home with family and friends.  However, here are a few things I am THANKFUL for here in Asia during this most significant of all holidays.
This is by no means comprehensive, but it is a good start!
I'm thankful that I miss family and friends during Christmas – Weird way to start out, I know, but this really is something for which I am thankful.  I love the fact that I have family and friends I sincerely miss.  Family and friends that mean too much to simply blow off and not think about during this time.  There are orphans out there.  Even more so, there are people with such miserable family lives that they don't want to be "home for the holidays".  Yes, I do miss my family during this season especially, but I am thankful beyond words for this reality!
I'm thankful for SOME Christmas cheer in the air – My first Christmas in Asia was 1999.  There was virtually nothing discernible with Christmas Day from any other day.  It was depressing.  Our study group of six actually went Christmas caroling in front of the dorms on campus and got some of the strangest looks I had ever received . . . and it was 1999 in Asia where they NEVER saw foreigners.  It was beyond comprehension.
Christmas 2012, while not exactly teeming with Christmas cheer, there are signs of the season in a few places.  My apartment actually has decorations up.  Though Michael Gregory says, "it looks like Christmas threw up in your place", I am still proud of it. The coffee shop I am typing this from has a huge Santa out front.  The main shopping district has a Christmas neon light thing.  I have also seen some random "Christmas alien" looking things around town in other shopping areas.  While not much, I am grateful there is SOME acknowledgement of Christmas now in Asia.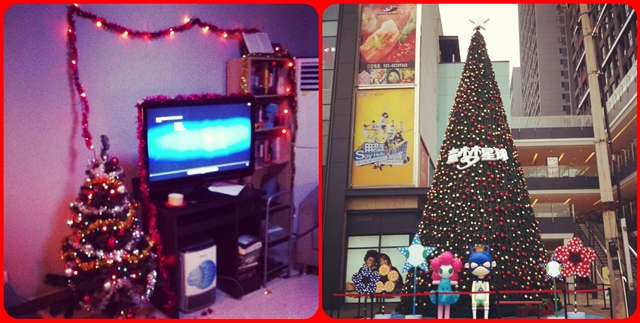 I'm thankful for others inviting me into their homes for Christmas – Christmas is so much better when celebrated with children. . . it just is.  When my sisters began having my nieces  and nephews, Christmas went into a new stratosphere.  I am thankful for families here, like Travis and Sonya Todd, who have welcomed me into their homes in previous years.  This year, I spent Friday night enjoying the "Christmas lights" with the Littlepages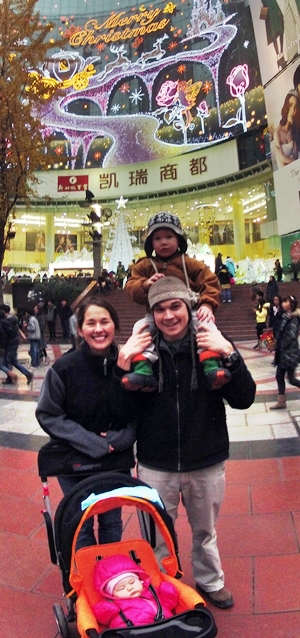 and last night I was with Beth and Michael Gregory watching "White Christmas" for the second year in a row.  Rush, Meredith, and Baby Jack Stuart have invited me to spend the night with them on Christmas Eve, as have the Gregorys.  I'm amazed at how open and generous my family friends are to me over here, and I am truly thankful!
I'm thankful for a community of people whom choose to be over here at great sacrifice – All of us miss home here, as Beth Gregory so thoughtfully wrote of this morning in her blog.  As of today, yet another American friend, Sean Doody, has come down with a stomach virus and is incapacitated.  With Sean, there are now 4 out of 10 Americans whom are currently sick.  The winters are so rough here that this is not uncommon.  However, people still choose to be here, and I am thankful for them.  I'm thankful for their sacrifice of family, friends, home culture, and even their health in some cases, to do what they are doing.
I'm thankful for Christ Jesus. – I know the very phrase, "the true meaning of Christmas" sounds cliché, and it is.  However, in the midst of all the noise of the holiday season. . . the malls, neighborhood parties, office gift swaps, and football games, it really is easy to forget to simply celebrate the person and work of Jesus Christ.  I know I do.  When it is all stripped away, though, it comes back to this simple, yet earth shattering reality in John 1:14. . .
And the Word became flesh and dwelt among us, and we have seen his glory, glory as of the only Son from the Father, full of grace and truth.
Christmas, in the end, is about the simple reality that God came to earth, through the person of Christ Jesus.  In this act, all of human history was changed.  In Christ, salvation is possible and life just makes much more sense.  In Christ, I have been changed.
For this final point on this eve of Christmas Eve, above all else, I am thankful.