(This article is in "My thoughts on weddings. . . (a series)" that I did during June and early July.  If you have not read the other posts, I suggest you click here for an overview of the series and past articles.)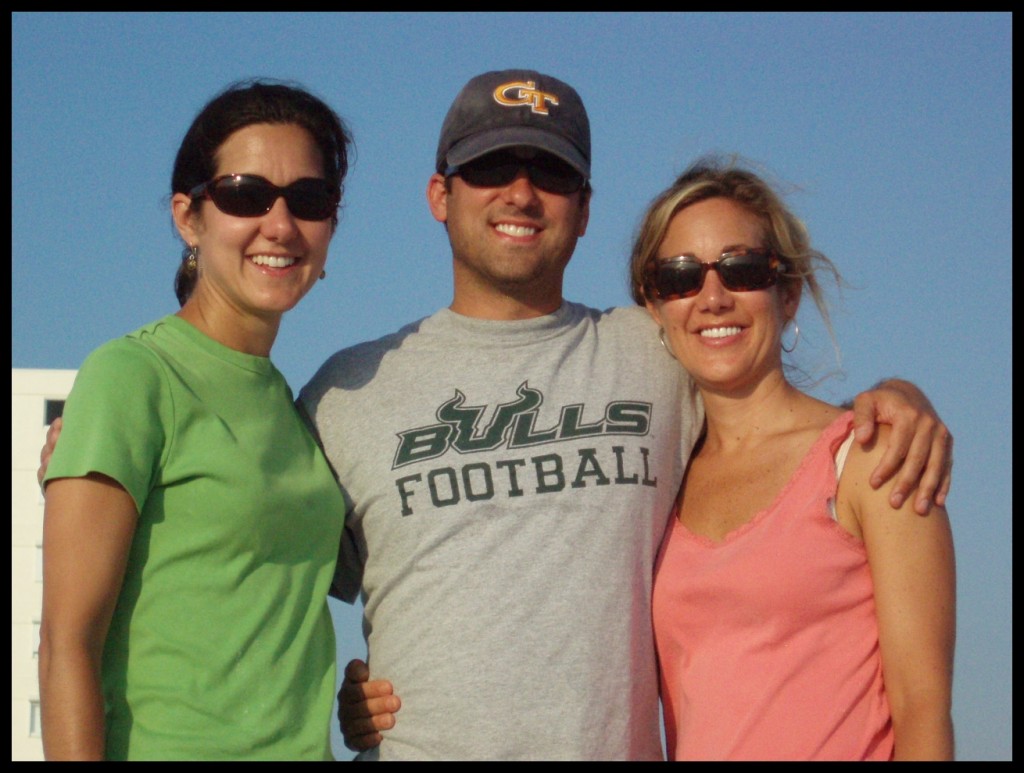 It was a few months prior to my graduation from college.  Life was crazy, but school was slowing down.  My sister Betsy was getting married in April.  You see, I love both of my sisters as much as is possible for siblings to love each other.  I was, and continue to be, fortunate to have sisters whom are also close friends.  To this day, there is nothing I enjoy more than spending time with Betsy and Becky.  Seriously.
Anyway, Betsy getting married was a big deal to me.  I was excited for her and proud of her.  My biggest desire was to get her an awesome gift.
Problem. . . I had a sum total of ZERO money.  None.  I could ask my Dad for money to buy this awesome gift, but this just didn't seem right.  He would have happily obliged, but still it didn't seem right.  I wanted to get Betsy a gift that expressed a fraction of my love for her (and Bill. . . my equally awesome brother-in-law).  What to do, what to do???
The long and the short of it was that a friend of mine worked in staffing security for local events.  He got me a job working as a security guard for the Grateful Dead concert tour for three nights.  That is another story for another time.  Bottom line. . . I made $150.  Enough to buy said awesome gift for my wonderful sister's wedding.
Here's the point…years later I have heard Betsy mention the fact that I worked three nights to get that present.  I don't think either of us actually remembers what the awesome present was (I know I don't), but Betsy remembers that I sacrificed to get her the gift.  The act was more significant than the actual gift.
I was reminded of this story today in reading about David in the Bible in 2 Samuel 24:18-25.  David, after making yet another colossal mistake, is instructed to go and build an alter to the Lord.  King David approached the owner of the property where he was to build this alter in order to buy it.  The owner offered to give the property to David out of respect to him.  However, David replied to the owner,
"No, but I will buy it from you for a price.  I will not offer burnt offerings to the Lord my God that cost me nothing."
Though I couldn't articulate it at the time, this truth was at play with Betsy's wedding gift (and is the reason why Betsy valued it so much).  It would not have been the same had I simply asked Dad for the money.  It would not have been the same to me.  I needed to give her something of value beyond the monetary as an expression of my love for her.  It was not enough to simply ask Dad for the money.
On the flip side, the gift transcended the mere physical value to Betsy knowing that it came through the sacrifice of three of my evenings during my final semester in college.  So, long since we have forgotten what the actual gift was, it is still special to both of us since it was born through sacrifice.
We ultimately show our love of people by sacrificing for them, not by giving out of our excess.  This was obvious to King David in this passage and it is what made my wedding gift special.  I am touched in this reality by two implications.
The first implication is that I want to make sure I am sacrificing for the right things and the right people.  Betsy was a good sacrifice and I would do it a thousand times over.
We all sacrifice time, money, and personal energy every day.  These are resources that we all have and must allocate somewhere.  We will all sacrifice them to something or someone, I just want to make sure my life is going towards building people up and pointing them towards the grace of Jesus.
This might mean helping in times of need or lending money or taking time to have significant conversations or simply bringing them food while they are sick.  I just know that I would rather be sacrificing my resources towards people than I would on stuff like watching hour upon hour of sports on TV (which I can struggle with) or spending money frivolously to make myself a little more comfortable.
The second implication of this principle draws me back to the person and work of Christ Jesus.  We are hardwired to both want to sacrifice for others whom we love (the way I did for Betsy's wedding gift) and to value when others have sacrificed for us (as Betsy was upon receiving the gift).
Faith and new life begins upon the work of One whom made the ultimate sacrifice for others through giving up His own life.  The suffering and death of Christ is the foundation of the Christian faith and life.  We are so valued by Him that Christ sacrificed to the point of death for us.  This gift is so worthy of praise and devotion to us, because it came at great expense and sacrifice by the One whom gave it.
Lord Jesus, thank You that in You we see the perfection and purpose and beauty in true sacrifice.  May I be a man that is daily drawn to gratitude over Your sacrifice and then freely and joyfully sacrificially give to others out of this reservoir of gratitude towards You.
(This post is part of "My thoughts on weddings. . . (a series)".