(This article is part of a series of posts I am writing this month on weddings.  For an overview of the series, please click here.  My first post in this series was "June is the month of weddings. . . ".)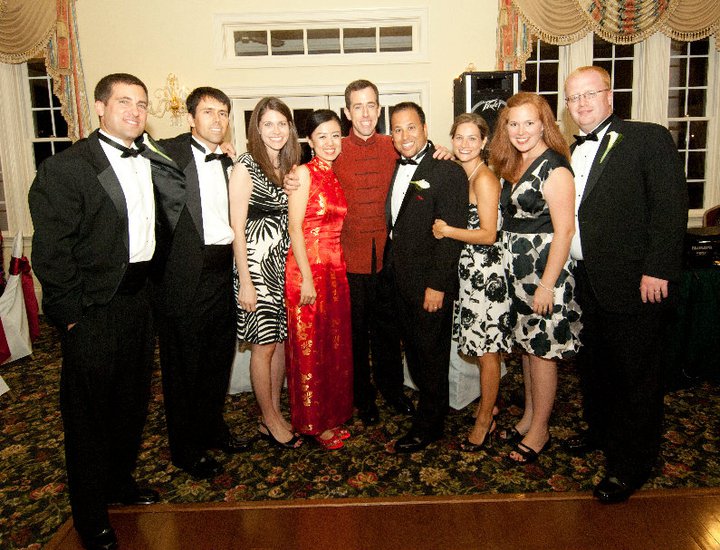 So, in honor of weddings and June, here are 7 reasons why I love weddings:
See old friends –

Especially with living overseas, weddings are fun in just getting to see old friends.  I love this aspect of weddings.  Seems like weddings are about the only place I see certain friends.  Always fun reconnecting.  

The various facial expressions of the groom – This is a bit of a tricky one.  I will talk of three such facial expressions here.  Some grooms have the look of utter euphoria.  They have waited ALL of their lives for this moment and there she is. . . the most beautiful girl that he have ever seen walking towards him with a sense of glorious finality.  "The race is over and I have won!"  Wonderful to see.  Other grooms have the look of sheer terror.  This is usually not about their pending marriage, but rather the actual wedding ceremony.  They would rather do ANYTHING than stand up in front of that many people in uncomfortable clothes, with the fear that they might mess something up and embarrass the woman that they love with all of their lives.  Funny to see, but you don't want to be this guy.  The final group consists of the grooms that are locked in an utter, all-encompassing look of concentration during the wedding.  Splitting an atom or transporting nuclear grade uranium type concentration.  They are not scared.  They just want to get it done with so they can move on to the honeymoon.  They are not there to enjoy the wedding.  They are there to complete the wedding. Much like a runner at the end of a marathon.  Love this look on the groom.  Not as good as the first example, but fun just the same.

A brilliant example of awkward dancing, especially with the guy on the right side.

Awkward dancing –

Ranging from professional ballroom dancers to sweaty mosh-pitting teenagers.  From sweet grandfathers and granddaughters to brooding, cool frat guys that are trying to maintain an image, all the while seeking to appease their girlfriend's desire to dance.  This veritable vegetable soup of hyperactivity is always a fun background entertainment while eating and enjoying conversation with old friends.

Great food and drink – A very unscientific observation of mine. . .  the amount of money spent on weddings seems to have an inverse relationship to the taste of the food.  Some of the nicest, most expensive weddings I have been to have left me woefully hungry in the end.  The wedding receptions which resemble more of a Baptist pot-luck dinner are usually amazing.  Don't understand this, but it is almost an irrefutable law of physics.  Probably has something to do with four simple words. . . "pigs in a blanket".  Not sure, though.  Multiply this by a factor of 10 when involved in weddings in Asia.  
Communal Celebration of the Marriage – It is wonderful that people come together to support and celebrate with couples their being brought together for marriage.  Weddings truly are means for a celebration.  This is evidenced by people coming from far and wide just to be a small part of this historic event in the lives of the bride and groom.  It is a picture of the community of family and friends coming around two individuals to support and love them in beginning their new lives together.  The Bible speaks of two becoming one in marriage.  As is testimony of the divorce rates alone, marriage is a difficult process.  The symbolism of the wedding ceremony, with all of your loved ones literally surrounding you in support of this decision is a beautiful and much needed picture.

Groomsmen (family and friends) standing in communal support of Teddy and Carrie.

Tangible picture of God's sovereignty – It is always a joy to see the obvious hand of a sovereign God in the midst of bringing two random people together to join in marriage.  I love hearing the stories of how they met and fell in love.  I actually enjoy the ubiquitous slide show/video montage of their lives and coming together.  Good weddings really are like worship services.  They point us towards our sovereign, personal God, who has good and wonderful intentions towards His children.  Wonderful to see.  Wonderful reminders for all in attendance.  A reminder that we need to often hear.    
Example of Christ to us (His church) –

Finally, in weddings done well, it is a beautiful picture of the relationship of Christ towards us, the church.  We see in Ephesians 5 that Christ is the groom and we, His followers, are His bride. 
 Ephesians 5:28-33.
28 In the same way husbands should love their wives as their own bodies. He who loves his wife loves himself.29 For no one ever hated his own flesh, but nourishes and cherishes it, just as Christ does the church,30 because we are members of his body.31 "Therefore a man shall leave his father and mother and hold fast to his wife, and the two shall become one flesh."32 This mystery is profound, and I am saying that it refers to Christ and the church.33 However, let each one of you love his wife as himself, and let the wife see that she respects her husband.
We see here that just as a good husband nurtures and cherishes his wife, so does Christ with us, His people.  Just as Christ left HIS Father in heaven and gave His life for His people, so a husband leaves his earthly father (and mother) and gives his life for his bride.  Just as Christ becomes one with us, His children, through the presence of the Holy Spirit, so a husband and wife are called to be one.
A good wedding ceremony will call us back to this profound reality.  Just as we are witnessing a couple "dying to themselves" as individuals so that they can become one "body", so Christ has willingly given up His life so that we can become one with Him.
A beautiful picture and definitely the aspect I love most about weddings.  Through weddings, I am reminded of this greater relationship of Christ to us, His church. 
(This post is part of the series "My thoughts on weddings (a series. . . )".