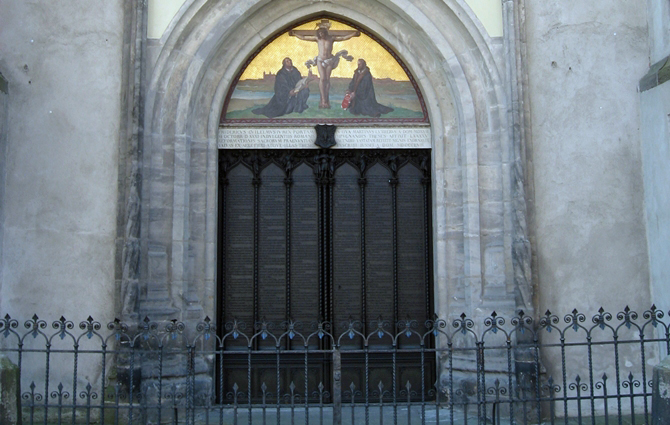 Today is Halloween.  Not unlike most, I have had my share of Halloween revelry over the years.  Friday night, as a matter of fact, the other Americans and several local Asian friends will have our own Halloween party.  Always fun to see the utter confusion of the local people when a small group of foreigners are walking around this city in random costumes.
Today, however, my mind goes back to a faithful day in the sleepy college town of Wittenberg, Germany on this date exactly 496 years ago to the day.  If you are a Christian, this day was one of the most important in history for you.
By the 1500s, the church had woefully lost its way.  Over the course of a few generations, the official world-wide church (based out of Rome) had all but lost the simple message of the Gospel of Jesus Christ.  It had been replaced with a meritorious based, "salvation by works" doctrine.
What would you do if you honestly felt your family and friends were being led literally into HELL as a result of false teaching?  How about your entire nation or the known world?  Would you literally risk your life to help them out, to counter the wickedness, to point the world to the truth?
This was the case in the year 1517.
Enter into the picture a professor of religion (and monk) by the name of Martin Luther.  He had become a Christian and began to take seriously the teachings of the Bible.  He compared the teaching of the actual Bible to the belief system being taught by the church.  As a result, Luther became convinced that his German countrymen (and the known world) were literally being led to hell by the licentiousness, greed, and false teaching OF THE CHURCH.
Though he was a young, non-tenured professor at a low-level university, Luther knew he must act.  On October 31, 1517, Martin Luther tacked his "95 Theses" on the door of the Castle Church in Wittenberg, Germany.  This seemingly benign act of challenging the belief system of the known church in a small corner of rural Germany literally changed the world in innumerable ways.
Most importantly, the true message of the Gospel of Christ Jesus was maintained.  It was a real life and death issue for millions upon millions of people.
It was also a literal act of life and death for Martin Luther.  As a result of this simple little act of challenging the established church of the time, Luther was labeled a treasonous heretic.  Soon after this date, an official "price" was put on Luther's head.  For the final 27 years of Martin Luther's life, it was not only legal for ANYONE to kill him at will; it was encouraged by the promise of a financial reward.
I cannot imagine the level of stress this would cause a person.  I cannot imagine the level of faith it would take for someone to make this level of a stand with this level of consequence.  However, I am eternally grateful Martin Luther did make this stand.  As a result, here I stand, along with the remainder of the world-wide Christian church.
This morning, when reading about Martin Luther, I was reminded of Hebrews 12:1-2.
Therefore, since we are surrounded by so great a cloud of witnesses, let us also lay aside every weight, and sin which clings so closely, and let us run with endurance the race that is set before us, looking to Jesus, the founder and perfecter of our faith, who for the joy that was set before him endured the cross, despising the shame, and is seated at the right hand of the throne of God.
One of the many aspects of being a Christian which ignites my soul is this wonderful community of Christians around the world I am a part of.  We form a massive family of God which is actually CLOSER than flesh and bone.  Not only this, part of our family is comprised of members who have lived and died well before we were introduced onto the scene.
"So great a cloud of witnesses" which surrounds me, both living and dead, both in Asia and around the world, both within my physical family and without, is a wonderful comfort AND one of my greatest inspirations in all of life for me. 
Today, on October 31, 2013, I am grateful beyond words for the obedience and life of my brother, Martin Luther, which took a wonderfully sacrificial turn on this day 496 years ago.
(You might have noticed, I have been working on a new look for this website.  I would love any HONEST FEEDBACK you have on it!)