As I type this, I am sitting on the back deck of my apartment in Asia.  There is a subway track in front, along with the panoramic view of sky scrapers of which most are still under construction.  It is quiet right now, as life in this crowded mega-city is readying for bed.  Other than the sound of a TV coming from an apartment of a near deaf person a floor or so below me and the hum of the occasional construction truck winding down the streets 10 floors below, it is quiet. . . it is peaceful. . . however, it is lonely.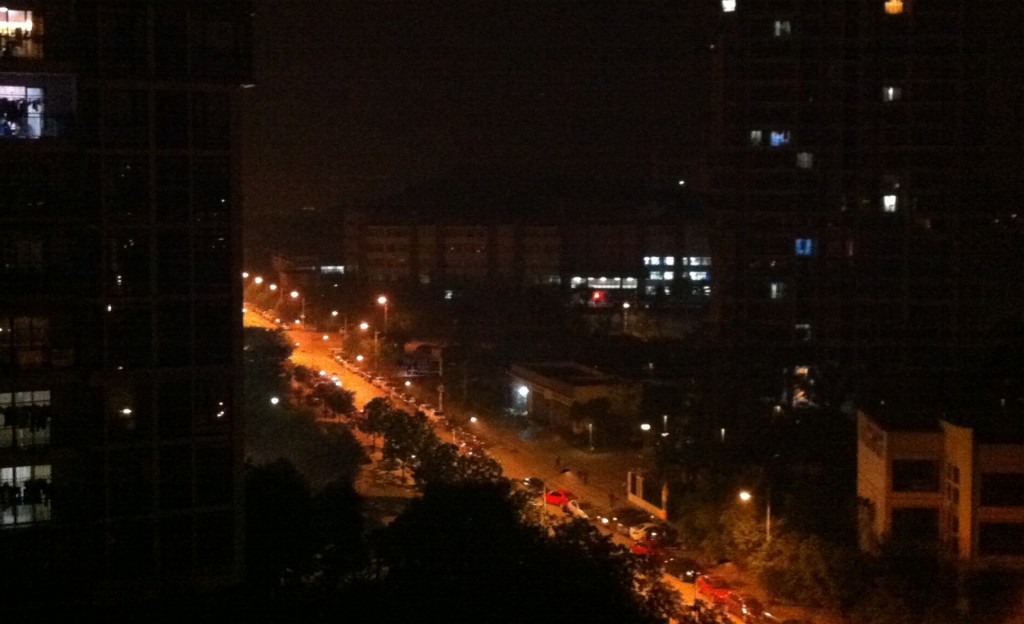 I have been thinking about loneliness a good bit today.  Partially because I heard a tremendous sermon on it by my friend Rankin Wilbourne this afternoon (click here to listen). . . partially because I am, in fact, struggling with loneliness right now.  It comes and goes often with me living in an apartment by myself here in Asia.
It can come with the sight of something that reminds me of a niece or a nephew or when something funny happens that I know a good friend in the States would appreciate.  It can come from a picture over Facebook reminding me that lives are moving on without me in relationships I used to hold dear.
Loneliness can come with an email informing me that I have missed yet another family event or wedding or friend gathering.  Today it came from just hearing
my Dad's voice over the phone.  Yesterday it was in learning of the passing of Pat Ku's grandfather.  Life is happening in many places, yet I am sitting here on an empty back deck in Asia, or so it seems sometimes.
Loneliness truly has been an occupational hazard for me in choosing this life of living and working overseas. Don't get me wrong, I honestly would not choose a different life than the one that I have lived thus far.
My mind races with the experiences I have had, friendship I have forged, mountains I have been fortunate enough to traverse (both metaphorically and in reality). . . and I am grateful to the core.  God has been good to me well beyond my ability to express my gratitude with my feeble words.  However, this life of living and working 10,000 miles from the city of my origin, the city where I learned to walk and read and drive and hit a curve ball; this life does get lonely. Tonight is such a night.
Even in the midst of nights like this, I am drawn to the sweet reality that I am not alone.  There are others who understand me, who understand the way I am feeling at this moment.  I understand that we ALL suffer with loneliness from time to time.  We all have seasons of isolation, of longing, of heart-break. I understand this and it comforts me in a "misery loves company" type of a way.
Even more so, I am reminded of the most terrifyingly lonely moment in history.  It was the day that our Savior, the creator of the universe, the One whom willingly left His home in heaven, and humiliated Himself to the point of becoming a child, suffered the anguish of the cross.
At that exact moment, Christ Jesus cried out in heart-broken honesty "my God, my God, why have you forsaken me"!  Matthew 27:46-50 was not just the retelling of a factual event, it was the honest depiction of our Savior lonely, hurt, and rejected by those whom He loved.
Though this reality does not make the sting of loneliness depart, it does make me feel better.  I still miss my family and friends.  I still miss companionship during nights like this.  However, I do feel better knowing that my friend and Savior, Jesus Christ, understands me.  He is with me.  He will get me through lonely times like this.
For this reality, I am grateful to the center of my soul, to the core of my being.  I am grateful for Christ's suffering, His betrayal by all those whom He loved.  Because of this, I am confident that He understands me in all things, even during lonely nights (and months) in Asia, nights like this one.
Because of this reality, I am also certain that Christ understands and is with YOU, no matter what is going on in YOUR life.  No matter what heart-break you are suffering, what loneliness has gripped you, what disease afflicts you, what addiction has taken root, Christ understands and is present.
For this, I am grateful. For this, I am drawn to praise and joy. . . the praise and joy of my friend and Savior, Christ Jesus.
Please pray for me that I will grow in this perspective, and I will pray the same for you.
(As a follow-up to this post, I wrote "Community, relationships, and other thoughts on loneliness. . .")