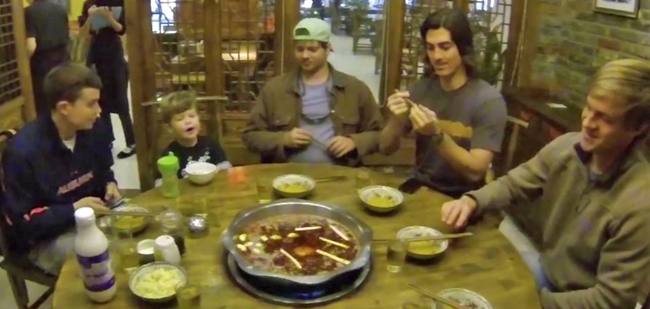 I grew up as a picky eater.  Then I moved to Asia.  My eating habits had to change or else I would literally wither away to nothing.  Then I met "hotpot".  It is a meal that espouses a wide range of opinions.  To some, hotpot is a "meal of the gods".  To others, it is a culinary disaster.  This is my story and the "competition" we have created around this unique local food.
Random facts. . . I had never had an orange until I was a junior in college.  I had never tried sweet tea until I was 27 and living in Asia. On my first morning during a trip to Croatia when I was 26, the host family informed my group that "since you guys are southern, I cooked you a southern breakfast".  I walked in the kitchen only to find a pot full of creamy slop (best I know how to explain it) next to a pan with biscuits on it.  I immediately turned to Trent McEntyre and said, "what in the heck is this?!?!?"  Bewildered, he responded, "You have never seen biscuits and gravy???"  I had not.
Bottom line, I grew up as a picky eater.
When I moved to Asia, one of the biggest stresses I had was thinking through the food.  I had eaten Chinese food only a handful of times in my life and I didn't really like it.
My first 5 weeks here, I lost 25lbs.  Seriously.  In college, I came over for a summer study program weighing a thin 158lbs and got off the plane back in Atlanta five weeks later down to a refugee camp-esque 134.  I was gaunt and terrifying looking.  My sisters and Mom literally wept when they first saw me at the airport.  This was not because they missed me, but because I looked like I was on death's door.
When I decided to move back to Asia long-term six years later, I was concerned (to say the least).  Further, I was reading that the specific province to which I was moving was famous for its excessively spicy food.  I cowered.
Fast forward 12 years.  I have eaten pretty much everything.  Everything.  I won't go off on a list of stuff I have eaten, as I'm certain I would be a target of PETA protests.  Just know that there are very few animals I have not eaten.
As I have said in previous blog posts, I am fortunate to live in a region of Asia which is famous the world over for its food.  It is creative, delicious, and inexpensive.  The hallmark of the local food is its abundant (some would say excessive) use of spices and oil. However, along with "culinary creativity" comes some harrowing dining experiences.  The greatest and most distinct form of eating here is affectionately call "hotpot".
Hotpot is basically fondue.  However, instead of being created and consumed by Francophile, female suburbanites from upper-class communities, it is the food of choice of gruff Asian peasants.
Fondue is a meal where breads and sweets are dipped in bowls of warm cheese and chocolate.  Hotpot, though, consists of all types of body parts from pretty much all animals known to mankind being submerged in steal vats of boiling oil and demonically spicy peppers.  Fondue is something nice to do with friends, while engaging in pleasant conversation.  Hotpot is a battle of the culinary will.  It is chocking back your fear and then being rewarded by a dining experience unlike anything we have in America.
I came to Asia and was immediately introduced to hotpot by the college basketball team I played on.  They were all 6'8, 230lb men whom destroyed hotpot several times a week.  I lost 15lbs that first six months back here in Asia as a result of eating with them.  I just couldn't handle it.
However, something shifted around my six month mark in this country.  Hotpot went from being something I HAD to do in order to fit in and make local friends to something I LOVE doing.  Hotpot went from being a culinary disaster to me, to that of a meal of the gods.
Well, three years ago, a friend realized that there are actually 24 hour hotpot restaurants in this city.  An idea was born.  In honor of this uniquely local dining experience, we created an entire day devoted to hotpot.  We named it the "Hotpot Challenge". 
The rules are as follows:
Three meals, all hotpot, all in one day.
Only food and beverage sold in hotpot restaurants can be consumed.  No eating a small breakfast and running out to get full at McDonald's.  Only hotpot for 24 hours.
Only the spiciest variety of hotpot would be allowed on the tables.
We have now completed two of these "Hotpot Challenges".  I am pleased to report that NO one has met their maker as a result.  This year we were pretty sick for up to three days after, but we all survived.
I threw together a short video for your viewing pleasure.  Again, I am REALLY bad at video editing, but I am trying to get better!
Enjoy the sights and sounds of the Hotpot Challenge 2013!
[pb_vidembed title="" caption="" url="http://www.youtube.com/watch?v=ZXeaZL89srk" type="yt" w="480″ h="385″]