(This post is part of a series I am doing called "First Impressions. . . my first few months in Asia".  If you would like to read about this series and other articles, please CLICK HERE.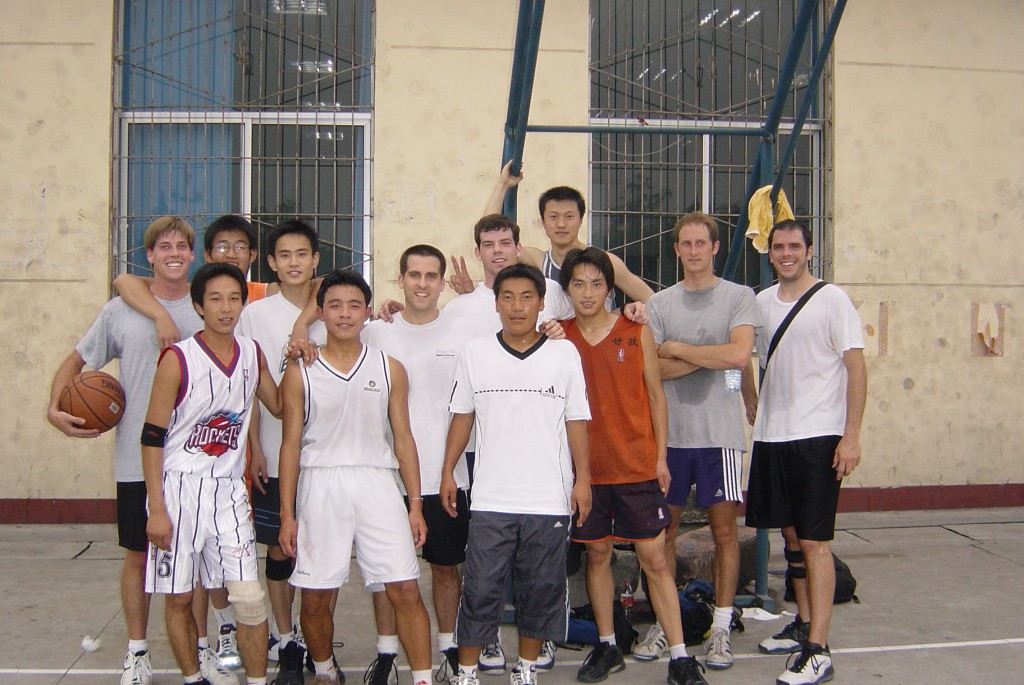 One of the things I most enjoyed about moving to Asia at first was basketball.  We played it often and made a ton of friends doing it.  Here are some of my initial thoughts from my first few months of playing pick-up Chinese basketball.
There were five years between the time that I spent a summer in Asia while in college and when I moved over here.  In that time period, the quality of play did rise and continues to each year.  The society plays a ton, so they are showing more and more improvement even to this day.  However, it was still very different than what I was accustomed to in the US.
About the play, the speed is very high and often sloppy.  They are all in incredible shape, so they can go at high speeds for hours without showing any effects.  This is the toughest thing for me, as I am dying after 45 minutes of so.  Their hand speed is great, but their foot work is terrible.  They will steal the ball from you, then trip over it as they try to pick it up from the ground.  Flying bodies and hands are the norm.
Along these lines, very few fouls are called.  You practically have to draw blood before a foul is called.  Getting slapped going up for a shot and mugged over the back on rebounds is just part of the play.  They are very aggressive and very physical, yet tempers almost never flair up.
Their major influence, to no surprise, is the NBA.  David Stern and his goons have obviously done an incredible job of marketing over here.  As there are very few coaches over here, the NBA shapes their play to an unhealthy extent.  They are learning to play overly physical, fundamentally unsound ball from the beginning.
The offences here are all isolation.  Passing is underdeveloped to put it kindly,  non-existent to put it closer to reality.  The guy with the ball will drive and then throw up something off balance most of the time.  Kids around here practice behind the back lay-ups and double clutch finger rolls, while ignoring jump shots and basic bank shot lay-ups.
There are a few oddities about the game over here.  For one, there is no checking the ball ever.  If people aren't paying attention or tying their shoes or something, too bad.  It increases the speed of the game, which isn't good for us out of shape Americans playing over here.  Also, there is no back court (only room for half court).  If the ball goes into the other court, guys are still going hard after it.  It still rather makes me chuckle seeing two guys battling for loose balls at the other end in the midst of a different game.
Boot leg Nike attire is the norm.  It is hilarious to see the equivalent of intramural team jerseys with Nike symbols on them.  I'm sure that the boys in Beaverton, OR (Nike HQ) are throwing down millions to sponsor a team of freshmen Plastics Engineering students on this campus.
Speaking of the basketball attire, we have discovered an interesting correlation here with the players.  The better a guy is dressed, the better player he usually is.  No I'm not talking about his basketball clothes.
It is hilarious.  Guys will come out in stuff like ties, loafers, and slacks.  They will pull off their ties, roll up their pants, and then dominate games.  The guys that come out in full basketball uniforms usually stink.  They will inevitably be the guys off to the side watching while all the guys with the rolled up slacks get all the court time.  Which brings me to my final point in this exhaustive analysis of East Asian Basketball (at least on this campus) . . . the hierarchy of players!
This is perhaps my favorite part of the game that is different over here.  There is an unwritten, yet very definitive code of the players on the courts over here.  Everyone has this imaginary ranking as to where they stack up in regards to the others on the court at any given time.  I know that this is inevitably the case everywhere, but here it carries much more weight.
Let me explain.  Whenever a better player than the guys that are playing comes out, then the better player immediately can pull the inferior player of his choice.  It is amazing, yet the norm.  The inferior player will just take it, get off to the side, and then wait for the next game.  What is really funny is when an entire game of superior players will come to a court in which a game of lesser quality is being played.  It is just understood that the teams on the court must just stop their game and vacate the court immediately.  At first I thought it was somewhat sad for the guys that get yanked, but now I see that it is just normal, par for the course.  No hard feelings, it's just reality.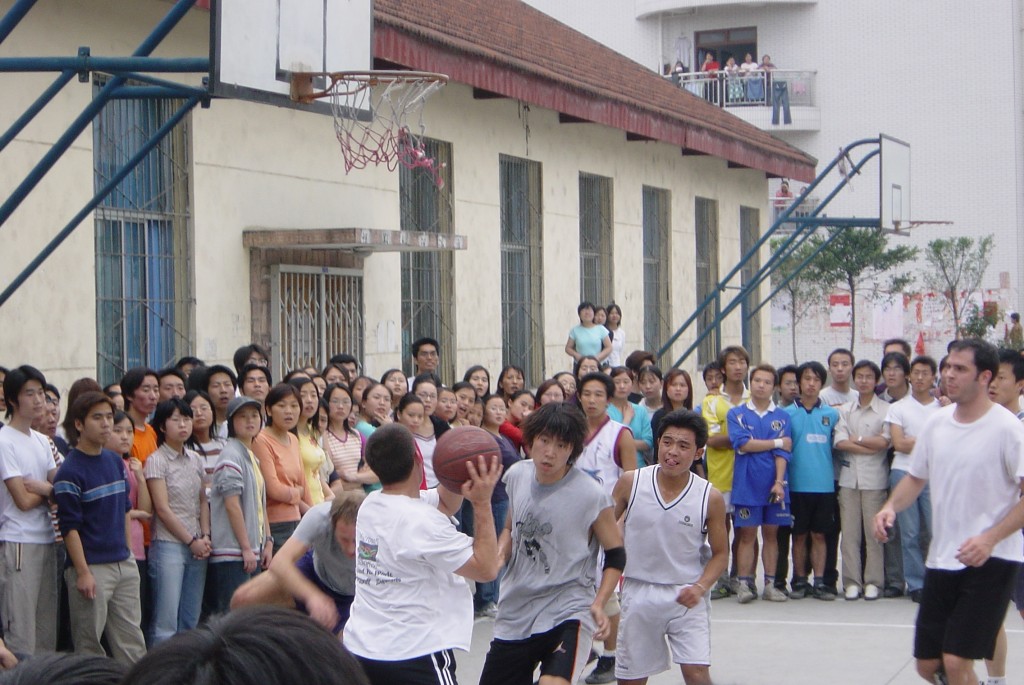 Finally, it is a big deal when foreigners are playing on courts over here.  It is not uncommon for word to get around campus that foreigners are playing and all of a sudden hundreds are standing around the court cheering you on.  It's fun, but probably not good for my ego.
Well that about sums it up from my perspective.  Overall, it is really quite refreshing playing ball over here.  People legitimately love the game.  They play hard, but clean.  People play to win, but don't cry when they lose.  It has been a good example for me to follow.
I actually played on the best college basketball team in the nation. Go here if you are interested in reading about this experience.