(This is my third post regarding my career as an Asian college basketball player. You might want to read "How I became an Asian college basketball player at age 28. . . " and "Funny nuances and differences from my Asian college basketball team") if you have not already.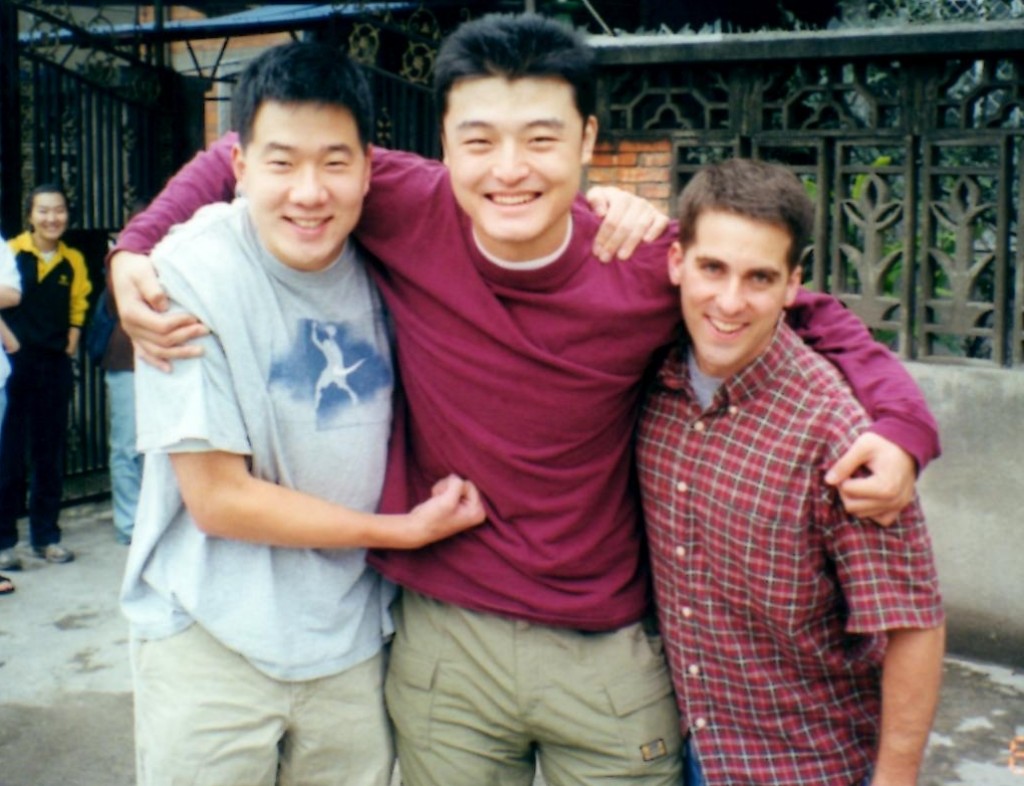 It was my fourth week in Asia and my third week as a member of the top ranked college basketball team in this country.  I was in the midst of language study, but as you can imagine, I still knew and understood very little. Patrick Ku was back in the US for a few weeks on a recruiting trip. This already made basketball practice much more linguistically challenging. No one on the team spoke English and I spoke VERY LITTLE Chinese, so Patrick being gone was a big deal. I was constantly trying to figure out what was going on around me since I had no translation.
My Injury. . .
During this particular practice, we were doing full court defense drills. One player would dribble the length of the court, while two others would try to box him in. It came my turn to be on defense. I was around half court. The guy I was guarding suddenly turned around during the drill running full-speed and his head slammed into my forehead. The impact was just above my right eyebrow. One of the disadvantages of being short is that when 6'7 guys are bent over dribbling, they are at about my head level. Not cool in this case.
It was a strong initial blow, but it didn't really hurt that much so I didn't think much of it. The player frantically apologized, but I blew it off in an attempt to show that I am above this whole "pain" thing that others suffer from. As he looked at my eye, he seemed a bit terrified.  All the while, our coach came running over. The coach then took me off to the office area. On the way there, I touched my eye. Blood was now profusely running down the side of my face.
Coach sent me off to the hospital with the best English speaker on the team. By this time, I was getting a little nervous. It was obvious to all that I needed stitches. Problem was that my new translator spoke terrible English and medical Chinese was still WELL beyond my grasp with all of four weeks of language study.  At that point linguistically, I was just happy when I ordered food and the correct item came to the table. Hospital language was still WAY BEYOND my limited vocabulary.
We got to the "hospital." I use quotes here because it was more like a warehouse with sick people and others in white coats running around. It was chaotic. It was dirty. Basically cylinder block walls and rooms with non-sterile looking bed/benches. My nerves had now advanced to the point of becoming fear.
In no time, I was on a table getting a shot near my eye for numbing. The doctor seemed very professional and competent, so this helped my nerves. . . slightly.
Then fear came rushing back over me when my vocabulary ran out and a "procedure" was looking to start. They both did their best to explain to me what was going to happen, but I had no idea what was going on!
The room began to spin. They had me lay out on the table and immediately began to lay a large lead cover over my body with only a slight cut out just larger than the size of my right eye.
Civility was over. . . I now demanded to know what was going on before I was covered in lead! "What is happening?", I said in polite, yet loud and forceful English. Looking nervous, my basketball friend said, "Ah. . . eye. . . operation ."
Panic immediately shot through me with mental images of my eye ball being lifted from the socket racing through my mind. I started thinking about those annoying people on TV crying, showing my picture, and saying, "For only a few pennies a day, you can help this guy see again". Was this my fate?!?!
I then did my best in mixed Chinese and English to convey the image and words of stitches.  It was stakes charades at it's finest.  They both concurred with me that stitches it would be. Stitches were clearly beyond both my friend and my vocabulary in our second languages.
Stitches I had done. Stitches were no big deal. I relaxed, laid back, and let the doctor do her job.
The entire procedure took just a few minutes, with no pain, and very little discomfort. Very few nerves around your eyes, so it really is no be deal to get stitches in that area.
In total, a mere five stitches did the job. Not exactly a life threatening wound, but enough to make me stick out even more than I already did in a crowd, with the head dressing and all.
My Herculean return to the basketball court. . .
Two days later, I was back at practice. Of course I was, it was only five stitches!
The coach was shocked. The players perplexed. Any team in the States would expect you to play the same day of an injury as slight as five stitches. Five stitches equates to a glorified band aide!
Apparently this wasn't the case here in Asia. They treated me like a conquering Caesar returning home from a mighty battle. My street cred went through the roof.
My first press conference. . .
Fast forward two months . . . there was a big, nationally televised press conference from the campus for our team. The national college basketball tournament (their equivalent to "March Madness") was about to begin. They wanted a televised media event of our team since we were the defending national champions.
We were all on stage in front of media from around the country. Along with the media, there was a small crowd from the university. There were lights, cameras. . . the whole thing. It was wild, especially given the fact that I had never dreamed I would be playing basketball three months earlier, let alone on the best team in the country.
It was hilarious. I was still in need of translation as this language is really tough to learn. As the press conference began, the coach introduced us all to the media. As it got to me, he became fairly long-winded in his introduction. I had no idea what he was telling the media about me. I was getting nervous, especially as Patrick sat their laughing under his breath to me to my right (remember, Pat was and is fluent).
It seemed the coach felt the need to tell the entire nation about how tough I was. He told them of my Herculean return to practice right after cutting my head open and needing a grand total of five stitches. He couldn't believe I could return to practice in just two days. You would have thought I had returned from a gunshot wound or something . . but nope, just five stitches!
Not at all an accomplishment of note, but it did give me an over-exalted view of myself for a few days. Definitely one of those "I wish my people in the States could see this" type of a moment. . .