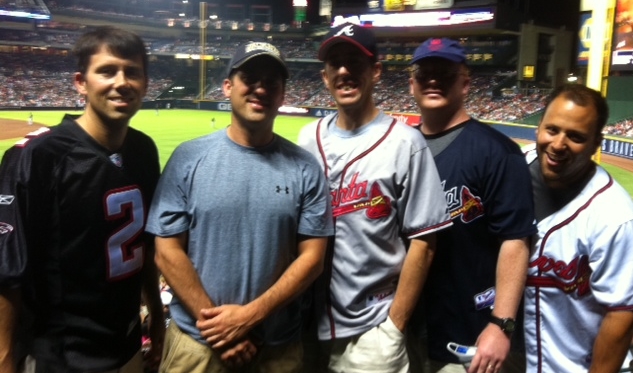 As I sit here in a local coffeehouse, I am thinking about baseball.  We are on the cusp of one on the greatest weeks of each year; Opening Week of the Baseball season.
I love the sport and always have.  I don't remember a time in life where baseball wasn't important to me.
Baseball is different than any of the other American sports.  I'm not necessarily saying better, I'm just saying different.  No other sport is called our "National Pastime" like baseball.  As I think about it, I do believe there are transcendent values to the game of baseball which are unique to the sport.
So, in honor of opening week, here are four (plus one bonus) of the more "transcendent values" of the game of baseball which have kept me engaged with the sport well beyond my playing days.
1 – The generational aspect of baseball
More than any sport I know, baseball seems to bridge the gap of generations.  I didn't have a ton to talk about with my grandfather, but we ALWAYS had the Atlanta Braves in common.  He loved the Braves, as do I.  I loved him, as I know he did me.  I loved being with him, I really did.  However, conversation was a bit lacking.  Baseball ALWAYS provided us common ground.  I am not alone, as even movies such as "City Slickers" has acknowledged this beauty of baseball.
Baseball, more than any other sport I know of, is passed down from father to son (or significant male role model to boy).  My Dad coached my teams the first several years of little league.  Dad spent countless hours investing in me as his son through the medium of baseball.  They really are some of my fondest memories of my childhood.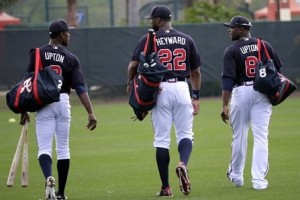 Dad was always there for me and baseball was indicative of this.  One day, I hope to teach a child of my own how to turn a double-play or lean in on a curveball, much as my father did me.
You see evidence of this throughout the major leagues.  Take the Atlanta Braves as an example.  Currently, three of the biggest stars are B.J. & Justin Upton and Jason Heyward.  They all have had very present fathers in their lives which personally taught their sons the game and are often seen at games.  Same goes with recently retired legend, Chipper Jones.
Baseball, in a unique way, is a sport passed down from father to son (or significant male figure to younger boy).  This is a great, transcendent value of the sport which I love.
2 – Baseball parks are the male versions of coffee/tea houses
Men are awkward in sharing life and substantial topics with each other.  This is not the case with women women.  To help, women have teas and showers and coffeehouses and book clubs and thousands of other avenues with which to talk and share the deeper things in life with each other.
Men have none of this.  It takes someone being a good friend or have a serious common interest in order for us to do things like "get coffee" with each other.  There has to be a purpose in everything we do.  If not, it is awkward. 
If you simply ask a dude to coffee, he is going to want to know the purpose of the time in advance.  The conversation will flow as follows:
Me:  Hey man, want to meet for coffee tomorrow at 2pm?

Friend:  What is up?  Is everything ok?  Are you dying?  Did I tick you off?  Do you need money? 

Me:  No, just wanted to spend time with you. . . um, get to know you better.

Friend: (silence)
Baseball parks are perfect places for men to "bond".  There is enough action to keep us engaged and enough downtime to have meaningful conversations.
3 – The culture of eternal hope and optimism in baseball
I grew up in the 80s in Atlanta, Georgia.  If you are not familiar with the time, the Atlanta Braves were wretched for almost the entire decade.  Wretched.  You went to the park to see the opposing teams' stars and to cheer the THREE times Dale Murphy stepped up to bat.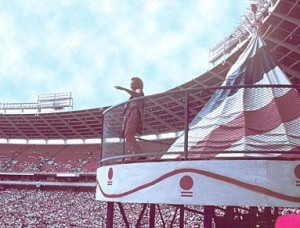 However, every spring training I was convinced that this year would be different.  The new third basemen. . . that up and coming pitcher. . . a new Native American spell placed on the team for good luck by the culturally insensitive "Chief Noc-a-Homa" nestled in his tee-pee perched in the left field stands.
Whatever was new about the team each given year, I was convinced that "this is our year" pretty much every spring.  As a matter of fact, I had a small poster on my wall throughout my entire youth with the Braves emblem and the words "This year!" in big letters just over my bed.  Though the last place finishes piled upon each other year after painstaking year, that poster and the eternal optimism of "this year!" persisted.
Baseball teaches the value of hope, even if it as ill placed as the Atlanta Braves of the 1980s.
4 – Length & duration of the year and the intimacy with players
There are 162 regular season games.  Throw in spring training and the playoffs and baseball is around 9 months each year.  The games are around three hours long.  The uniforms do not conceal faces, like football.  Additionally, great players can play up to 20 years (like Chipper recently did), unlike football and basketball where players are usually pretty much spent by their 30s.  Finally, baseball parks enable you to get close enough to the players to hear them talking to each other.
Though not the best element, baseball fans more effectively trash talk the players than any other sport, simply because the players can often hear fans.
In high school, there was no one in the right field seats in Atlanta's Fulton County Stadium.  We would sit up there and destroy the opposing right fielder with verbal assaults which only punk high school kids can mount.  Probably not that bad, but we thought we were funny.  Only in baseball are you close enough to be heard clearly by the players. 
I grew up with Dale Murphy being one of two large posters on my wall (the other was U2; another post for another time).  I spent late high school, college, and the first 15 years of my professional career pulling for Greg Maddox and John Smoltz.
John Moultrie was able to get a few of us front row seats for the night the Braves retired Maddox's number in Atlanta.  I felt like crying, as I was ACTUALLY PROUD of this man whom I have never met.  Like it was an older brother getting his doctorate or something.  Strange.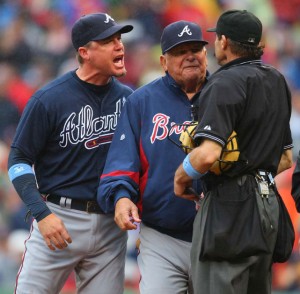 Chipper Jones graduated high school the same year I did.  His retirement was followed by a "mourning period" that lasted a few days.  Sadly, I'm only partially joking here.
*** Bonus*** Coaches in uniforms
As my Dad says, thankfully we don't have to see basketball coaches in their team uniforms.  It would be tragic seeing large, overweight middle-aged men, arms flailing, running around court-side screaming at officials and players in the NBA.  It would be incredibly goofy seeing the same with coaches in football gear on the sidelines calling in plays.
In baseball, it works.  I love seeing 65 year old men, guts hanging over belts and grey hair peeking out from under their caps, as they hobble to the mound for pitching changes.  It never gets old.  Looks painful, but it feels right.  Just one of the many timeless nuances of our National Pastime.
Go Braves!