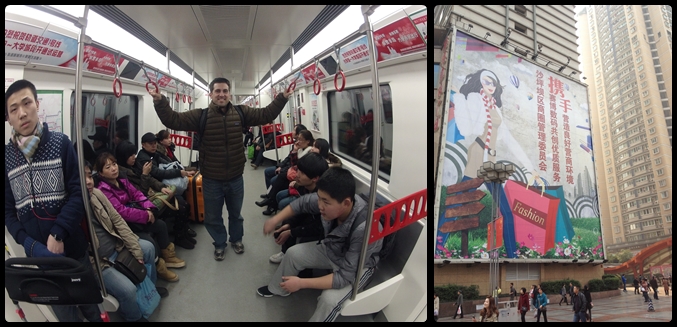 As I type this post, I am sitting in a bustling coffee/teahouse.  There are people all around me consuming all types and varieties of colorful beverages.  Outside, window shoppers are meandering along the fairly crowded street, with bikes and mopeds jostling for real estate.  The weather is reasonably nice (we always have gray skies, but today is a brighter, clearer version of gray than usual). I love the hustle and bustle of Asia!
There are times when I struggle with living in Asia.  The cultural stresses, climate challenges, and culinary differences just kind of pile up and weigh me down.  Today is not one of those days.  As a matter of fact, this week has been a kind of personal "Asian renaissance" for me.  I have been all over the city for the past week with visitors from Atlanta.  It has been a time where I have been able to simple enjoy some of the quirky, fun, and different aspects of living in Asia.  Here are a few:
Big, goofy billboards (and bright, city lights) – Don't know why, but I love gigantic, even obnoxious, billboards.  Throw in high-rise buildings lined with bright, gaudy lights everywhere, and you have a visual buffet around every corner.  This is the case with most sections of this city.  Definitely one of the distinctive characteristics of cities in Asia and it is a fun aspect which I like.
Lack of a fashion standard – We in America tend to care much about outward appearance.  We are driven by fashion, popularity, and acceptance by the world around us in a way that is a bit obsessive.  In my opinion, nowhere is this more apparent than in our sense of fashion.  Celebrities start wearing their hair a certain way and the rest of us are not too far behind.    College students start a trend, and it will soon reverberate throughout our entire society in big and small ways.

Here is an example "Public PJs" I snapped this week. This was taken about 5pm on a crowded sidewalk.

Not so here.  Though there are clearly very fashionable people here, there doesn't seem to be a common standard of fashion where everyone falls in line behind like in the States.  As a result, there are no rules.  You want to wear pants with random nonsensical English words on the butt, then go ahead.  Do you just want to wear your pajamas all day?  No worries. . . it's not uncommon to see grown-ups walking down the city streets in their PJs.  No one judges.  No one laughs.  Though I have not acclimated to "public PJs" just yet, I do admire a man confident enough to pull this move off.  All black in summer; all white in winter; no cultural norms to stifle your personal fashion whims.  Being pretty fashion challenged myself, this is a particularly endearing part of the culture for me personally.

Walking and public transportation culture – Though I have a car here, I love having legitimate public transportation options abounding.  There are buses and cabs everywhere.  This morning, I drove my moped to the subway station about 200 yards from my apartment (yes, I am lazy).  Twenty minutes later, I am coming up in a different section of town, ready to meet a friend for coffee.  In my old city, we walked or drove bikes everywhere.  Honestly, I feel like I get my best thinking done on public transportation   Whether cabs, buses, or subways, I always keep a notebook and pen with me.  I listen to music, think about life, and generally work and/or thoughts on life flood my mind.  This morning it was on thoughts about fear.  I'll write a few posts, I think, in the coming weeks on what I thought about on this morning's commute.   When in America, I do miss this element of the public transportation lifestyle here.
Locals are hospitable towards foreigners – People are exceptionally nice to foreigners like me.  This is actually a Confucian value that has been passed down for 1,500 years.  It does get annoying from time to time when EVERYONE wants to talk to and "become friends" with you.  However, I am always amazed at how open and gracious the people of this Asian country are to foreigners like myself.  Definitely something we in America can learn from this place (click here for my post on Asian hospitality).

Some of the "never boring" views of this city I took the other night. . .

Life is never boring in Asia – I have always had a massive aversion to boredom.  I don't have to always be doing something exciting, but I really do get bored easily.  As a matter of fact, I can be quite boring (reading, museums, serious movies, etc.), but I'm always intentionally boring when I am boring.  Well, living is Asia is many, many things, but it is never boring.  There is always something to surprise, stimulate, and even shock the mind as a foreigner living here.  Something as seemingly mundane as going to the grocery store can quickly turn into either a hilarious story to be retold at dinner parties years later or a Greek tragedy to the level of "Othello" and everything in between.  It can be maddeningly frustrating at times, but living here is never boring.  I love this about my life over here.
Well, I might do another post or two like this in the coming weeks, as there is just too much to mention in this one.  Just wanted to share a little of the more random things I like about life here in Asia.  
Thanks for reading!