This post is part of my series, "My thoughts on weddings. . . (a series)".  If you have not read the previous two posts, you can click here now to see them and read about this series.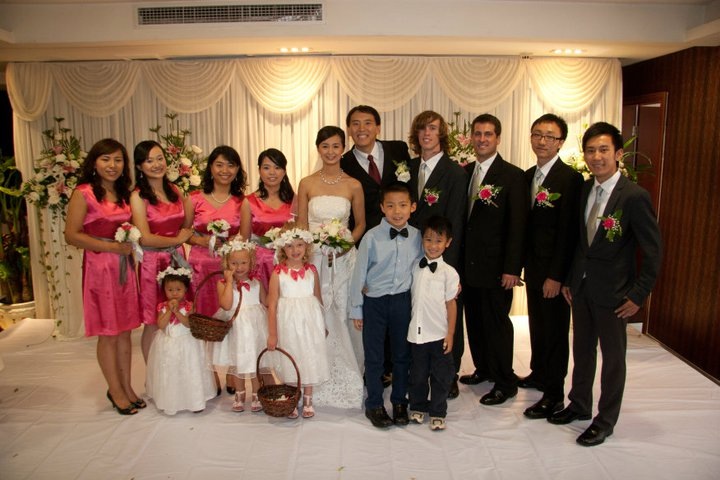 One of the joys that has been a result of both being raised in a diverse city like Atlanta and in the profession that I have chosen is I have been blessed by having friends from many, many cultural backgrounds.  In thinking about the weddings I have been in, it's not merely the amount or location.  It is also a matter of the many TYPES of weddings of which I have participated.
I have emceed at Asian-American weddings, participated in ornate Southern rehearsals dinners, toasted hard liquor at Chinese wedding receptions, and dressed in Filipino traditional clothing at a beautiful wedding in Manila.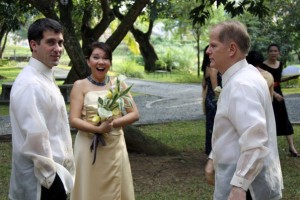 My favorite awkward wedding moment was at my friend Marcus Hinton's ceremony.  You have to understand, Marcus is a beast.  Former state of Georgia football player of the year and four year starter at Clemson.  He graduated and worked with college athletes full-time.  His wedding party consisted of ALL division one football players in skill positions. . . and me.
Everything was quite standard until we literally got to the point of the wedding starting.  The guests were seated and we, the wedding party were uncomfortably waiting in the foyer of the church.  The music started and it was R&B Gospel music with a great beat.  The wedding coordinator then informed us that we were to sway down the aisle, along with the girls we were accompanying.  Not only this, but we were to continue to sway back and forth, complete with arm motions, until the bride actually came in.
The entire wedding party was happy with this decision.  Why wouldn't they be. . . everyone there were great, natural dancers. . . except me.  I have always felt painfully awkward and out of place during any and all dancing scenarios.  Add to the awkwardness 1,000 fold when it involves me doing it down a 20-yard aisle and with several hundred people watching.  Did I say that I was the ONLY one that couldn't dance in the group???  Anyway, I survived.  People were kind, but I'm sure the jokes flowed behind my back.  Thankfully the wedding was in Eugene, Oregon, so very few people I knew were in attendance.
Anyway, I had yet another fantastic opportunity to be at a good friend's wedding this past weekend here in Asia.  It was a beautiful time of celebrating this wonderful couple.  They have both given their lives and futures to their God in a society that does not promote this, to put in mildly.  In these cases of Christian couples from this society, wedding ceremonies seem to take on an added depth and richness to me.
The wedding was rich in Asian heritage and custom.  The parents were honored with traditional tea ceremonies and dinners.  There was toasting at the tables by the couple and the bride wore a second beautiful dress at the reception, as is in keeping with Asian tradition.
Their new lives, though, have been joined in the 2,000 year heritage of being followers of Christ.  As a result, their ceremony was rich with Christian meaning and custom.  They lite unity candles and received a charge from their pastor.  They prayed and their church choir sang beautiful, Christ honoring songs in their native language.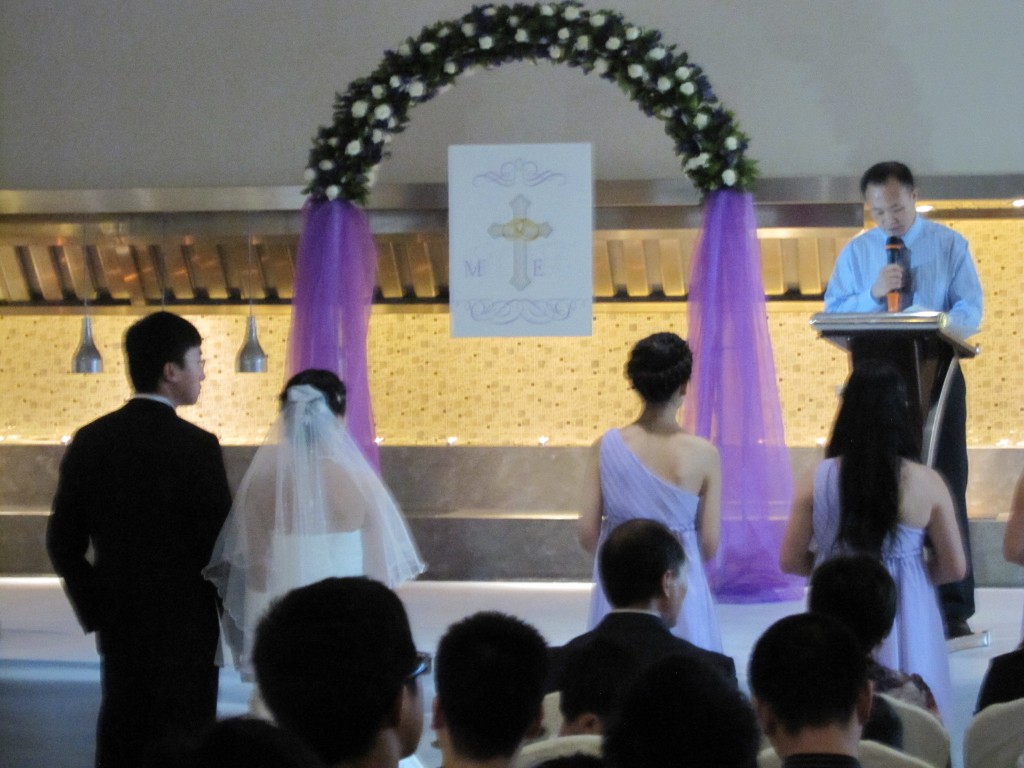 Since church buildings are not part of the equation over here, the ceremony, like most wedding ceremonies in this country, was held in a local hotel dining room.  Wonderful to see a place such as this hotel transformed into a temporary house of worship for the God whom brought these two together.  It really was a wonderful celebration of the love this couple has for each other and the God for whom they both worship.
I love culturally diverse and rich weddings for this reason.  We see, ultimately, that no matter where we are from, what cultural background we have been raised within, or what language we speak, it always comes down to the love of the couple and the goodness of the God for whom brought them together. The diversity of cultures and ceremonies only works to bring more beauty and meaning to these values in a local context.
(This post is part of the series "My thoughts on weddings (a series. . . )".