This post is building upon my previous article "Mad Men, Hemingway, and the futility of sin". You can get to that post by clicking here.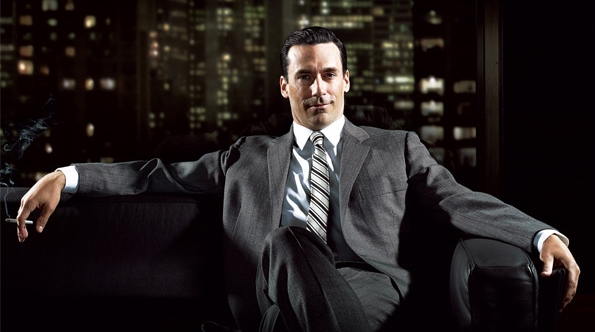 This week, in the midst of thinking about the TV series Mad Men in general, and the main character, Don Draper specifically, I came upon Proverbs 7 in the Bible. After reading Proverbs 7 today, I was hit by the cut and dry nature of sin and it's personally destructive consequences. Proverbs 7 really does read like a transcript for the aforementioned TV series, Mad Men.
This passage in Proverbs is a powerful overview of sin at the point of entry. After both my own personal pilgrimage in life and also in my experience of walking through life with many others of all stages and ages, this passage is amazingly insightful.
21 With much seductive speech she persuades him; with her smooth talk she compels him.22 All at once he follows her, as an ox goes to the slaughter, or as a stag is caught fast23 till an arrow pierces its liver; as a bird rushes into a snare; he does not know that it will cost him his life.
Here are my thoughts:
Allure of sin (as told in this Proverb . . . and observed in Mad Men and all of life):
Externally attractive (Proverbs 7:10) – We never see the insidious underbelly of sin prior to entering into it. We only see the external beauty. We see the shine. We see the long, beautiful hair, but we choose to ignore

the poor character. We see the slick paint job and powerful engine, but we overlook the debt that buying the car will soon incur us. We yearn for the excitement of the moment, while choosing to be blissfully ignorant of the pain that our decision will cause loved ones (and ourselves).

Enticing (Proverbs 7:13, 21) – Sin is almost always enticing. It has a magnetic pull. We can resist it, but not without a deep, entrenched fight. In Proverbs 7, we see the man innocently (naively) walking by the woman, but being beckoned by her voice of sin. It is alluring. It is "compelling". Isn't life just like this? We know what we should do. We even know that certain decisions which tempt us are terrible. Yet we often push through our conscience and make them anyway.
Promises fulfillment (Proverbs 7:18) – Sin ALWAYS promises big payoffs for us and ALWAYS woefully under delivers. It promises excitement and brings pain. It promises self-promotion and ends in self-destruction.
Often entered into casually (Proverbs 7:22) – As is the case in this Proverb, we often move into sin with little to no thought of the end game. We see it. We like it. We enter it. Our choices have consequences. Our head know this, yet our heart is easily pulled astray by the enticement, attractiveness, and fulfillment that sin portrays and promises.
Realities of sin (as told in this Proverb . . . and as demonstrated in Mad Men and all of life):
Trapping (Proverbs 7:22-23) – We enter into sin casually, but are almost instantly trapped. From the outside looking in, we feel it will be free of consequence. No one will notice. No one will care. No one will be hurt. We are wrong. Sin always has consequences.
Enslaving (Proverbs 7:22-23) – No one wants to become addicted to something. Drugs. Alcohol. Sex. Pornography. Food. Yet we do and we do so often. Just look at the numbers in America of pornography sites visited each day. Just look at the number of people chemically dependent. Do you think anyone as a child dreams of being an alcoholic? A porn addict? An adulterer? Yet it happens time and time again.
Ends in destruction (Proverbs 7:25-27) – This Proverb begins with the allure and enticement of sin. It ends with the inevitable destruction of sin. Sin entices, allures, and promises fulfillment, yet it ends with entrapment, enslavement, and destruction.
We are a people of self-induced enslavement. We choose the enticing route of temporary satisfaction, assuming that we can beat the system. We can indulge without consequence.
What was spoken of in Proverbs 3,000 years ago is as relevant today as it was back then. Sin promises fulfillment and never delivers. To the contrary, it ALWAYS delivers in the area of destruction.
Don Draper embodies this. Life attests to this. Proverbs teaches this. Let's remind ourselves of this daily.