(This article is a continuation of the story "Brutal Asian beginning. . . my first trip an Asian hospital".  If you have not read it, you might want to do so first by clicking here.)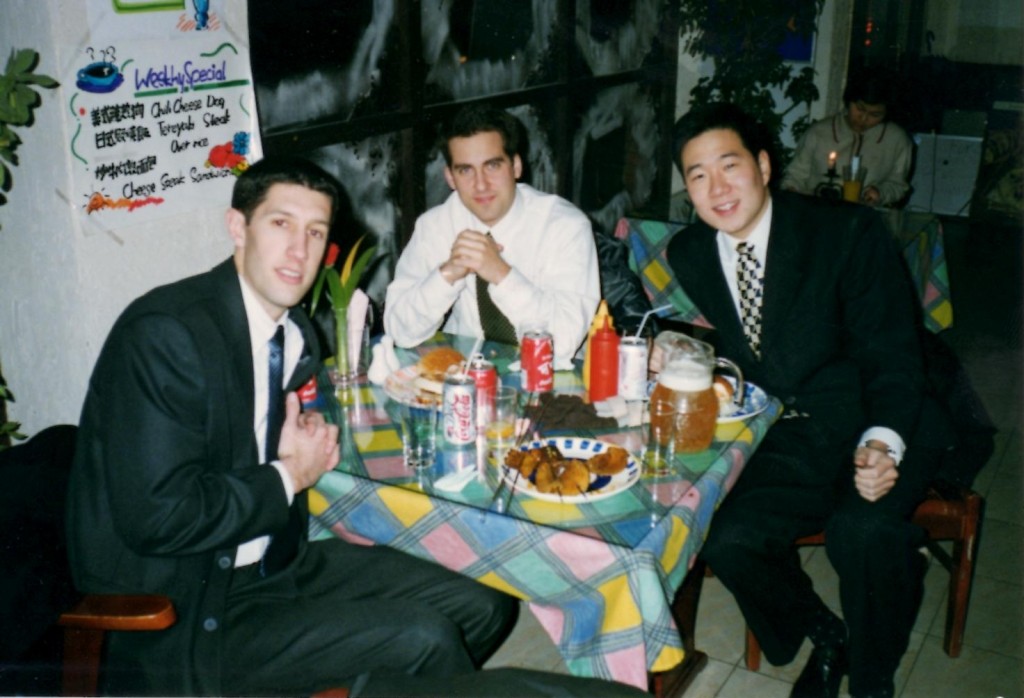 Have you ever spent the night in an East Asian hospital in a shared room with five other men, none of whom speak English?  I did.  I would not recommend it.  Remember that this was my seventh day in this country.  I knew how to say "hello" and "thank you" at that point.
One thing I learned about Asian hospitals that night is that everything is self-service.  If you want food, someone has to bring it to you from outside the hospital.  If you need to use the bathroom, you either have a friend help or you drag your IV drip and do the best you can.
Oh yeah, the toilets are squatties.  Not an easy proposition given that you have an IV bottle holder that you have to drag along everywhere you go.  I still didn't have command of the whole squatty thing just yet.  Hospital policy also ensured that all visitors left by 9pm.  So, I would have to brave the long night in the hospital with no one who spoke English.
If a nurse gave you a thermometer where would you put it?  Well, that happened to me right before Pat and Drew left the hospital at 9pm.  I did what any American would have done.  I put the thermometer in my mouth.  As soon as I did, the nurse looked horrified and began running at me yelling something I couldn't understand.  It was pretty obvious I was not supposed to put it in my mouth.
I looked around at all the patients in my room and realized that they had all placed their thermometers under their arm pits.  They were all laughing at me.  The nurse was a little grossed out.  She gave me a new thermometer.  I did it right this time.
The story doesn't end there.
Drew and Pat were about to leave for the night.  I wanted them to help me to the bathroom one last time.  Empty the ole' bladder, seeing that it would be a long night.  The hospital didn't have one of the rolling gizmos you get in the States that enables you to walk around freely.  Therefore, as I just stated, the IV made using the bathroom a two man job.
I went into the bathroom with Pat as he held my IV.  Drew waited outside.  As I put my hand down low, I noticed blood started shooting up the IV.  This had happened earlier in the day and they had to change the IV.  It was rough.  I was told that this wold happen every time my wrist sunk below my heart.  I quickly raised my hand to prevent this from happening again.
When I shot my arm above my head to reverse the blood flow, the thermometer, which was still nestled safely under my left pit, immediately fell out of my gown and into the toilet/hole/squattie in the ground.
Drew said that it was hilarious from the outside.  They could all hear the "ding" of the thermometer going down the toilet.  This was promptly followed by a shrill yell of "crap".  I walked out of the bathroom to the sounds of six guys, five of which I didn't understand, laughing hysterically at my stupidity.  The nurse did give me a new thermometer, but charged me the equivalent of $.35.
Drew and Patrick left the hospital.  It was a long "24" type night.
There were seriously about 10 different incidents that night which are painfully hilarious stories.  Awful at the time, but hilarious looking back at them now.  One story to give you a good picture of the remainder of my time in the hospital.
It was apparently a big deal to see a foreigner in this hospital.  Word obviously spread fast of my arrival and location.  The entire time people would stop at the door and just look in to see me.
I was a monkey in a zoo.  I felt like they were going to start throwing bananas at me or something.  No one was rude and most seemed to wish me well in their own sort of way.  Not exactly restful, though.
Additionally, I think the entire medical school came and visited my room at one time or another during my stay.  This hospital is attached to a medical school.  Several times a doctor would come in, followed by a host of aspiring physicians.  They were all fully geared up in surgical attire.  They would ask me a few questions, push on my belly, and say something to the students.  They would all leave seemingly satisfied.  I was deliriously disoriented.  I shortly began to feel like a life size "Resusci-Anne".  At the very least, I felt like one gigantic science fair project.
Throughout the entire night, I was awoken each hour by one or two nurses.  They would take my blood pressure, my pulse, and then would change my IV bottle.  They would then press on my stomach and ask me, "Tong bu tong?"  I had no idea what that meant at the beginning of the night.  By the end I had deduced that they were asking if it hurt when they pressed.  I would reply "bu tong" and they would be satisfied and walk off.  This was a fairly ominous beginning to my language study.
Needless to say, it was not a very restful environment for me that evening.  Of my five roommates, none spoke a word of English.  Again, my "hello" and "thank you" capability in the language limited meaningful conversation.  The night was mainly spent with me listening to a chorus of them snoring.
That said, I was grateful for their service.  I survived and I have not had kidney stones again.  I was released the next day.  The total hospital bill was $75.
Unfortunately, that was only the first of several hospital stays that I have had in East Asia. . .