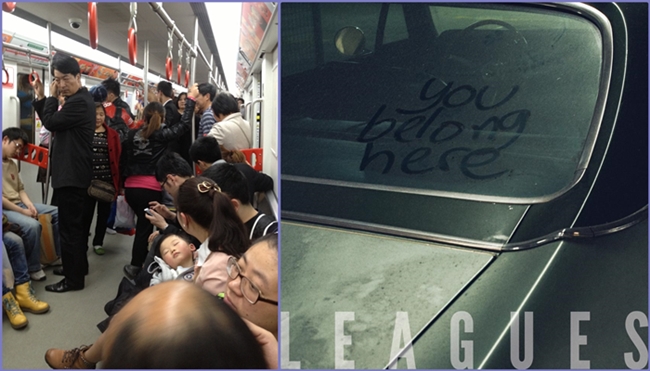 Riding on the subway this morning, I was listening to a new album which I recently downloaded.  As strange as it sounds, I often have some of my most relaxing and thought provoking times while listening to music, by myself, and in public transportation scenarios.  This time was no different.
A line from the song "Friendly Fire" by Leagues caught my attention.
"Fear only talks to those who listen"
This line stopped me dead in the midst of my fluttering thoughts and prayers, as the train raced through the black of the underground tunnel we were in.  The issue of fear has been on my mind since that moment.
Fear is a part of all of our lives.  We learn it early.  It can be good.  It keeps us from running out in the middle of traffic or from touching a hot stove.  Sometimes fear is good, but most of the time it is toxic.
Fear cripples us from moving out in faith and in life.  It keeps us from making career moves that would be a better fit, both for ourselves and the world around us.  Fear keeps us from having conversations with loved ones that we know we need to have.  Fear keeps us from taking needed risks in order
to help others and which would advance our own personal good.
We could talk about this issue of fear for the next 20 posts, and I do think I will write more on it in the coming weeks.  However, for now, I just want to mention the powerful line from this song by Leagues.
"Fear only talks to those who listen"
Fear will talk to us. It does to me, daily.  Sometimes its voice is soft and almost unrecognizable.  Other times it has the volume of the bedside alarm clock which jolts my body from deep sleep.  Fear speaks of future failures in my professional and personal life.  Of course it talks to me about my relational status, but it also speaks of the well-being of those whom I love, both family and friends.  Fear has spoken to me for as long as I have memories of life.  It has spoken on subjects as trivial as giving up a touchdown against Tucker High or as significant as Mom's cancer or the safety of friends in harm's way.
Fear spews out venomous lies of condemnation and self-deception.  Make no mistake, though, the voice of fear is a lie.  It always is.
I am slowly learning to tune out "fear's talk" with truth and reality.  I'm still a long way from being finished in this area, but I am growing, ever so slowly, in not allowing fear to dominate my feelings, choices, and views of the world around me.
When you follow the God of the Universe, when the maker of everyone and everything is present in all you do, in every scenario of your life, then you are ultimately fine.  Your destination is vouchsafed and your inheritance is secure beyond measure.  This truth is often muted in the stresses of everyday life, yet this does not lessen its veracity.
Reality is that "perfect love casts out fear", as we see in 1 John 4:18.  We are loved perfectly, by our perfect God, whom has all power, knowledge, strength, and ability.  This is the voice that we must fight to listen to, not that of the cries of fear.
As a result of God, fear is, in almost all occasions, nonsensical, irrational, and a lie of which we simply must not listen. 
The LORD is my light and my salvation; whom shall I fear? The LORD is the stronghold of my life; of whom shall I be afraid? – Psalm 27:1
We all have voices of fear in our head from time to time.  However, may the truth of Christ, found within His written Word, drown these voices of fear, condemnation, and lies out.  In Psalm 27:1, and so many other places, we see truth.  May we listen to and live according to this truth above all else.
My prayer today for you and me is simply that we will not be people whom listen to the voices of fear in our heads, but rather to the truth, as revealed by the good, sovereign, and present God of the Universe.