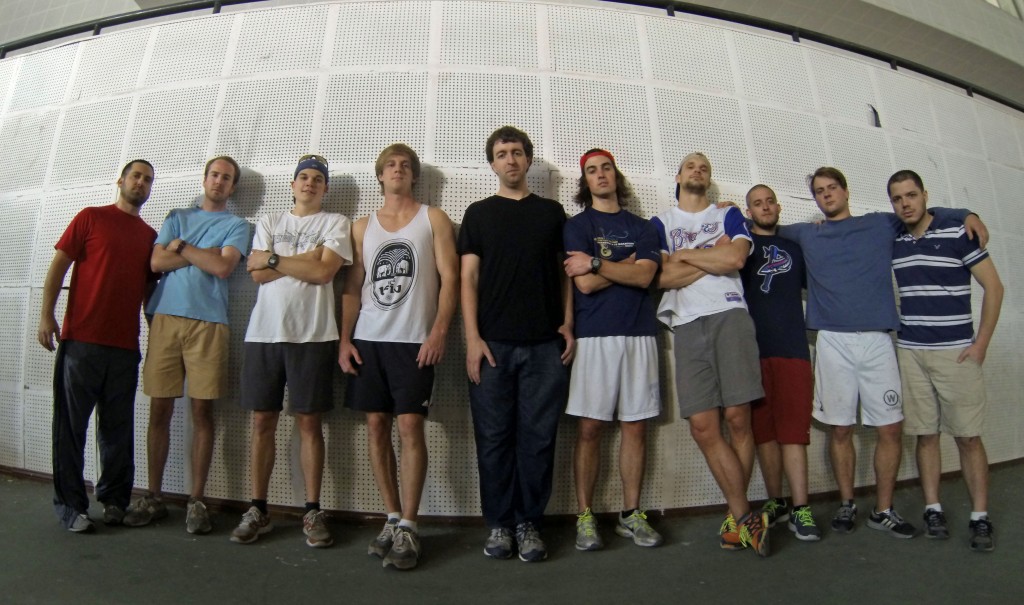 Saturday was special here in my neck of the woods. The American men in our city decided to get together and hang from noon on. In this city of many millions (literally), there are only a handful of Americans who live here permanently. My guess is 30-50 in total. This is probably a generous guess, as I personally only of know 22. Of that number, 11 are men.
Ten of the eleven men I know in this city decided to dub the 6th day of last week. . . "Baseball Saturday". The content of the day was simple; American food and baseball all day. We were to both play baseball and watch baseball in the midst of gorging on red meat and other such American culinary delights.
We met for lunch at McDonald's (the only "American restaurant" within an hour of where I live). After destroying our bodies, we headed over to a local university in search of a field to play baseball. Between all of us, we have seven baseball gloves, two baseball bats, and four actual baseballs, so "playing baseball" is a pretty generous description of what we were planning.
We found a soccer field, but were quickly dispersed by an official university function.
We ended up finding our way to a dimly lite, closed basketball gym on campus. We decided the place was perfect for our "Plan B".
If you are not familiar with wiffleball, it is awesome. Basically, baseball with plastic bats and balls. Wiffleball gear (bats and balls) are sold in both sports stores and toy shops in the States. We pooled together three wiffleball bats and five wiffleballs which we had brought here from America, so we were set. Side note. . . what does it say about me that as a 41 year old I still haul wiffleball gear literally around the world with me?
Wiffleball can be played with as few of four people, but is ideal 6-12. Yesterday, we had 10 players, so it was perfect. The gym is an ideal size. Hitting homeruns into the stands was a challenge, but not impossible. It was deep enough to feel the sense of accomplishment when knocking the plastic white balls into the seats, but shallow enough to where we probably had a total of 5-8 homeruns.
We played hard. We laughed, competed, sprinted, and, overall, had an outstanding time of play (see the video below). Though a child's game, wiffleball absolutely wore us all out. Bodies ached as we watched the Braves beat the Nationals in a tape delayed game, ate steak, and the completed the day by taking in the cinematic classic "Major League".
It was a great day.
Living as a foreigner in Asia for much of my adult like, I increasingly see the vitality of days like yesterday.
Living and working here is stressful in many, many ways. Don't get me wrong, I love Asia, the people, the culture, and place in and of itself. However, doing life in a second language, with food I did not grow up eating and customs different from my own, in a location so far away from "home", takes a toll on you.
"Baseball Saturday" was much bigger than simply grown men getting together to play like kids and indulge in our carnivorous ways. It was more about the value of recreation, rejuvenation, and disconnecting from the stresses of everyday life for a Saturday so that we can be more connected, concentrated, and focused in being faithful to the bigger callings in our individual lives. I don't know if all of the participants of "Baseball Saturday" view the time from this vantage point, but I know I do.
I praise God for healthy play, laughter, and other types of outlets like "Baseball Saturday". I once heard the 18th century church leader, John Wesley, quoted in saying "Rest and play as hard as you need in order to be as effective as possible in your callings of God."
Saturday was a good time of rest and rejuvenation.
I pray now that we will be effective during this week for Christ. . . for the glory of God.[pb_vidembed title="" caption="" url="http://www.youtube.com/watch?v=wfIzNY9fISE" type="yt" w="480″ h="385″]
(Two things converged to produce the above video. First, I purchased some basic video editing software. Second, Andrew Ols (Smange) is here to give me a brief class on how to use it. I don't claim it's good, but a start to learning. Hope you enjoyed seeing some of our wiffleball game!)