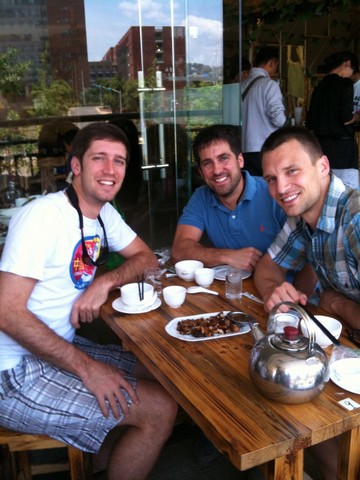 This weekend was full. This weekend was rich. Wonderfully disgusting amounts of fried food. Various and a sundry beverage. Laughter by all. Prayer, memories shared, and well-wishes expressed for a great friend and fellow sojourner. Misty eyes and a grateful heart as I fly away.
I am currently on a plane from one Asian city, back to the one in which I currently live. This weekend was for the purpose of spending a final weekend and having a going away party for one of my best friends over here. Daniel Schneider and I have been friends since 2007, but our friendship ramped up when he moved back over to Asia in 2010. We have grown together and dreamed of things we wanted to see accomplished for the good over here. We were part of an epic vacation last year in Koh Lanta, Thailand. That little island, as well as those of us on that trip, will never be the same. We have laughed with and pushed each other towards growth in many areas these past few years.
Last night, about 20 of us from around this country came together in the top section of a small Irish pub. We did this to honor Daniel's time over here, celebrate his pending marriage to a wonderful woman, and "send him back" to America for a new stage in life. It was a great time had by all, but I hope it was particularly meaningful for Daniel.
Here is the deal, the absolute best part of my life here in Asia is the people with whom I have the privilege of living, studying, and working. I am amazed at the caliber of people that [Read more…]